After the first phase voting in the Jat belt of western Uttar Pradesh, and the second phase contest in Muslim-dominated districts, the battle is down to the third phase, which is in the Yadav-dominated belt.
The third phase of UP Assembly Elections is year is on 59 seats spread across 16 districts of UP.
This includes 5 districts from Western UP:
Firozabad
Mainpuri
Etah
Kasganj
Hathras;
6 districts from Awadh region:
Kanpur
Kanpur Dehat
Auraiya
Kannauj
Etawa
Farrukhabad;
and 5 districts from Bundelkhand region:
Jhansi
Jalaun
Lalitpur
Hamirpur
Mahoba.
The region was once a stronghold of the Samajwadi Party (SP), which it swept in 2012, but the party performed its worst in this region in the 2017 Assembly Elections.
Akhilesh Yadav leading a campaign in 2012 UP Assembly Elections. Photo: India Today Archives
SP won 37 out of the 59 seats in this region in the 2012 Assembly Elections. However, politics in this region took a new turn when the Yadav-dominated regions voted heavily for the Bharatiya Janata Party (BJP) in 2017 elections. The BJP won 49 out of 59 seats while SP only had to settle with 8. BSP got one while Congress drew a blank from here.
Even the Yadav stronghold, which includes Firozabad, Kasganj, Etah, Mainpuri, Farrukhabad, Kannauj and Auraiya didn't vote for Akhilesh Yadav in 2017. SP got only 6 out of 30 seats from this region while BJP won 23. In 2012, SP had won 25 seats from here while BJP won just one seat. This is how drastically things changed for SP in this region.
How important is the third phase for Akhilesh Yadav?
Why did he make up with Shivpal ahead of the 2022 Assembly elections?
What was the role of the Yadav belt in the alliance?
How is Akhilesh Yadav leading the campaign in 2022?
A CRUCIAL CONTEST FOR AKHILESH YADAV IN THIRD PHASE
Former UP CM Akhilesh Yadav. Photo: India Today Archive
The hottest contest in the third phase is the election of former Chief Minister of UP Akhilesh Yadav, who has filed his nomination from the Karhal seat of Mainpuri district. Akhilesh Yadav went back and forth as far as his nomination filing is concerned. The day when Aparna Yadav switched to the BJP, Akhilesh Yadav in a press conference first dropped hints on contesting from Azamgarh, which is another SP stronghold. Akhilesh, however, backtracked and instead filed his nomination from Karhal (Mainpuri).
Another reason why Akhilesh filed his nomination from Karhal is because the seat has been with SP even amid the strong Modi wave. In 2017, Karhal was retained by SP. Sobaran Singh Yadav won the seat from SP in 2017. In 2012 and 2007 too, Sobaran won the seat. He won the seat from the BJP in 2002. He then switched to the SP in 2007. Ever since, Karhal has been SP's safe seat.
Mainpuri has been a strong bastion of the Yadav family from where Akhilesh's father Mulayam Singh Yadav also became an MP in 2019 Lok Sabha Elections. Mulayam has been an MP from this seat four times. He won the seat in 1996, 2004, 2009, 2019. In 2014, Mulayam contested from the Azamgarh Lok Sabha seat.
BJP FIELDS UNION MINISTER SP SINGH BAGHEL
Baghel is a former SP loyal, once a close confidante of Mulayam Singh Yadav who rose from being his security guard to one of his trusted aides.
Mulayam even brought Baghel into politics in 1998. In the 2009 general elections, when Baghel was denied a ticket to Firozabad constituency, which was given to Akhilesh by Mulayam, Baghel switched to BSP. But he lost to Akhilesh. In 2014 too, Baghel contested against Akhilesh's cousin Akhshay Yadav but lost again.
Baghel once again wants to challenge Akhilesh on his own turf, Karhal. 
HOW THE AKHILESH-SHIVPAL TUSSLE AFFECTED THIS REGION IN 2017
One of the biggest reasons why SP suffered a setback in the region in 2017 was because of the raging internal tussle within the party. Back in December 2016, things had turned bitter between CM Akhilesh Yadav and his uncle Shivpal Singh Yadav.
The fight got public, where Akhilesh lambasted Shivpal in front of party workers during a meeting. Shivpal, on the other hand, from the same stage, pointed attacks at Akhilesh. SP supremo Mulayam Singh Yadav was helplessly sitting on the stage watching this.
The BJP used this family war against the SP in its campaign. BJP's strategy worked. The Yadav stronghold seats like Firozabad, Kasganj, Etah, Kannauj gave jolts to the SP. The biggest came from Kannauj in 2019 when Akhilesh's wife and sitting MP Dimple Yadav lost the Lok Sabha contest while the party was in alliance with BSP. Dimple lost to BJP's Subrat Pathak by a narrow margin of 12,353 votes.
Kannauj was a very safe seat, also called the launching seat of the SP family. Mulayam Singh Yadav and Akhilesh Yadav both started their political innings from Kannauj. Dimple losing from Kannauj was a major setback to the Yadav family.
AKHILESH WOOED SHIVPAL TO SECURE THIS YADAV BELT
Akhilesh mended his ties with Shivpal in late 2021 to prevent division of votes in the Yadav belt seats. Shivpal formed a new party, Pragatisheel Samajwadi Party (Lohia) (PSP) in August 2018. He contested from the Firozabad constituency in the 2019 general elections. His entry cost SP's candidate Akshay Yadav heavily, who lost the seat to BJP's Chandra Singh Jadon by 28,781 votes. Shivpal contesting as a PSP (Lohia) candidate had pulled in 91,869 votes.
Akhilesh Yadav roped in Shivpal Yadav to prevent any further division of votes which might affect the party's prospects in 2022. Even though Shivpal, going by his statements, doesn't look content with what he got in alliance with SP, he will contest from the Jaswantnagar seat from Etah on the SP symbol.
HOW AKHILESH IS LEADING THE CAMPAIGN IN THIS REGION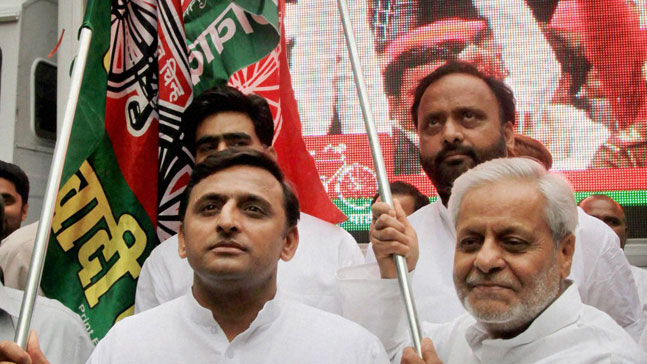 Akhilesh Yadav with his uncle Ram Gopal Yadav. Photo: India Today Archives
The third phase of UP elections has the Hathras constituency where a gang-rape tore UP apart in September 2020.
In run-up to the 2022 UP elections, Akhilesh Yadav has kept the Hathras issue prominent in his campaign. He has been celebrating 'Hathras ki Beti Smriti Divas' every month.
BJP, since Day 1, has said that Piyush is one of SP's strongmen in Kanpur. Even Home Minister Amit Shah in his rallies has talked about the Kanpur raids.
In Bundelkhand, a region that has issues like water scarcity, unemployment, inflation, Akhilesh Yadav is campaigning hard. In an election rally today in Bundelkhand, Akhilesh Yadav has promised free ration, ghee and sarso ka tel (mustard oil) to the people of Bundelkhand. He has said that as long as SP remains, it will continue to provide for the people of Bundelkhand.
Bundelkhand was also once a stronghold of BSP but it was swept by the BJP in 2017.
In 2022, Akhilesh has put everything at stake to reclaim what he lost to BJP in 2017. If SP succeeds in convincing the voters in this belt, it will reap huge dividends for the party in the early part of elections. If it fails, Akhilesh Yadav might see the consequences not only in 2022, but also in the 2024 Lok Sabha Elections.