Musings from afar
Why US-North Korea deal is good news for India
With trade sanctions lifted, New Delhi can engage in substantive economic ties with Pyongyang.

Harsh V Pant
Two unconventional and unpredictable leaders have taken a gamble and the rest of the world is now waiting to see if it will finally pay off. US President Donald Trump and North Korean leader Kim Jong-un are one of a kind — one revels in being provocative, while the other has challenged the world's mightiest powers with impunity.
So when they decided to meet in person, it was bound to be big news. Though the historic imagery of this week's meeting seems to have overshadowed the lack of a substantive agreement, President Trump has already declared that the North Korean regime no longer poses a nuclear threat following the Singapore summit with Kim.
Fire and fury
Just a year back, the two nations seemed on the brink of a conflict. After the US intelligence assessed last year that North Korea has produced a miniaturised nuclear warhead, Trump issued an ultimatum to North Korea warning Pyongyang not to make any more threats against the United States or they will "face fire and fury like the world has never seen."
North Korea responded with a statement, saying it was "examining the operational plan" to strike areas around the US territory of Guam in the Pacific, including the Andersen Air Force base, and warned the US that a "pre-emptive strike is no longer the monopoly of the US.
But in his January 2018 New Year speech, while Kim underlined that the entire US was within range of North Korean nuclear weapons, he offered a potential olive branch to South Korea, suggesting he was "open to dialogue." South Korea then moved swiftly with the leaders of the Koreas meeting in April to find a way to end the Korean War and South Korea inviting Pyongyang to join the Winter Olympics. Pyongyang also ceased nuclear and missile testing, freed US detainees and even destroyed its nuclear research site.
Trump created history by agreeing to meet Kim, but even a few days back uncertainty loomed large after Pyongyang threatened to pull out of the summit planned for June 12 in Singapore when US national security adviser John Bolton suggested that the US favoured a "Libyan model" for North Korea.
North Korea also took exception to the Trump administration's suggestions that military pressure and sanctions had brought Pyongyang to the negotiating table. Trump responded by cancelling the meeting, but soon plans were being worked out to resuscitate the planned meeting.
So the Singapore's historic meeting was a result of several factors. Before the meeting, secretary of state Mike Pompeo downplayed the prospect of a transformational deal — the kind Trump and his aides have been advocating. While said he was "very optimistic" that Trump and Kim could agree on a "framework" for ridding the Korean Peninsula of nuclear weapons, he made it clear that "there's gonna be a lot of work left to do." Trump himself had indicated that he doubted he would deliver a blockbuster deal in Singapore.
Finally, in Singapore, the two leaders signed a document in which Kim "reaffirmed his firm and unwavering commitment to complete denuclearisation of the Korean Peninsula" and the US agreed to "provide security guarantees." In a surprising move, Trump also said that he would halt US military exercises in South Korea. Though Trump has been tom-toming the deal and North Korea is celebrating, it remains far from clear if North Korea would abide by a denuclearisation deal.
Nuclear weapons
Credible verification of denuclearisation is a tough job and the summit has not laid out any roadmap for its achievement. Though the Trump administration have indicated that economic aid might be a prime motivator for North Korea to come to the table, Pyongyang has been making it clear that it is not likely to give up its nuclear weapons in exchange for American economic aid. There are other differences as well.
North Korean demands of the denuclearisation of the entire peninsula would likely require the withdrawal of American nuclear-capable forces from the region, a grand bargain that the Trump administration has so far refrained from commenting upon. Washington has underlined that North Korea will not see any economic sanctions lifted until it has demonstrated "complete denuclearisation."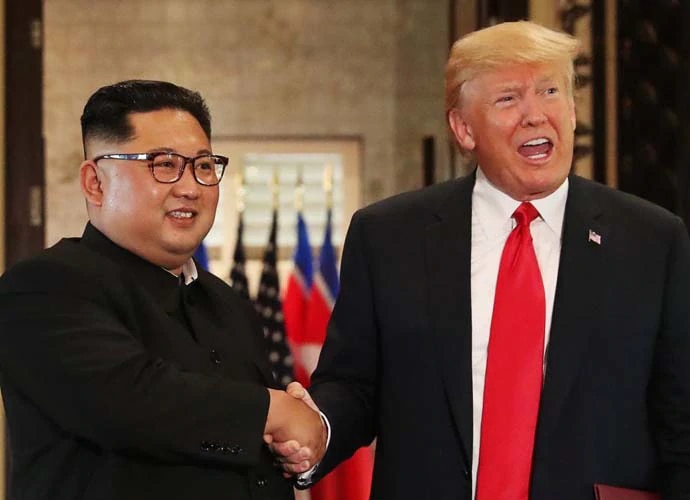 Delhi angle
This week Kim got his moment under the sun with the US President. And Trump got a foreign policy success for the time being, something his predecessors failed to get. But something has changed on the Korean peninsula. Kim now has a nuclear deterrent and feels relatively safe in pursuing global outreach.
He now wants economic development for the longevity of his regime as the economic sanctions have been biting. China seems to have made it clear that it cannot forever be the guarantor of a destabilising North Korea. It was a more rational behaviour from its client states if only to make its dream of Chinese hegemony in the coming decade a possibility.
South Korea is prepared to engage the North under President Moon Jae-in. Japan has also welcomed this initiative in a cautious manner so as not be left out completely.
India has also done well to position itself as North Korea opens up to the world with the recent visit of Gen VK Singh. A denuclearised Korean peninsula, if that happens, can bring to an end the unholy nexus between Pakistan and North Korea.
And though major economic benefits will accrue to China and South Korea, New Delhi can also engage in substantive economic and trade ties with Pyongyang. Indian diplomacy will have to be nimble if it is to take advantages of the rapidly evolving geopolitical landscape on the Korean peninsula.
(Courtesy of Mail Today)
Also read: Why every blow upon the Taj Mahal is a blow to India
The views and opinions expressed in this article are those of the authors and do not necessarily reflect the official policy or position of DailyO.in or the India Today Group. The writers are solely responsible for any claims arising out of the contents of this article.