Do you know June 17 is the "World Day to Combat Desertification and Drought"? Do you at least know what desertification means?
If you are living in Delhi-NCR or any part of Haryana, Punjab and northern Rajasthan, you need to know that increasing desertification is one of the main causes of heavy dust storms leading to increased air pollution that is majorly affecting the health of hundreds and thousands of people in these areas.
For the second consecutive day, Delhi-NCR continues to remain under a thick blanket of dust. The high pollution levels during this time of the year in Delhi are unusual and primarily due to dust storms from Rajasthan. Rajasthan is facing extremely dry weather conditions, with high temperatures and wind speeds.
Since June 10, the wind direction in Delhi has changed to West and North West and then, to West and South West since June 12 due to which hot air, along with dust from Rajasthan, has started moving into Delhi.
Municipal workers cut branches of uprooted trees after a dust storm in New Delhi, on May 16, 2018. Photo: Reuters/Adnan Abidi
According to the India Meteorological Department (IMD), the current surface winds in Delhi are in the range of 5-6 m/sec and the wind direction is West to South West, which is likely to continue over the next three days. Therefore, it is expected that dusty conditions will prevail in Delhi over the next three days," a release from the ministry of environment, forests and climate change (MoEF&CC) said on Wednesday evening.
The release came a tad too late, well after the first round of heavy dust storms. The MoEF&CC said it has requested chief secretary, Delhi to issue appropriate instructions in the matter to the concerned agencies. The Central Pollution Control Board (CPCB) convened an urgent meeting of the Task Force regarding the implementation of Graded Response Action Plan (GRAP) and issued necessary directions to contain local dust sources.
The Task Force has also recommended that the public avoid prolonged exposure.
Dust storm and air pollution
Meanwhile, the real time air quality index (AQI) continued to show hazardous levels of pollution. For instance, this monitor at Mandir Marg in central Delhi showed PM10 level at 508 at 1pm on Thursday. Anand Vihar in east Delhi continued to be the worst at 806 with the AQI peaking at 999 (may be more, but the scale cannot go beyond).
The 24 hour-average trend counter for air quality in Delhi-NCR as per the Graded Response Action Plan (GRAP) – a Supreme Court pushed response system devised for Delhi NCR that is supposed to be kicked in automatically as per changing air pollution levels, but does not always – shows that the PM10 pollution levels in Delhi were below 500 till June 12 and shot up only on and after June 13.
However, there is a rider there. In compliance with the National Green Tribunal order, the CPCB did start publishing NCR-level ambient air quality data from March 2018, but experts have pointed out that "the AQI data being presented for across NCR states seems to only comprise of 6-7 locations where as the problem as of today seems to be spread across several locations in the region".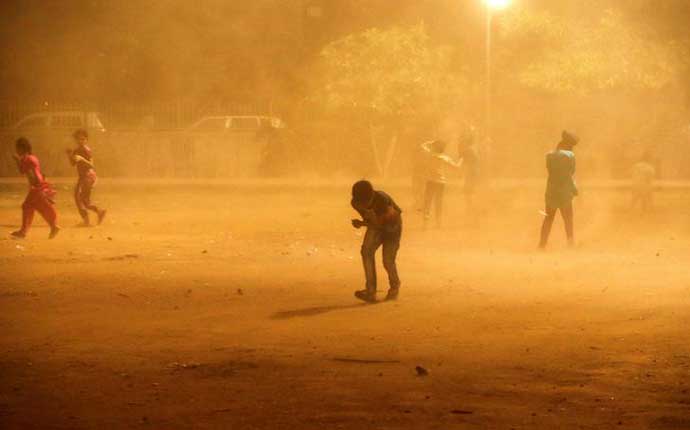 The PM10 pollution levels in Delhi were below 500 till June 12 and shot up only on and after June 13. Photo: Reuters/Adnan Abidi
But a scientist from CPCB said the data is averaged for GRAP and hence should not affect the measures to be taken. As mentioned above, the MoEF&CC's release came a tad too late and so did the Task Force's recommendation that the public should avoid prolonged exposure. Timing is of prime importance. We have a relatively better system of forecasting and the India Meteorological Department (IMD) has been doing some good work.
But the June 12 forecast did not mention any dust storm. As a result, the Task Force met after the dust storm. Of course, the June 13 and June 14 forecast did mention such weather conditions for north-western states.
So much for a system or an institutionalised response in place!
Increasing desertification and poor combat measures
But what should be more worrying for the dust storm-affected people is increasing desertification. And mind you, desertification does not mean the expansion of the existing desert. The United Nations describes desertification as "the degradation of land in arid, semi-arid and dry sub-humid areas. It is caused primarily by human activities and climatic variations".
According to the "State of India's Environment 2017" report brought out by the Centre for Science and Environment (CSE), nearly 30 per cent of India is degraded or facing desertification. Of India's total geographical area of 328.72 million hectares (MHA), 96.4 MHA is under desertification.
In eight states — Rajasthan, Delhi, Goa, Maharashtra, Jharkhand, Nagaland, Tripura and Himachal Pradesh — around 40 to 70 per cent of land has undergone desertification. It is important to note that 26 of 29 Indian states have reported an increase in the area undergoing desertification in the past 10 years.
"Loss of soil cover, mainly due to rainfall and surface runoff, is one of the biggest reasons for desertification. It is responsible for 10.98 per cent of desertification in the country. Water erosion is observed in both hot and cold desert areas, across various land covers and with varying levels of severity. The next big reason is wind erosion," the report said.
This absence of soil and hence soil moisture is directly linked with dust storms.
An interesting phenomenon worth noting is that earlier last week, there was a drastic decline in electricity demand after the dust storm — the temperature drop proved the impact on air conditioner use was massive. CSE pointed out how the link between ambient temperature, use of ACs and electricity demand is directly evident during the days of the storms, when the temperature falls temporarily.
For instance, on June 9, when a thunderstorm brought down the ambient temperature from 34 degrees C to 24 degrees C between 5.00 and 5.30pm, the peak demand for electricity fell from 5,600 MW to 3,323 MW (a 41 per cent drop).
But inversely, this time around, the large composition of suspended particles in the atmosphere has trapped the heat and led to rise in temperature. On June 7, during a Facebook Live event, CSE's Sunita Narain had pointed out how rapid desertification, water depletion and "abnormal" Western Disturbances, coupled with cyclonic circulations, have contributed to a "spate of dust storms" in the country in the past few months. "These storms are becoming the 'new normal' and therefore the country needs to improve its forecasting ability, dust reduction management and management of its water resources," she said.
Water management and water resources are a major issue in north-western states. Both are further aggravated by either delayed monsoon or insufficient rains. While thunderstorms have been predicted this time, there is no mention of the monsoon.
In fact, the June 14 IMD forecast said: "Tthe Northern Limit of Monsoon (NLM) continues to pass through Lat. 19°N/ Long. 60°E, Lat. 19°N/ Long. 70°E, Thane (including Mumbai), Ahmednagar, Buldhana, Amravati, Gondia, Titlagarh, Cuttack, Midnapore, Lat. 24°N / Long. 89°E, Goalpara, Bagdogra, and Lat. 27°N / Long. 87°E. No further advance likely during the next one week due to weakening of monsoon circulation pattern."
This essentially means, for almost entire north and north-west India, monsoon arrival has been delayed by a week. And that the absence of moisture in the atmosphere will lead to more dryer conditions and hence the possibility of more dust storms.
Inadequate mitigative measures
While much research is being carried out in the labs to improve air quality, the government's focus is more on monitoring and addressing causes of pollution (which of course, is needed). But there are measures by some private parties to improve air quality, such as the AirHavn pilot launched at Delhi's Gurudwara Rakabganj Saheb near the Parliament.
Calling it a "revolutionary technology" to clean air pollution, the promoters Evergen Systems and Airlabs claimed: "AirHavn has been especially designed and constructed (by) applying the laws of fluid dynamics to take control of air flow. The AirHavn combines a design based on extensive optimisation using high performance computing with high performance air filters. The innovative Airlabs technology utilises a combination of atmospheric chemistry and airflow engineering and implemented through a proprietary dual filter system combining nano-particles for removing 97-99% fine dust particles and a chemical media to remove gases like NOx, SOx, CO2 and Ozone."
"This is ground-breaking technology. We have already started witnessing results with the use of these filters. There are lots of permissions to be taken for installing this in public places. So, for now, we have installed this at our Gurdwara premises," Harjeet Singh, who heads the renewable energy wing of the Gurudwara management committee.
This is only a pilot and long-term results are awaited. Of course, this will be costly even when possibly effective and hence not for the ordinary citizen to accomplish. But the best and possibly the only sure shot way of combating air pollution at our own level is by planting more trees and covering open soil with grass and shrubs as much as we can to reduce dust.
It must be said that, today, even the Centre's efforts are lacking on this front. India, a signatory to the United Nations Convention on Combating Desertification (UNCCD), is legally bound by the international agreement linking environment and development to sustainable land management. But the "ease of doing business" approach has pushed environment on the backburner.
What we need at this moment are massive plantation drives and, before that, a hard relook at the development versus environment debate as trees/jungles become the first casualty in any project.