"A great person attracts great people and knows how to hold them together."
If this quote of German statesman-writer Johann Wolfgang Von Goethe ever suited any sport, it has to be cricket. The role of a leader is greater in no other game than cricket where the captain has to manoeuvre his men like pieces on a chessboard. Besides playing abilities, the cricket captain often exhibits leadership qualities, generally found in military commanders or political leaders.
As India-Pakistan face off in the most-anticipated contest of the 2019 Cricket World Cup, the role of captaincy seems even more important.
In a marquee match between arch rivals, high on action and emotion, the team with a leader who keeps a sane head usually ends up as winners. Like their cultural similarities, India and Pakistan have lots in common on the cricket field where both are blessed with a plethora of talent. But it's the quality of the leader that determines how successful either team becomes, as innovation and bold decision-making in captaincy often bring amazing results.
A glance at the history of India-Pakistan ODIs reveals that a team's dominance is often built around the excellence of its captain. The surfeit of ODI cricket in the 1980s saw the advent of two fiery and passionate cricketers in the subcontinent — Kapil Dev and Imran Khan — who left a deep imprint on International Cricket. It wouldn't be an overstatement to say that India might not have won the 1983 World Cup had it not been for the dare-devilry of captain Kapil Dev. The panache with which he led from the front was instrumental in giving a team of 'joy seekers' the self-belief to defeat mighty teams like West Indies, Australia and England.
Kapil Dev: The mighty captain who filled the Indian side with self-belief. (Source: PTI)
Pakistan, too, was lucky to find in Imran Khan, a leader who was not just brave and innovative but also had the ability to sting with his pace and fury. If the 1983 World Cup was all about the brilliance of Kapil Dev, the 1992 World Cup was a final victory for the genius of Imran Khan. A flamboyant, well-read cricketer, Imran's strong personality and clever tactics left a deep imprint on his team as he led Pakistan in three World Cups. Of course, there were several individuals who aided Kapil and Imran in their struggles but the bold approach of the two captains was critical to their epic triumphs.
Pakistan Cricket team's captain, Imran Khan made his team fight to win. (Source: India Today)
Surprisingly, India and Pakistan never played each other in the World Cup till 1992. Although Pakistan lifted the 1992 World Cup, they lost to India in the group clash. However, in the two decades after 1978, when India and Pakistan first played an ODI, Pakistan won almost 70% games, a reflection of the positive impact that strong captains like Asif Iqbal and especially Imran Khan had on their team.
Imran's retirement led to a major dip in Pakistan's performance as the team struggled to find an effective leader. Though Wasim Akram led the team through the 1990's, he couldn't exercise full control and the team kept slipping. In contrast, India started winning more, as was reflected in the dominance against their neighbours in the World Cup matches. If the current record of 6-0 in the Cricket World Cup stands in India's favour, it is largely due to the confident captains who soon emerged on the Indian side.  
From the start of the 21st century, as an assured Sourav Ganguly took over the captaincy, the tide turned decisively in India's favour. The era of confident Indian captains started with 'Dada' (Big Brother) who was undaunted by challenges and revealed aggression never before seen in Indian teams. The early 2000s saw India beat Pakistan in Pakistan and India's success rate in Indo-Pak clashes climbed to over 40%.
He started it! India's aggressive spirit was unleashed by Captain Saurav Ganguly. (Source: Reuters)
India's ascendancy rose further after 2007 with the onset of the Dhoni era. Mahi's steely resolve, innovative flair and cool composure took India to fresh heights. If Ganguly instilled a fighting spirit in the Indian team, Dhoni taught them how to win the big moments by braving all odds.  By becoming the only captain in the world to win ICC World Cup, ICC World T20 and the Champions Trophy, Dhoni set a new standard of leadership in cricket.
While Dhoni's captaincy catapulted India to greater success, Pakistan was playing a merry-go-round with its captains. With no stability at the helm, Pakistan went on a down ward spiral. The extent of this decline was seen most dramatically in the first game that India and Pakistan played after the infamous 26/11 Terror strikes in Mumbai led to huge tensions between the two countries. This was the 2011 World Cup game where Pakistan betrayed a shocking lack of resolve and leadership and could not win despite a modest Indian total.
In the last decade, India has won almost 64 % matches played between the two sides. Experts say much of this is due to the fact that India had just two captains during this period while Pakistan had 6 captains till Sarfaraz Ahmed was given the reins for the 2017 Champions Trophy.
Can he pull off a good performance? Pak will be watching. (Source: India Today)
After Dhoni relinquished captaincy, Virat Kohli brought in a new brand of confidence and ultra-aggression. Kohli doesn't back down from a challenge, takes all criticism on the chin and has instilled a strong belief in the team that they are the best in all conditions. It was Virat's decision that India must play 5 bowlers in all formats and he then strongly backed the players he wanted to be with him for the long haul. While the world now admires India's variety in bowling, it was Virat's call to drop Ashwin and Jadeja as he felt wrist spin was a better option after the loss in Champions Trophy. A tough decision, but one, that reflects the conviction that Kohli possesses — a vital element for successful captaincy.
In the crunch game on Sunday, Virat will be confronted by Sarfaraz Ahmed who inflicted on Kohli his most embarrassing defeat in the ICC Champions Trophy in 2017. By winning about 60% of the ODIs that he has captained, Sarfaraz has proved to be a street smart and potent leader. Despite the loss in the first match in this World Cup, Sarfaraz is keen to prove his mettle on the world stage. He will try to fire up his team to give off their best in the clash with India — to prove that their win in 2017 was no fluke and to wash off the stain of Pakistan never beating India in a World Cup game. 
What makes Sarafaraz and Pakistan's task a lot tougher is that they have to face the leadership challenge of the Kohli-Dhoni combination.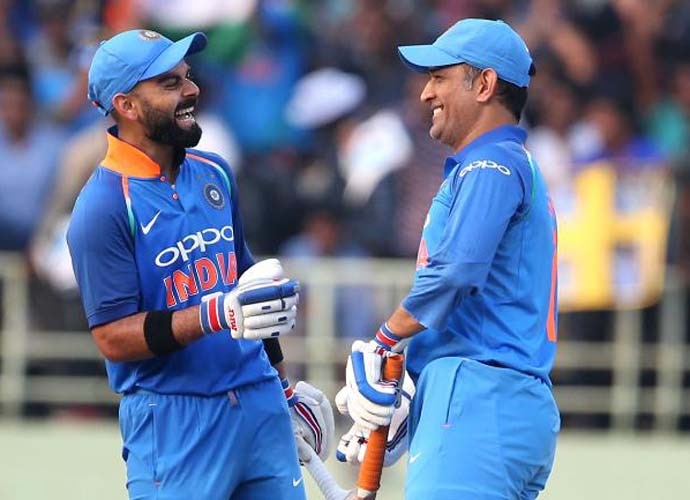 Captain hot and Captain cool — Our winning combination. (Source: India Today)
Through mutual faith, the duo has become a very, very special Jodi for Indian Cricket. The fact that they feed off each other's talent, provides Indian cricket with a seemingly unbeatable partnership. While Dhoni makes Virat a better captain, Virat pushes Dhoni to become a better batsman — and together they have turned the Indian team into a forceful, all-conquering unit.
With Dhoni as chief collaborator, Virat has won over 70% of the ODI matches he has captained. The Indian skipper is now eager to bring home the World Cup, a third time for India. As Kohli and Dhoni put their best foot forward, leadership skills could well give Virat's warriors a distinct edge as India-Pakistan clash in cricket's fiercest rivalry.