The White Ferns, New Zealand's women's cricket team, shattered a record on Friday, June 8, when they blasted a scarcely believable 490/4 off 50 overs.
No team in the history of one-day internationals had ever scored those many runs in an innings.
Two days later, the White Ferns returned to hammer another 400-plus score.
Both those matches were won convincingly against Ireland, far from the best team in the women's game.
But New Zealand's efforts say something. For years, critics and cynics have pointed out to the lack of power-hitting in the women's game, conveniently forgetting that the first ever ODI double hundred was smashed by the legendary Belinda Clarke way back in 1997.
Lack of power? Two scores over 400 in two matches! Take that for power.
Nearer home, Bangladesh stunned India in the Women's Asia Cup. India, champions in the previous six editions, had never lost a match in the Asia Cup. They had never lost to Bangladesh!
But Bangladesh were ready to rewrite history and defeated India twice within a week.
To put things in perspective, India are ranked fourth in the world. Bangladesh are ninth.
So there's another answer to critics who thought there was hardly any competition in the women's game outside of the big four: Australia, England, New Zealand and India.
The truth is women's cricket will continue to struggle for relevance for reasons other than the players' skills.
Indian audiences woke up to a phenomenal display by their women's team in the World Cup in 2017. They defied the odds to reach the final which they lost to England.
Smriti Mandhana, Harmanpreet Kaur, Poonam Raut and Veda Krishnamurthy became household names. Mithali Raj and Jhulan Goswami, flag-bearers of the women's game in India for years, finally got their due. They were recognised for some spectacular performances.
Mithali is now the leading run-scorer in women's ODIs. Jhulan is the leading wicket-taker. They are stars, heroes and legends. Yet, how long did it take them to be recognised for their heroics?
How many of us remember that India did not play any international cricket for seven months after the World Cup?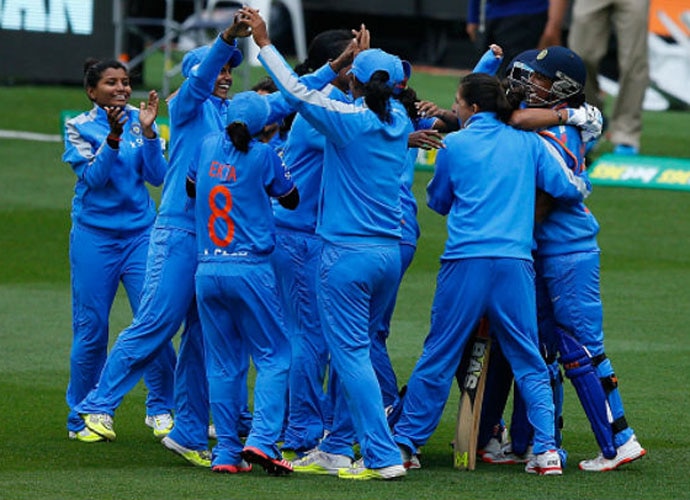 Who cares that hardly a few hundred were in attendance when the cream of women's cricket assembled to play an exhibition T20 game hours before an IPL play-off this summer? Who cares that endorsements are few and far in between? Who cares that not many care?
Movies will soon be made on Mithali and Jhulan's lives but is that enough? India's sports fans are more often than not reactive. They react to emotions. The Women's World Cup was telecast live and there was hoopla.
There were significant increments for the women in the BCCI's new contracts. Most women cricketers believe their game has to be far more commercially viable for their salaries to increase further. But are finances the only issue?
What about fan interest? How do endorsers look at women's cricket stars around the world? The plight of India's male shuttlers is a case in point. Kidambi Srikanth may not have won an Olympic medal like Saina Nehwal and PV Sindhu but he is one of the all-time greats in badminton.
But Srikanth does not demand the same kind of cult status like his female peers.
Today, a Rishabh Pant earns more than a Jhulan. A Shubman Gill is probably a bigger household name than a Harmanpreet Kaur.
Till fans turn up in numbers to cheer for Mithali and her team, broadcasters and sponsors are going to be lukewarm. It is all a cycle. Bangladesh women's stunning victory over India in the Asia Cup is a moment to be celebrated. Yet, we will keep talking about the Bangladesh men's heartbreaking defeat to MS Dhoni's superstars in the World T20.
There is power, there is more focus on fitness and at least broadcasters push women's cricket more aggressively now. But will there be an audience?
Will an audience turn up to watch a cricket match like it turns up to watch Saina vs Sindhu in the final of the National Championships.
Does it all come down to glamour then? Saina, Sindhu and Sania Mirza — some of India's elite athletes, bring more than their athletic skills to the table. Mithali, Harmanpreet and Jhulan only have their cricketing skills to speak for them.
You would not find Jhulan walking down a ramp in designer clothes nor would Harmanpreet look back at you, all dolled up, from a magazine cover. They are cricketers who have fought turfed battles in a man's world and came out triumphant at the end of a dark tunnel. They will not be glammed up.
Despite records being broken and history being rewritten, women's cricket has a long way to go. And India's sports fans need to open up and embrace and acknowledge the fact that that women's cricket is far removed from the glamour that has come to be associated with other sports.
It's time for a change in attitude, folks.