Why T20 is not the future of cricket
Like a meal of biryani, T20 is amazing in the beginning, but a regular occurrence makes it unbearable.
Upamanyu Sengupta
1975, Lords: It is the first match of the inaugural cricket World Cup. India are facing host England in front of a crowd, curious about this 60-over contest. Chasing a mammoth total of 334 runs, India's premiere batsman Sunil Gavaskar is determined to see it right to the end. Gavaskar bats the full 60 overs ending on 36 from 174, at a strike rate of 20.68. The fans back home merely accept the fact the great man is yet to acclimatise with the demands of the 60-over format.
In 1975, Sunil Gavaskar played one of ODI cricket's slowest innings ending on 36 runs from 174 balls
Cut to 2012: the Royal Challengers Bangalore is facing the Pune Warriors in front of a jam-packed stadium. Chris Gayle, armed with a sledge hammer, dispatches every single bowler to the delight of the fans. Aaron Finch, the captain, looks around for a new bowler and finally rolls up his sleeve. The over yields 19 runs. Chinnaswamy gets a bit louder as another head rolls down. In a unique exhibition of demonic power, Gayle spares none finishing on 175 runs from 66 balls.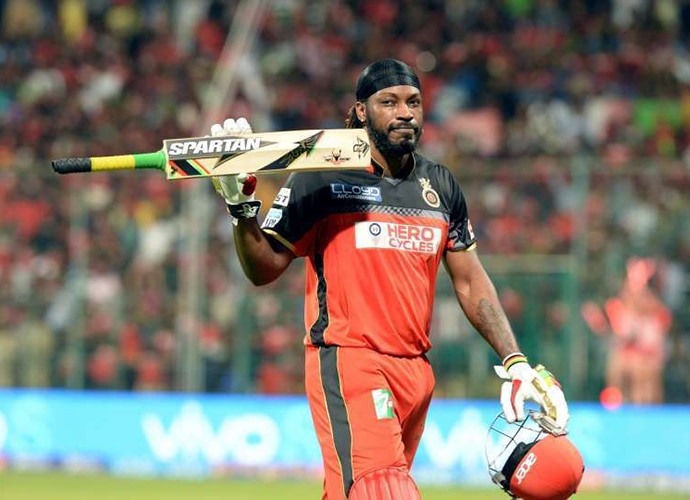 In 2012, Chris Gayle, who was playing for RCB, delivered a flurry of sixes, which injured a girl
If a cricket fan fell asleep in 1975 and woke up that night, it would have been difficult to convince him that he was witnessing the same game.
It is difficult to explain to a young cricket fan how the '70s kids grew up talking about how Gavaskar left a ball on the fourth stump. In the age of Andre Russell, Chris Lynn, it is hard to imagine Geoffrey Boycott once stood tall, obdurate, oblivious to the pleasures of the crowd, with the sole motive of protecting his wicket. (Ironically, even then Boycott was dropped after a laborious 246 runs against India for defensive batting.)
Wicket: The 'holy grail'
A batsman would protect his wicket like his sacred home. Using his technique, concentration, the bat has to be on those green uncovered wickets against the likes of Dennis Lillee, Jeff Thomson, and Robert.
Gavaskar, who back home faced only the gentle pace of Abid Ali, Madan Lal had the guts to face the fiery pace of Marshall, Holding, Croft wearing nothing but a skull cap. Throwing away ones wicket was next to sin. Even Kapil Dev was dropped when he gifted his wicket in a crunch situation against England.
More often than not, test matches would end in draws; two hundred runs in a single day would be accounted as a positive day.
16-year-old Sachin hitting four consecutive sixes was a sight to behold.
A gentleman's game
You might say cricket was boring back then, but the fans would come across unique spectacles. ML Jaisimha getting a chance to bat on all five days of a test match, Bapu Nadkarni bowling 13 consecutive maidens, a colonial country beating their masters at their own backyard; or a team (66-1 rank outsiders) that had won only one World Cup match previously trumping a two-time world champion, under the leadership of a 24-year-old, who first witnessed a cricket match when he played in one.
There were acts of valour, sportsmanship that just made you fall in love with the game. Like, Frank Worrell donating blood to his counterpart Nari Contractor to save his life, after the latter had been hit on the head; Malcolm Marshall coming out to bat with a broken right arm to ensure Larry Gomes completed his century. Or, an injured Bill Woodfull ensuring the series went on.
Even 15 years ago, Kumble, with his severe back pain, coming on to bowl to get the prized wicket of Lara or Laxman changed the face of Indian cricket forever.
Tamil Nadu cricketer T Natarajan is in demand, thanks to IPL
How IPL revolutinises cricket
Today, when we see Sunil Narine (named after Gavaskar by his father), swinging his bat like an axe, or, Lynn foregoing his baggy green to play in the different leagues, some of us are disheartened; but cricket rolls on.
No matter how much we criticise IPL, and call it a money-making machine, or a graveyard for young talent, we can't take away its due credit.
Right from its onset, IPL has revolutionised cricket. Players no longer are afraid of the mounting run rates or feel the pressure of bowling to the world's best in the death overs. A Swapnil Asnodkar gets exposure by rubbing shoulders with Shane Warne; a young Ravi Ashwin evolves into a champion bowler learning his skills from Muralitharan. Cricket has spread from Kashmir to Kerala and is no longer a property of Mumbai only.
Cricket today is an established source of income. No wonder, cricketers like T Natarajan, Mohammed Siraj suddenly find themselves in the limelight with IPL contracts worth a few crores. During the times of Vinoo Mankad, Vijay Hazare, cricket provided a contract of Rs 250 per match and, in all likelihood, a job in the State Bank of India.
Further back in the early twenties, there used to be an annual match between Players and Amateurs. Players were those cricketers who wanted money in exchange of their trade. Sir Jack Hobbes who scored 100 first class tons was part of the Players team always.
Kohli's 144 against Australia in the fourth innings in Adeilade is more special than the four hundreds he scored in IPL9
...And the monotony creeps in
T20 has its monotony. Notwithstanding the unpredictability of the format, or the number of close matches we witness, after seven weeks of slower bouncers and reverse sweeps, we all yearn to see a bit of real cricket. That is why Kohli's 144 against Australia in the fourth innings in Adeilade is more special than the four hundreds he scored in IPL9. AB de Villiers batting out an entire day to save a test match is more creditable than his 31-ball century against a mediocre bowling line-up.
We always end up doubting whether yesteryear players had the unique skill to clobber the ball. Actually, they could do it as well as anyone. Bradman scored a century in three overs (eight-ball overs) playing for Blackheath against Lithgow. Gavaskar scored the second fastest century back then, of 88 balls, against New Zealand. Vivian Richards was a different genre altogether - a perfect blend of charisma and calm. Garry Sobers was the first cricketer to hit six sixes in an over. A 16-year-old Tendulkar stepping down to Quadir and hitting four consecutive sixes was a sight to behold.
What next?
T20 cricket is like a meal of biryani. At first, it is amazing, but a regular occurrence makes it unbearable. Even as ICC ponders about a 100-ball format, it encourages the upcoming tournaments to be of twenty overs and makes sure that a T20 match between the USA and Nepal is also an international match. There will always be a handful of people who sit in the scorching sun to watch a match between Tamil Nadu and Himachal Pradesh. T20 cricket, with all its glitz and glamour, will soon lose its sheen, probably be replaced by an even shorter format, but cricket will roll on.
In an exhibition match, Jonty Rhodes was partnering Barry Richards. As Jonty ran like a hare trying to sneak in second, Barry Richards huffed and puffed to the crease. Finally, he called to his junior partner and said, "Son, the athleticism stops here and the cricket starts here."
Also read: The case of the missing street puppies
The views and opinions expressed in this article are those of the authors and do not necessarily reflect the official policy or position of DailyO.in or the India Today Group. The writers are solely responsible for any claims arising out of the contents of this article.