India vs Pakistan match: How cricket is making us very angry
We should use this 'mauka' to chill, without getting all heated-up in our air-conditioned rooms.
Admit it. Cricket has made us a lot angrier. And the Pakistani advertisement mocking Abhinandan Varthaman is not the only case in point — let's talk about India's 'Mauka Mauka' advertisement too. Or better still, let's talk about the upset Pakistani supporter who was spotted standing at the gallery resignedly as Asif Ali dropped his second catch of the day during the Australia-Pakistan match on June 12.
(•_•)<) )>/ #WeHaveWeWill#CWC19 pic.twitter.com/gkDwE2MMji

— ICC (@ICC) June 12, 2019
Clearly, a lot more is at stake here than just a game.
With hands placed at his waist, the man, hopelessly turning his face away from the camera, has become a meme. Even the ICC is talking about his picture-perfect reaction. Everything is done in good humour in this instance — but can we not see the anger simmering in all of us as India and Pakistan are set to lock horns on Sunday, June 16?
In anger and desperation: Why is it difficult to differentiate between who's playing and who's watching? (Photo: India Today/Twitter)
The Pakistani advertisement mocking IAF pilot Abhinandan Varthaman is hideous.
But the Indian advertisement is not bereft of contemptuous hints either.
The third Sunday of June is celebrated as Father's Day. Coincidentally, the India-Pakistan match in this World Cup is scheduled to take place on that day. And our ad makers grasped every opportunity to stoke that fabled father-son relationship between India and Pakistan. No wonder, all social media platforms are flooded with 'Baap' jokes — eager to show Pakistan its place (that of a weak son).
Yes, this advertisement is hideous. And there's no two ways about that. (Photo: YouTube)
We are not complaining that cricket is no longer a gentleman's game. It lost that moniker long ago. We, as viewers, have acclimatised to every kind of sledging, cussing and muscle-flexing on the field. But it's high time we shifted our focus to the hyperventilation taking place off the field — on social media, or in front of our television sets.
Cringeworthy ads on both sides of the border ???? seriously guys, you don't need to 'hype up' or market the match anymore specially with rubbish! it has ENOUGH attention already!It's only cricket for God sake, and if you think it's anymore than that then get a grip or get a life !!

— Sania Mirza (@MirzaSania) June 12, 2019
It's not any more just Rishabh Pant saying that he's scared of Virat Kohli's anger — we all should actually watch out for our anger ahead of Sunday's match.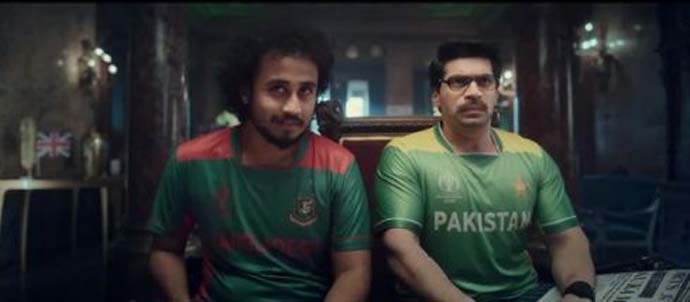 But then, this advertisement can't support any sanctimonious claims oftaste either. (Photo: YouTube)
Why are we so invested, and that too, so negatively?
Otherwise, what's the need of posting Abhinandan Varthaman's photo to comment on this exasperated Pakistani fan's photo, implying that Pakistan will lose matches as a punishment for annoying our national heroes like Abhinandan? Where will this competitive cussing actually take us?
Not very far.
Meanwhile, we are doing a lot more harm to our health by falling into the trap of all the insinuating advertisements and the rising tempers. Relax, everyone. It's all to garner more viewership.
Also Read: No play with Pakistan: We Indians must choose between national pride and our martyrs' sacrifice versus a game of cricket