After centuries of slavery, our freedom does not merely confer on us a cluster of rights, but a huge constellation of responsibilities.
Indo-Tibetan ties have never been as strong as they are today. A principled and strategic intervention in the succession issue is a challenge and opportunity not to be missed.
It is difficult to believe that all these resignations are politically innocent or unmotivated.
Ultimately, the issue is not only legal but political. The government and the BJP must demonstrate the political will to eliminate Article 370. As the adage goes: "Where there is a will, there is a way.
The RSS was a threat to Indira Gandhi's authoritarianism, but to accuse it of being fascist or anti-national is wrong and Indian media needs to realise this.
Those who have are language chauvinists who can be found on either side of the Vindhyas. They are morally indefensible and politically corrupt.
'Hindu terror' is a fiend invented by those who want to delegitimise Hindus from seeking and holding on to power in India.
The answer, perhaps, is contained in one word: intelligence.
Both Congress and BJP wish to be seen rather similarly - as populist, welfare-statist, inclusive and nationalist.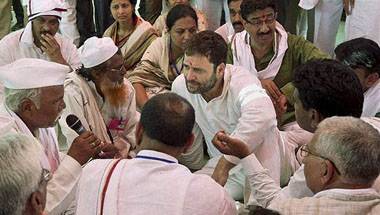 The Congress president's decision to contest from a second seat gives the impression that he is not entirely confident of winning in Amethi.