At a time India is surging with pride with all the laurels that our sportspersons are adding to the medal's tally of the 21st Commonwealth Games, a sinister plot to undermine their achievement is being hatched by the BJP-led NDA government back home.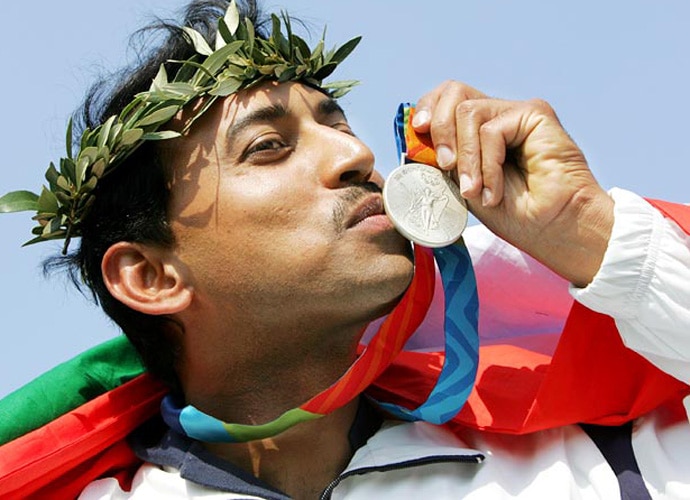 Contrary to Howard Cosell's cardinal decree that sports and politics don't mix, Rathore has directed various sports federations to prepare a list of "the number of medal(s) won by India in international events during the last four years" and "if a comparison is made with medal(s) won by India during UPA govt time".
This is divisive politics at its ugliest and needs to be called out for what it is - a cheap gimmick to trade the toil of our sportspersons for votes.
Medals that sportspersons win at international events with their sweat and blood, through years and years of relentless hard work and unflinching dedication, are not won for NDA or UPA, not for the Congress or the BJP.
These medals, all of them without exception, are won for and in the name of this great country. Any bid to politically capitalise on the achievements of sportspersons should thus be named and shamed.
Rathore must tell us what it felt like standing on the podium having won a silver medal for India at the Olympics with the national flag around his shoulders and national anthem playing in the background, amid a packed stadium. Would he have felt the same rush of pride with a party flag - BJP or Congress - instead?
It is a testimony of the politically divisive times we live in that a sportsperson, no less, wants to divide medals into those won during NDA regime versus those received while the UPA was in power.
This speaks volumes about the moral bankruptcy of our political leadership, which will appropriate all individual achievements, even India's laurels as those of political parties and the governments led by them.
Rathore has drawn flak for his move, which smacks of overzealousness to please his political bosses. Criticism for him has come from both within and outside the party.
While Congress' leader Manish Tewari has called the move "blatant politicisation of sports", former cricketer and suspended BJP MP Kirti Azad chose to emphasise that he played for the country and not a party.
Surprisingly, Rathore has not said a word to clear the air. Maybe because he hopes the controversy he has stirred will die down, or maybe because he has the backing of his party bosses.
The sports minister has been trying to direct the credit for India's excellent performance at the Commonwealth Games at Prime Minister Narendra Modi's doors. His tweet on Monday, April 9, is a case in point.
His Modi bhakti is, however, not new. After Army's surgical strike in Myanmar, Rathore chose #56inchRocks as the hashtag for all his tweets on the subject, implying that the action was possible because of the prime minister's courage. It is surprising for a man, who has served the Indian Army and the field of sports, to place an individual and party before the nation itself.  
Rathore, it seems, believes in the maxim "if you tell a lie big enough and keep repeating it, people will eventually come to believe it". The minister is deliberately trying to mislead the nation by creating an impression that this is the first time India has done well at the Commonwealth Games.
What a disservice it is to sportspersons who made India proud in the past. What a blatant attempt to snatch credit from them.
In 2010, at the Games organised in Delhi, India came second with a haul of 101 medals. This tally had as many as 38 gold medals.
In 2014, at Glasgow, India came fifth with a haul of 64 medals, including 15 gold medals.
Close to halfway through the current Games, India is at third position with a tally of 19, including 10 gold medals.
India, despite being one the most populous nations and fastest growing economies, has managed just one gold medal since 1980 - shooter Abhinav Bindra became the first individual to win gold for shooting in 2008. The country's previous gold medals, eight between 1928 and 1980, were all in field hockey.
Indian sportspersons have for long been victims of state apathy. While there is no dearth of ministers who want to get clicked with those who win medals at international events, they are found missing when it comes to ensuring world-class sports facilities.
Hearing-impaired athletes, who represented India at the 23rd Summer Deaflympics in Samsun, Turkey, refused to leave Delhi airport in August 2017, protesting against the lack of acknowledgement or appreciation of their success at the tournament.
The contingent, comprising 46 athletes and their support staff, was miffed with the government for not recognising their best-ever performance, which included a gold, a silver and three bronze medals.
The 2016 Rio Olympics showed how government treats sports. Then sports minister Vijay Goel was pulled up by the organisers for acting like an unruly child along with his entourage. Goel, who appeared to have mistaken Rio for Delhi, contributed to the event by taking the limelight away from Indian athletes and focusing it on himself - and for the wrong reasons.
Marathon runner OP Jaisha claimed that during the women's marathon event, she wasn't even provided with water or energy drinks.
Rathore - a minister - will do well to also ask sports federations to provide a list of instances of apathy shown by the NDA towards sportspersons. That should serve as a reality check for the minister and bring his focus back to improving sports facilities in India and building a sporting culture in the country.
On Sridevi's death, the Congress shamelessly said that it was the UPA government that gave her Padma Shri. Now, NDA wants to tell us more people are winning medals under its regime. This episode proves just one thing. Politicians are busy scoring easy brownie points, sportspersons must realise they are on their own in their fight for medals.