The entire country is under lockdown now and will remain so till at least April 14. So far, 11 people have died due to the novel coronavirus in India, while 539 have tested positive. It is important for us to note here that as of 10 am today, India had tested only 22,928 samples from 22,038 individuals for Covid-19. Now, that is too low a number. The government needs to ramp up tests and not just rely on lockdown to contain the spread of the virus.
It can't be said enough: This threat is serious. You think people get it? No. Not just ordinary people, people such as Brazilian President Jair Bolsonaro too continue act and talk stupid. Bolsonaro claimed, he "wouldn't feel anything" if infected with coronavirus. We still hope he doesn't get infected. But he still makes the cut, like nobody else, to be our Covidiot Of The Day.
Brazilian President Jair Bolsonaro claims he "wouldn't feel anything" if infected with coronavirus. (Photo: Reuters)
Bolsonaro has rubbished efforts to contain the illness with large-scale quarantines. We have absolutely no clue what's cooking in the man's brain. Spain has recorded 42,058 confirmed cases and 2,991 deaths due to the virus. "The virus has arrived and we are fighting it and soon it will pass," said today's Covidiot. Thankfully, the Spanish people are not in agreement. Bolsonaro's five-minute address sparked protests in both Rio and São Paulo, with people with banging pots and pans.
Do you know what this form of protest is called? It's called cacerolazo or casserole. The protest form involves people making noise by banging pots, pans, and other utensils in order to call for attention.
It is believed the protest form emerged in France in the 1830s. This was the time of the beginning of the July Monarchy and the protests were led by opponents of the regime of Louis Philippe I of France. But the protest got its name when it reached Spain. The word casserole comes from Spanish cacerola, which means 'stew pot'.
We hope the noise created can drill some sense into Bolsonaro's head before it's too late. Remember, in an integrated world, even one nation acting foolish or irresponsible can lead to worldwide disaster. Even Prince Charles has got the virus. Now, he was being cautious. Remember he had ditched the usual handshake for the Indian namaste? 
He is is believed to have caught coronavirus after he greeted guests of the Commonwealth Service in Westminster with a namaste salute. He is 71 and we wish him a speedy recovery. We wish that for everyone battling the virus.
We told you right at beginning of today's DailyOh that India is testing very few people. But there is a test you can perform on yourself sitting at home. Check if you have lost your sense of smell.
Check if you have lost your sense of smell. (Photo: Reuters)
As more and more people around the world are becoming infected by the new coronavirus, there has been a rise in the number of people reporting a loss of smell, and also by extension, taste.
Read more about that here.
The loss of smell has a term – it's called anosmia. And anosmia is our Word Of The Day. The word has Greek origin – an, which means 'without' and osme, which means 'smell'. So, you have anosmia, you are without smell. Now, that doesn't necessarily mean you have Covid-19. Just like cough, cold, headache can happen due to a host of reasons, apart from coronavirus, anosmia too can happen in the absence of Covid-19. So, if you can't smell, don't panic. Ask your doctor for advice in case this is sudden.
Now, the coronavirus has led to many firsts in human life, like this lockdown we are currently under, and among this series of firsts is the postponement of Tokyo 2020 Olympics. The International Olympic Committee and Japanese government finally succumbed to pressure from athletes and sporting bodies and agreed to put back the Games until 2021. But it will still be called Tokyo 2020.
The Olympics have been cancelled in the past but never postponed. We did tell you about how the Games were cancelled during World War I and II. Remember? If you don't remember and want to be reminded, read this.
There are high chances the Indian Premier League (IPL) too would face cancellation. When that happens, we would inform you. We would inform you even if the IPL goes ahead later in the summer months, the likelihood of which is rather low.
Life, as we knew it, has changed. We wonder if there is anything that hasn't taken a hit because of the current crisis. What, however, is important is how we can help end it. For now, we can just help by staying home. And, for heaven's sake, if you are still calling your domestic help to work, stop.
We told you Anand Mahindra has said Mahindra factories would be making ventilators among a host of other measures; luxury conglomerate LVMH, which owns Dior, Fendi, Louis Vuitton, is making face masks, and so is Prada.
Meanwhile, Renault has begun using 3D printing in Spain to manufacture medical visors for health workers in the country. Not everyone is a Bolsonaro.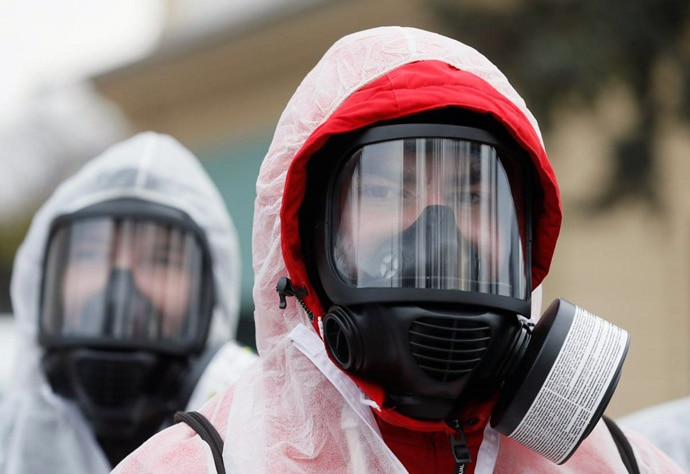 Renault has begun using 3D printing in Spain to manufacture medical visors for health workers in the country. (Photo: Reuters)
Comparisons are being drawn between the coronavirus crisis and the two World Wars that hit countries across the globe. So, we tried to find out what did Renault do during World War I; after all, the company was established in 1899.
Now, Renault is a French multinational automobile manufacturer, so during WWI, it switched to producing heavy military equipment such as trucks and artillery carriages, as well as artillery shells. Renault FT-17 light tank, designed by company's most talented industrial designer, Rodolphe Ernst-Metzmaier and Louse Renault, who is the founder of the company, himself, was among the most revolutionary and influential tank designs in history. The Renault FT was widely used both by French forces in 1918 and American Expeditionary Forces in the later stages of World War I.
As they say, crises are opportunities. How you use it is up to you.
Omar Abdullah is using it for some self-deprecating humour. The former Jammu and Kashmir Chief Minister has tips to offer on how to survive self-isolation. Yes, you guessed it right, from his experience of being in a detention centre. Omar has started a thread on Twitter and promised to keep updating it with his tips.
We sure will be tracking it. Who minds a good laugh? Not us. Not in the times of corona at least.