DailyOh: What do the President and PM earn, to how onion prices toppled governments
Covidiots today are those who harass their neighbours for doing their job as doctors.
Hi there!
Trust this Tuesday finds you in better spirits than the morbid Monday. But how do you know it was Monday yesterday? This work from home has warped our sense of days and even dates. That reminds us: how far is the date when this lockdown will be lifted?
Well, you have done well by staying home for nearly two weeks and you may have to do well some more if the situation doesn't improve dramatically. Because this is the only way to break the chain and we do not want to be part of the chain, do we? Social distancing is the only way and if you know our country well, we gotta enforce it.
Social distancing is what the Supreme Court has urged in invoking its extraordinary Constitutional powers under Article 142 to step away from the convention of open court hearings. But what is Article 142? Well, Article 142 of the Constitution says that "Supreme Court in the exercise of its jurisdiction may pass such decree or make such order as is necessary for doing complete justice in any cause or matter pending before it".
This time, the Supreme Court has ruled against open court hearings and all "restrictions imposed on people from entering, attending or taking part in court hearings" as lawful. It comes after some had argued that an open court system ensures transparency in the administration of justice. In the past, Article 142 has been invoked for doing good to large sections of people. For instance, in 1980, it was brought to light that in hundreds of cases, undertrial prisoners continued to be in custody for periods more than that prescribed for maximum imprisonment on conviction. The Supreme Court invoked Article 142 and in a stroke of the pen, thousands of undertrials were released.
Similarly, in the case of Bhopal Gas tragedy in 1984, the apex court invoked Article 142 to bring relief to the thousands who were affected by the gas leak by awarding compensation to the tune of US$ 470 million to the victims at the cost of an overriding host of other laws. The Court held that "prohibitions or limitations or provisions contained in ordinary laws cannot, ipso facto, act as prohibitions or limitations on the constitutional powers under Article 142" and put itself above the laws made by Parliament or the legislatures of the States.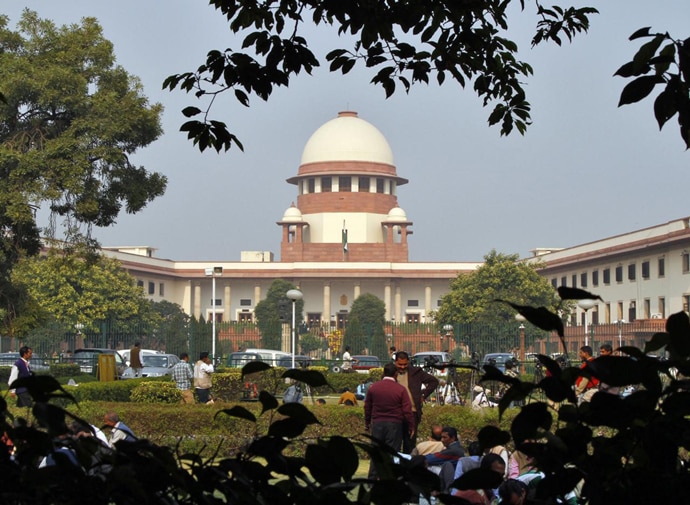 Please maintain social distance, says Supreme Court. (Photo: Reuters)
So with that, now the Supreme Court under Chief Justice of India (CJI) Sharad A Bobde says nay to gatherings in court and yay to social distancing.
Speaking of social distancing and lockdowns, there is one place to visit in such times. And that place is called the kitchen. How many times have you been there in the past two weeks? And if you have been going there regularly enough, your stocks of onions would have depleted by now and like us, you must be having arguments with the lone sabzi-wala in your locality about the skyrocketing onion prices. And know this from us, it all boiled down to one man who tested positive for Covid-19 that you are having all those fights. He was no ordinary man though.
He was the major supplier of pav to the traders of Lasalgaon in Nashik district, which is Asia's largest onion trading hub. District administration ordered a lockdown on the market after the case came to light on March 30, forcing the suspension of operations. The lockdown is likely to be lifted by tomorrow and the government says it has been monitoring onion prices before they hit the roof.
The humble onion has the power to topple governments. (Photo: Reuters)
The government should do so, given that onions have a lot of power in making or breaking a government. You must have read about the story of onion bringing Indira Gandhi back to power in 1980. If not, you can read it here. But that was not the only time that onions ruled in the favour of Congress.
When Sushma Swaraj was all poised to become the Delhi Chief Minister for the second term after the Delhi Assembly elections 1998, onion price rise on the eve of the polling day turned the tide in the favour of the Congress candidate, Sheila Dikshit. While Sheila Dikshit went on to become the CM for the next 15 years and won three elections in Delhi, onion prices again were the reason behind her downfall.
In 2013, when the then-fledgeling Aam Aadmi Party and political newbie Arvind Kejriwal took the plunge, onion prices were soaring at Rs 80 per kg and Kejriwal rode on the onion wave besides his anti-corruption stand.
Onion prices spare none, whatever be your pay scale.
Speaking of pay scale, politicians and leaders have voluntarily taken pay cuts to help the country deal with this Covid-19 crisis. So our top leaders including the President, the Vice-President, Prime Minister, cabinet ministers and the governors of the states are taking a pay cut as a social responsibility. But you must have wondered, how much do our leaders earn? While we know that it is impolite to discuss salaries, those of public servants need to be in public knowledge.
PM Narendra Modi (L) and President Ram Nath Kovind. (Photo: PTI)
The first citizen of the country — the President — earns the highest at Rs 5 lakh a month plus added benefits like medical facilities and accommodation. The next is the Vice-President of India, who takes home Rs 4 lakh per month plus benefits. The Governors of the states are a shade below the V-P and get Rs 3.5 lakh per month with benefits of course.
You would have thought for all his troubles, the Prime Minister might be getting more. But no. He earns a monthly salary of Rs 2 lakh. But besides medical and accommodation benefits, he gets additional benefits for being a Member of Parliament too. The MPs — both, Lok Sabha and Rajya Sabha —take home a monthly salary of Rs 1 lakh each. Along with this fixed salary, they get Rs 45,000 as constituency allowance and Rs 2,000 as daily allowance when the Parliament is in session. They also get travel allowances, railway passes and accommodation.
But your payscale or social status is hardly a factor when it comes to this virus. Look at British Prime Minister Boris Johnson. The British PM is in the Intensive Care Unit due to Covid-19 complications. Johnson tested postive for the novel coronavirus last month. PM Narendra Modi and US President Donald Trump both took to Twitter to post their wishes for the British PM.
Hang in there, Prime Minister @BorisJohnson! Hope to see you out of hospital and in perfect health very soon.

— Narendra Modi (@narendramodi) April 6, 2020
President @realDonaldTrump expressed America's well wishes to Prime Minister Boris Johnson for a speedy recovery. pic.twitter.com/C3AfUuuVyv

— The White House (@WhiteHouse) April 6, 2020
Now PM Modi and President Trump are back in the news because of hydroxycholoquine.
Donald Trump, after claiming and tweeting about hydroxychloroquine being a potential cure for Covid-19 (and resulted in medicine stores running out of stock), is now dominating Twitter trends for apparently saying that 'there will be retaliation' if India doesn't allow the export of hydroxychloroquine tablets. But then, we went back and listened to Trump's fulll speech again... and turns out a mountain was made out of a molehill. Here's a transcript for you:
Where is the threat of US retaliation in this? A reporter asks about retaliation from other countries. Trump says ho sakta hai, up to them, par India nahin karega meri Modi se baat ho gayi hai.Dhamki kidhar hai. I couldn't find it. pic.twitter.com/EtKoxKbQhL

— DISTANCE BANA (@kamleshksingh) April 7, 2020
So we got to talking about Trump because of hydroxychloroquine, but do you know what hydroxychloroquine is? If you didn't, let us help. Hydroxychloroquine is our Word Of The Day. Hydroxychloroquine (or HCQ) is an oral medication that is used to prevent and treat malaria, and treat rheumatoid arthritis, lupus, and porphyria cutanea tarda (a blood disorder that affects the skin). It is being explored as an experimental treatment for Covid-19, but there have been no conclusive studies to establish that it is a cure for Covid-19. HCQ is derived from the compound quinoline, that is extracted from coal tar.
Well, we leave it to Trump and his tweets to decide what he wants and hope he will not be like the many covidiots in the world.
Now covidiots are aplenty in our country too. Those who think it is perfectly alright to harass a neighbour who happens to be a doctor working in a hospital where coronavirus-positive patients are being treated. This is what happened with Dr Sanjivani, who lives and works in Surat, and was physically attacked and verbally abused by her next-door neighbour couple. While it is a very mild term to use for these neighbours, we name them our Covidiots Of The Day. You can read more here on the case of Dr Sanjivani and her neighbours who have termed her a "threat to the society".
We don't know if these neighbours of Dr Sanjivani's banged thalis and lit up diyas in the past few weeks. If they did, they sure missed the point: who they were saying thank-you to.
On that note, we leave you for the day.
We will beback with more tomorrow.
Until then, stay safe!
Also read: DailyOh! When PM asked for diya and BJP leader responded with katta, to why it is a pink supermoon