DailyOh! BJP vs AAP in bitter war of words, to what Kamal Nath wants
BJP has called Delhi CM Arvind Kejriwal a 'hypocrite', and his fast in support of farmers' protest 'drama'.
Monday blues hit harder today because Google and YouTube joined everyone else in feeling blue just when people were beginning to feel Monday is coming to end. People across the world suddenly realised they can't 'just Google' because the services - all of them - went down. Many were left rudderless in the middle of what looked like nowhere because even Google Maps went down. YouTube coolly tweeted it knew many are having issues and that the issues are being looked into, so stay tuned for more news.
Though the issues were resolved in less than 30 minutes, the 30 minutes felt like the world has come to an end to many. Only the many couldn't confirm it with Google so they thought there is still hope it hasn't.
Functioning without Google is difficult. Functioning without food is impossible. You may find it difficult to intensify anything on an empty stomach but on a day farmers promised to intensify protests against the farm laws, 40 farm leaders spread across various Delhi borders and began a fast, which also ended at 5 pm.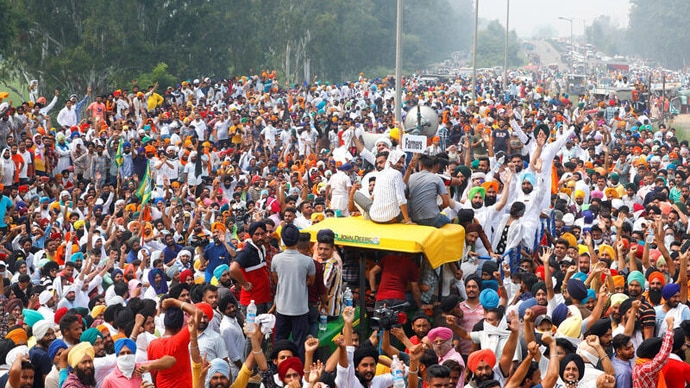 Farmers have refused to end their protest till the farm laws are rolled back. (Photo: PTI)
Delhi Chief Minister Arvind Kejriwal, who promised to fast the whole day, intensified his counter-attacks on his Punjab counterpart Capt Amarinder Singh, even as he battled attacks from Union Minister Prakash Javadekar.
To Amarinder first. Kejriwal accused the Punjab CM of having compromised the farmers' issue by joining hands with the Centre to 'have the ED case against his son [Raninder Singh] forgiven'.
To be fair to Kejriwal, he didn't start the fight. It was Amarinder who accused Kejriwal of indulging in theatrics after "shamelessly" notifying one of the farm laws in November.
And that's where BJP leaders Prakash Javadekar agrees with Congress leader Amarinder Singh. What Singh called 'theatrics', Javadekar has called 'hypocrisy'. Both want to remind Kejriwal about the law he notified. Kejriwal and his AAP comrades meanwhile have insisted on remaining forgetful and seem to have wiped out November from their memories the same way we want to forget 2020.
If 2020 gave Covid, it gave the vaccine too. But we want to remember it for coronavirus because if there was no virus, no vaccine would have been needed. If there were no farm laws, Kejriwal wouldn't have had to notify anything. Don't look for logic because we are talking hypocrisy.
Hypocrisy, the Word Of The Day, comes from the word hypocrite, which in turn stems from Greek word hypokrites, which means 'an actor'. The Greek word took on an extended meaning to refer to anyone who was wearing a figurative mask and pretending to be someone they were not. This sense was taken into medieval French and then into English. The amount of travelling words do would have made us envious if words could put up their travel photos on Facebook and Instagram. Alas, they can't.
Coming back to where we were, hypocrisy came to mean behaviour that contradicts what one claims to believe or feel. You see people often take stands to comfortably fit in. They don't sit comfortably on those stands because there is a life to be lived, gains to be made and perks to be enjoyed. Hypocrisy is a thus a life skill. There ain't a proper antonym for hyprocisy but our guess is conscience could qualify for that spot.
After being accused of hypocrisy by Javadekar, AAP leader Manish Sisodia said the comment is coming from a party that has no understanding of Gandhi because it is a party of Godse. Meanwhile, farmers are sitting at the borders refusing to go home till the three laws are gone. The government, on its part, is showing no sign of wanting to take the laws back but is insisting it is always open to talks. With five rounds done, a sixth round of talks is expected this week. Union Agriculture Minister Narendra Singh Tomar also had talks with Union Home Minister Amit Shah. So much talk and still the deadlock. The government can't rest till it breaks the deadlock.
To get some rest, Congress leader Kamal Nath may give out his resignation. Seventy-four-old Kamal Nath says he is ready to stay at home, but has refused work from home. "I am ready to take some rest. I have no ambitions or any greed for any post. I have achieved a lot already. I am ready to stay at home."
Congress leader Kamal Nath has hinted at his resignation. (Photo: Reuters)
Nath may not resign from his party, but from the two positions he holds - state Congress president and leader of opposition in the Vidhan Sabha. Nath is reportedly under pressure to make way for the younger lot.
Nath may make way for the younger lot on his own, but the coronavirus would have to be forced to make way for normal life. And the US has started its vaccination drive, after the UK. India, meanwhile, may have to wait a while longer because the Pfizer vaccine is too costly, prized at about Rs 2,728. Covishield, on the other hand, may be made available at about Rs 737.
This doesn't mean nothing is happening in India on that front. Cold storages are being readied and so are vaccination plans for the vaccine when it arrives.
When we say the world is waiting for the vaccine we are as off the mark as when we say India wants this or that. The world is many countries; India is many people. So, one country in the world which is least interested in the vaccine is France. Not just corona, France doesn't like any vaccine. Again, France has many people and we are not speaking for all. In fact, it has emerged that richer countries are more averse to vaccines than poorer ones. Why is that so? Maybe because they can easily afford it. We all want that which is difficult to get. Impossible is even better.
It has emerged that richer countries are more averse to vaccines than poorer ones. (Photo: Reuters)
A Wellcome Global Monitor survey found that one in three French people don't believe vaccines are safe. The report said that this has led to more measles and meningococcal disease cases. Compare this with Bangladesh, where almost 98% people believe vaccines are both safe and effective.
In a development not related to vaccine development or delivery, X-Mode Social will no longer be able tell whether you are in Bangladesh or France or Bhatinda or Farrukhabad. Both Apple and Google are banning X-Mode Social, a data broker firm, from collecting location data from the smartphones running on iOS and Android respectively.
While Apple and Google have refused X-Mode Social the privilege to piggyback on their platforms, Apple has refused Rs $16,000 (about Rs 11 lakh) refund to Apple user Jessica Johnson for shopping that her six-year-old son did. The shopping spree was on since July but Jessica didn't know. When she got to know, she thought she had been duped. A little digging made it clear she wasn't.
The six-year-old had been making in-app purchases and Apple has said, bika hua maal wapas nahi hoga. But there is something Jessica won in the episode – a lesson. Keep a tab on what your child is doing online.
You lose some to win some. Jessica lost a lot to get that one lesson, she may have known anyway but had no time to implement it. But The Queen's Gambit is highly recommended if you want to learn the art of winning big by losing small. The series is on Netflix.
Guess who PM Narendra Modi lost to? Skipper Virat Kohli. Team India captain Virat Kohli has pipped Modi in a list of top Instagram influencers compiled by global data collection and analysis platform, Hype Auditor. The list is topped by footballer Cristiano Ronaldo and has Kohli on the 12th spot with an authentic engagement of 2.4 million.
We will leave you planning your next watch for today.
Be back tomorrow.
Now get the all-new DailyOh in your mailbox. Click here to subscribe.
Also Read: Why Punjab is Angry
The views and opinions expressed in this article are those of the authors and do not necessarily reflect the official policy or position of DailyO.in or the India Today Group. The writers are solely responsible for any claims arising out of the contents of this article.