DailyOh! Why SC will not hear a no, to the fake first pic of Virushka's baby girl
The Supreme Court has set up a four-member committee to prepare a report on farm laws. Till then the farm laws will stay on hold.
Good evening. Farm laws are on hold and a committee has been formed to not mediate but find facts and give a report to the Supreme Court, which will decide the fate of the laws based on the report. Farmers can say no to going to the committee but the court has opted to not hear the 'no'. If something wasn't heard, it won't matter if it was said.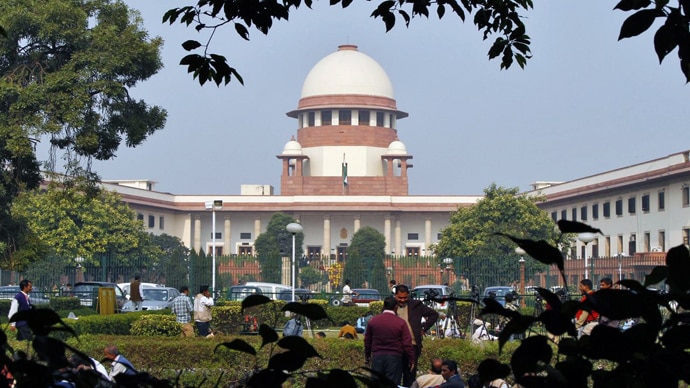 The Supreme Court has put farm laws on hold. (Photo: Reuters)
The committee has four members - Bhupender Singh Mann of Bharatiya Kisan Union (BKU), Anil Ghanwant of Shetkari Sanghatana, Ashok Gulati, agricultural scientist, and Pramod K Joshi of International Food Policy Research Institute. Why did the court not allow the government and farmers to suggest names for the committee? Because the committee is not for mediation but for the court to decide on the matter.
Does this mean farmers will go home and let the committee prepare the report and Supreme Court pass a verdict based on the report?
BKU spokesperson Rakesh Tikait says no, they won't. Not until the farm laws are withdrawn. Tikait also said farmers will take out a tractor rally on Republic Day because "if army tanks can roam the streets of Delhi, so can farmers' tractors". The Supreme Court has, however, issued a notice against the rally on a plea filed by the Delhi Police.
The farmers have decided to stay put for now but Covishield is on the move. The Serum Institute of India sent out the first consignment of the coronavirus vaccine to different parts of the country. The consignment containing a total of 478 boxes of the vaccine, each weighing 32 kgs, were seen leaving SII's Pune facility for 13 locations.
What has not been seen so far is a photo of Anushka Sharma and Virat Kohli's baby girl. Virat's brother Vikas shared a photo of a baby's feet on Instagram and clarified, it ain't THE baby's feet. Having seen the baby bumps, many want to now see the baby. There are also many who have no interest in baby photos whether Virushka's, or Brangelina's, or even of those belonging to their family and friends. Both kinds are fine.
The photo which is not the photo of Virushka's child. (Photo: Instagram/vk0681)
If you are worrying yourself over when you'll get to see the baby photo, remember what Saina Nehwal is worried over. Not seeing her Covid test report. The ace badminton player says she was tested for Covid on January 11 and on January 12 she was told she is positive but the report was not shared with her. The news came to Nehwal just before the start of her warm-up game. What game? The star badminton player is currently in Bangkok for the Thailand Open. A few hours after the news, sources told India Today that Saina's test was a false positive and that she can play on Wednesday.
From Bangkok, let's go straight to America just to know what's up with Donald Trump. Democrats in the House of Representatives have initiated an effort to impeach Trump over charges of inciting the mob that then ran riot on Capitol Hill. Speaker Nancy Pelosi wants vice-president Mike Pence to force Trump out of office. If Pence doesn't do anything, Pelosi will because she believes, "The president's threat to America is urgent, and so too will be our action." Trump is going out of office so why the insistence on impeaching? Because if Trump is impeached, it ensures he can never return as the head of the US. Also, just because one is leaving doesn't mean one should not be held accountable for the mess he is leaving behind.
Let's leave Trump to Pence and Pelosi, and let's head back to India. While we doing all this country-hopping without a passport and visa, do you know which one is the world's most desirable passport? Japanese. Because a passport from Japan opens doors to 191 countries, says the newly released Henley Passport Index (HPI). HPI is an annual power ranking of passports. This ranking helps us know the total number of countries a passport holder can enter without a visa. We know the question on your mind. India ranks 85th and an Indian passport holder can enter 58 countries without a visa.
So coming to India, the country is today observing National Youth Day because today happens to be the birth anniversary of Swami Vivekananda. You may have read a lot from his teachings, but do you know why Vivekananda insisted his disciples take good care of their health?
Because he himself suffered from 31 ailments. He was just 39 when he died. The Monk as Man, who never owned or sold a Ferrari, by Shankar lists liver and kidney diseases, malaria, migraine, diabetes and heart ailments as some of the 31 problems that the Swami faced. Perhaps, that is why Vivekananda said one will be nearer to heaven through football than through the study of the Gita. We suggest a balance. Play through the day and read probably at bedtime. Which reminds us that Vivekananda suffered from insomnia too. In a letter Dr Shashi Bhushan Ghosh, he wrote, "I never in my life could sleep as soon as I got into bed." Perhaps, the 'arise, awake' bit kept ticking in his mind even when he got into bed.
Swami Vivekananda suffered at least 31 ailments.
His life, unfortunately, wasn't too long but it did inspire many. You know what they, "Don't count the years in your life but the life in your years." Vivekananda lived a fulfilling life in his limited years that were long enough to inspire many. To ensure, project inspiration continued, Swami Vivekananda's birth anniversary was declared as National Youth Day in 1984. The first National Youth Day was observed in 1985.
Youth is the state of being young and so youth has no age limit, philosophically speaking. Youth, the Word Of The Day, comes from Old English word geoguo, which meant 'young people, junior warriors; even young of cattle'. Geoguo was related to the word geong, which meant 'young'. Oxford dictionary defines youth as "the time of life when a person is young, especially the time before a child becomes an adult". You see some never become adults and some are born grown-up so youth is truly a state of mind, unlike poverty.
From state of mind to the state of Aditya Alva. Vivek Oberoi's brother-in-law Aditya has finally landed in police custody in connection with the Sandalwood drugs case after four months of being on the run. You can run as much as you want, but then you know kanoon ke haath will reach you.
If you want to reach out to some comfort food, we can help with the recipe of Savoury Muffins. Eat it all or share some, the choice is always yours.
We will leave you with that for today.
Be back tomorrow.
Now get the all-new DailyOh in your mailbox. Click here to subscribe.
Also Read: When Swami Vivekananda bridged the gap between 'Aryans' and 'Tamilians'
The views and opinions expressed in this article are those of the authors and do not necessarily reflect the official policy or position of DailyO.in or the India Today Group. The writers are solely responsible for any claims arising out of the contents of this article.