Semen-filled water balloons or not, Holi needs to stop being an excuse for sexual harassment
The culture of 'Bura na mano' is at its root.

DailyBite
"Bura na maano" or "don't feel bad" or "don't mind" has, over the years, turned into an excuse for men to display unacceptable forms of behaviour under the guise of a festival. Men grope women. Men tear the clothes of other men and women. Men, often violently, show off their dominance in the form of gulaal, water, eggs, mud and sometimes corrosive paint, to others. And now, this socially acceptable form of Holi-ganism has taken a turn for the worse, with the lugging of balloons filled with semen.
The incidents
Recently, students of Delhi University's Lady Shri Ram College for Women alleged they were victims of a series of balloon-flinging incidents. One of the LSR students alleged in a viral Instagram post that the balloon flung at her — an invasive practice that has been normalised over time — while she was returning from Amar Colony in a rickshaw, was filled with "semen".
"Only when I returned to my hostel to hear another friend of mine talking about semen-flinging that was currently the Holi fad in the back market area, did I realise what had been thrown at me. Disgust, nausea, anger and frustration hit me in waves. More severe than anything of the sort I'd felt in quite a long time. And you know what the best part was? Not a single person in that busy market batted a single eyelid at the sight of men throwing liquid filled balloons at a girl. Silly me of course, expecting people to react to 'normal' things," she wrote.
@toli_yes on Insta posted about having a semen filled balloon thrown at her, and so many people messaged me about this happening to them that I can't put it all on this tweet.SEMEN balloons in the 'spirit of holi'? That's not funny. These men are the scum of the earth. pic.twitter.com/Z3rvPiaAwj

— Sukhnidh (@skhndh) February 26, 2018
"I didn't know what semen flinging was, I learnt that today. My kurti tells the tale," wrote Tolino Chishi, the LSR student, adding that it was much later that she realised the contents of the balloon were not water and paint, it was packed with semen. She wasn't the only one to have faced the assault, as grievous as sexual violence. A similar incident was reported in Amar Colony again on the evening of February 28. In fact, the students claimed that balloons filled with semen and rotten eggs being thrown at them has been a common occurrence over the past few years.
The immediate backlash
LSR's women's development cell held an open meeting with about 40 students on February 27. Even the LSR students' union reacted on the situation with a statement that read: "As incidents of throwing semen filled balloons at LSR students were officially brought to the notice of the students' union by the student body, the Union has formally requested for increased police patrol in the college vicinity areas. We have requested this to the police officers and our Principal."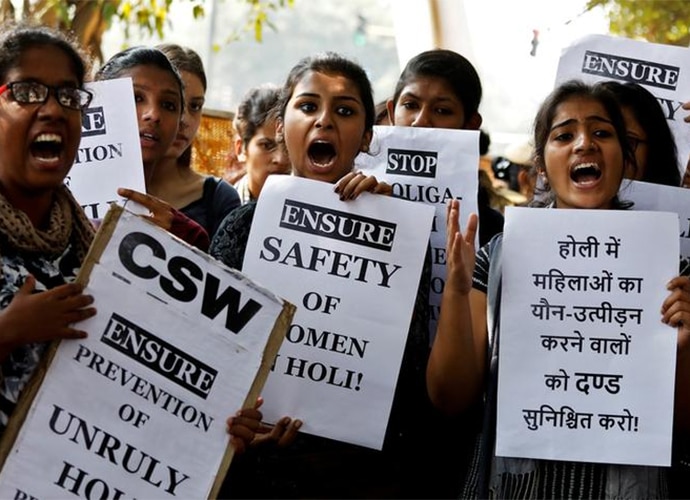 Photo: Reuters
Photo: Reuters
On February 28, the National Commission for Women (NCW) took cognisance of the incidents; its chairperson Rekha Sharma said, "[We have] sent a team to meet students and the faculty and take first hand stock of the situation. Police also has gone so that necessary action can be taken there and then."
Students from all over Delhi University have joined in the protest. The police are still probing the matter and are yet to officially to declare whether they've nabbed the culprits.
Take offence, stop Holi violence
It is not just the idea of semen-filled balloons that caused the outrage, it is violence in the name of Holi. That many women are subjected to molestation by men in broad daylight is an unnerving reality long normalised by Indians. Only recently, a 23-year-old student of Delhi University found a man masturbating at her while he was sitting next to her on a bus. Such incidents are in the news almost every other day, whether it is on the bus, the metro, local trains, or just on the roadside. The case being made here is one against the entrenched culture of violence that has become synonymous with the festival of colours.
According to activist and LSR student Gurmehar Kaur, "The conversation we need to have is about why a man, without consent, hit her with a balloon, whether filled with semen or not, in the name of a festival. A festival that is supposed to celebrate the end of evil has resulted in a new form of hell for women every year".
Holi. That time of the year when zabardasti is even more apparent. And when North India lives up to its truly obnoxious reputation.

— Anoo Bhuyan (@AnooBhu) March 12, 2017
Holi. Any other day this treatment of me would have technically counted as "eve teasing" but today we suspend rule of law in letter &spirit?

— Anoo Bhuyan (@AnooBhu) March 13, 2017
Unmentionable violence happens under the tag line Bura Na Mano Holi Hai. This year, mention the unmentionable. #SaveHoli - One Voice against Violence https://t.co/xfd1ztFSuN via @CSR_India #BuraMano #HappyHoli @GenderTrainings

— Suhasini Chitra (@su_unlettered) March 1, 2018
Can we please agree with this. Bura maano, Holi hai. Because fun and play are great as long as they're not harming anyone, and it's sad that a festival as beautiful as Holi is being ruined for so many young girls, boys, men and women because of cretins harassing them. pic.twitter.com/yhSdL7eZKo

— Sukhnidh (@skhndh) February 27, 2018
According to Kavita Krishnan, the secretary of All India Progressive Women's Association, "For women in north India, Holi has become a day of dread — when the streets are taken over by violent, power-drunk men who see the festival as a licence for sexual harassment."
Often, the criticism against Holi is perceived as criticism against a Hindu festival — that is an easy way to derail almost any conversation in these troubling times. But what people are criticising here is rape culture. Rape culture makes men think it is okay to stalk women on Holi. Rape culture that makes men think it is okay to inavde someone's personal space. Rape culture that allows for every such act to be seen as harmless. Rape culture that expects those at the receiving end of assault to not take offence (bura na mano).
Holi, after all, is just an excuse for rape culture.
Also read: Holi brings out the worst in us, but a lot has changed