States are closer to announcing measures under Unlock 2.0, meanwhile, the number of those tested positive for coronavirus is closer to 5,00,000. This, of course, is the number of those who have been detected. The asymptomatic, the symptomatic who are scared to get tested, the symptomatic who want to get tested but do not have the resources to, or the symptomatic who think their symptoms are just symptomatic of common flu, are not part of this number. There is no way to ascertain what their real number is.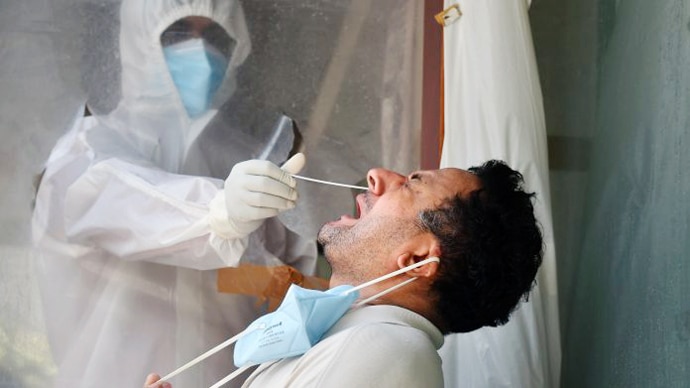 Number of positive coronavirus cases in India has risen to over 4,90,000. (Photo: Reuters)
But there is a way to ascertain that there is nothing naya about Naya Pakistan, or at least about the man who promised the newness – Imran Khan. Khan thinks Osama bin Laden was a shaheed (martyr). Your thoughts may not always be under your control, unless you are a monk, that is, but your mouth can be. Khan lost control in both going on to blame the US for coming into Pakistan and killing the 'martyr'. If you wondered why people called the Pakistani PM 'Taliban Khan', he has answered it.
It's for the Pakistani janta to deal with their PM. But the mention of Osama as a martyr reminded us how the man once celebrated the 26/11 terror attacks that struck Mumbai in the year 2008. The insight into what Osama and his 'friends' thought of the attack came seven years later, in 2015, when the US released 103 documents that were retrieved by Navy SEALs during their May 2011 raid in Abbottabad, Pakistan. You do remember that Osama was taken down during this raid. One of the letters among the 103 documents described the Mumbai terror attacks as a "blessed operation", adding that it was a "heroic Fidai operations in Bombay — India's economical capital — in which several western targets were struck in which many Americans and other Westerners were killed".
The letter, which was written to bin Laden by terrorist Abu Salih al-Somali, also noted, "Following that, was the beautiful huge bombing — also in India — of the western German bakery mainly visited by Jews and western nationals in general."
Osama bin Laden and his friends celebrated the 26/11 attacks. (Photo: India Today)
At least 166 people died in the Mumbai attacks. But the count of how many deaths Osama was responsible for is incalculable. So is Imran Khan's stupidity. That is not a calculation we are concerned with here, because getting into that would itself amount to an act of stupidity. Here we are concerned about the act of martyrdom. The word martyr, to begin with, was used for those who died in defence of religion.
Osama is nobody's martyr, but martyr is our Word Of The Day. The word originates from the Greek word 'martur', which means 'to witness'.
A martyr was earlier a person who was killed because of their testimony of Jesus and God. During the early Christian era, the word acquired the extended meaning of believers who were called to witness for their religious belief, and on account of this witness, endured suffering or death.
The death occurred through sawing, stoning, crucifixion or burning at the stake. Later, the term came to be applied to those who suffered hardships for their faith. Gradually to those who suffered hardships for the nation.
But technically, even those Army, Navy or Air Force personnel, who die in the line of duty, are not called martyrs in India. Indians call them martyrs, but the forces call them 'battle casualty' or 'operations casualty'.
Osama was neither a battle casualty, nor a martyr. He was everything nobody should ever be.
If you want to be, be like Mary Jackson. Mary is the woman National Aeronautics and Space Administration (NASA) has named its Washington DC headquarters after. Who was she? Mary was the first black female engineer at NASA.
If you want to know why NASA wants to celebrate the woman, you must watch Hidden Figures (2016). The movie starring Taraji P Henson as Mary Jackson is on Disney+Hotstar.
Jackson, who was part of a group of women who helped NASA succeed in getting American astronauts into space, entered NASA as a mathematician. There she got the opportunity to work with Kazimierz Czarnecki, an engineer. It was Czarnecki who told Mary Jackson that she should join a training programme to be an engineer.
To be qualified for the training programme, Jackson had to take on graduate-level mathematics and physics courses after her working hours at NASA. Now, the courses were to be taken at the University of Virginia. The problem was that the university did not take in black students then, being an all-white institution.
Mary fought legally for her right. She won. The rest, as they say, is history.
Even if NASA's decision has come in the wake of Black Rights Matter protests following the killing of George Floyd, we say it's a good decision.
But many at one point said the Eiffel Tower was a bad decision. That was back in 1889 and earlier. Why are we suddenly talking about the Eiffel Tower? Because after 104 days of remaining out of bounds for people, Eiffel Tower has opened to people. For now, people can't go beyond the first two levels of the tower, and that too only using stairs because the top observation desk and elevators are closed to ensure social distancing. The top deck would open soon. How soon? July 15.
The tower receives close to 70,00,000 - 7 million - visitors per year. After about 131 years of its existence, it is difficult to believe the Eiffel Tower was meant to be a temporary installation for the 1889 World Fair, held at Paris to commemorate 100 years of the French Revolution.
Did you know when the Eiffel Tower was built, many eminent intellectuals back then, including French author Guy de Maupassant, protested vehemently against it?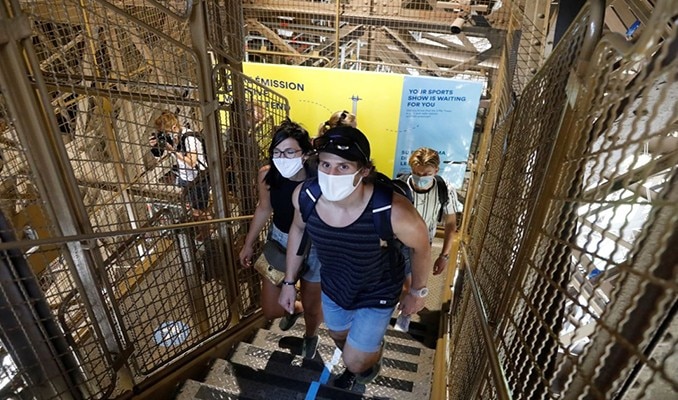 People return to Eiffel Tower. (Photo: Reuters)
They said the Eiffel Tower was 'a gigantic black smokestack', an eyesore, that would ruin the beauty of Paris. Now, many land in Paris just to see and be on the Eiffel Tower. Crowded places are not always a traveller's delight. But if you are in Paris and you really want to let people know that you are there, what better way than a photo against the backdrop of the Eiffel? Once you have done it, you will have the time to sit and think what purpose you achieved doing it. Not going there; but showing that you went there.
If your intention was just sharing, kudos to that. But even if your intention was showing, who is anybody to judge, apart from those who are real judges?
Judging people is our collective pastime. Complaining we have no time takes over the rest of our time. We judge people for all their choices and matters that are not even a matter of choice.
Some are judging a woman, who at 30, has found out that she is a man. Not only is she a man, but a man with testicular cancer.
Confused? Let us help clear the air.
The woman basically has a condition called Androgen Insensitivity Syndrome (AIS). A person born with AIS is genetically male, but the external appearance of her genitals may be female or somewhere between male and female.
Now, gender is a function of what one wants to be. Genitals are a function of biology. So what she feels is what she is.
One is every 20,000-60,000 male births is a case of AIS. How did the Kolkata woman find out she has AIS? Read this to know.
That will be all for today. We will be back on Monday, but over the weekend you can watch the Anushka Sharma-produced movie Bulbbul. If you want to know how it is before you watch it, read our review.
You are however your best judge on what to watch and what to feel.