You shouldn't be where you are not wanted. Unless, of course, your profits out of staying, outweigh the feeling of being unwanted. For Toyota Kirloskar, the stay is neither profitable, nor 'wanted'. Who told Toyota it is not wanted? The high taxes. But it isn't so unprofitable that Toyota should leave. So, a hurt Toyota isn't leaving, but not expanding.
Toyota Kirloskar says high taxes have made it hard for firms to set up new units. (Photo: Reuters)
Toyota Kirloskar Motor vice-chairman Shekar Vishwanathan said the government has imposed high taxes on cars and motorbikes, making it hard for firms to build units. "The message we are getting... is that we don't want you," Viswanathan told Bloomberg. "The high levies also put owning a car out of reach of many consumers, meaning factories are idled and jobs aren't created," he told the publication. And nobody in the government told Finance Minister Nirmala Sitharaman that it is not Ola and Uber driving down auto sales, but a business-unfriendly environment.
Without naming names, actor-turned-parliamentarian Jaya Bachchan today told Rajya Sabha that a BJP MP, who is from the industry, "Jis thaali me khaate hain usi me chhed karte hain." The English equivalent to this saying is, "Some bite the hand that feeds them." The MP on the receiving end of that barb, Ravi Kishan, used both the English and the Hindi versions of the saying to hit back at Jaya.
Kishan, who yesterday said people in Bollywood consume drugs, today said, "Nobody served me anything on a platter." Thus ruling out the possibility of drilling holes in the platter. Kishan also said nobody fed him because he had no godfather. Having a godfather can make things easy but then you can't on a later day boast like Kishan about making it through on your own.
Meanwhile, Kangana Ranaut, who has decided to make all issues her own, waded into the troubled waters of the Parliament debate by getting into the troubled waters of Twitter. Kangana tweeted, "Jaya ji would you say the same thing if in my place it was your daughter Shweta beaten, drugged and molested as a teenage, would you say the same thing if Abhishek complained about bullying and harassment constantly and found hanging one day? Show compassion for us also. (sic)"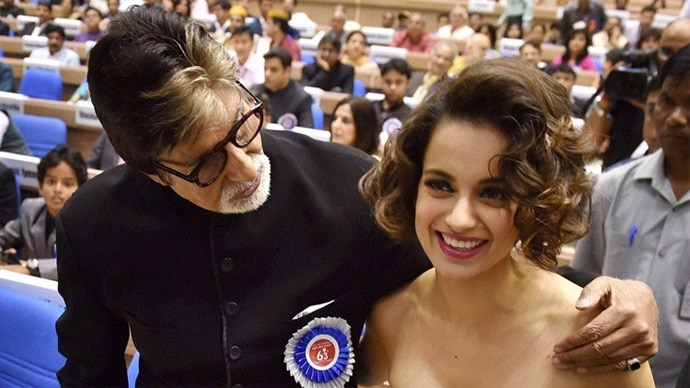 Amitabh Bachchan with Kangana Ranaut, who has attacked Jaya Bachchan for her statement in Rajya Sabha today. (Photo: PTI)
Jaya ji isn't on Twitter so she didn't reply. Jaya ji was in Rajya Sabha when she spoke. In Lok Sabha, the Aircraft (Amendment) Bill, 2020 sailed through. The Bill, when it becomes an Act, will go towards improving air safety and hiking fines on safety violations.
Parliament members said Aircraft Bill is fine but what about China? With legislators unrelenting on the demand for a discussion on the issue since yesterday, the government relented and Defence Minister Rajnath Singh made a statement in Parliament on Chinese provocation that he said has happened despite talks.
Singh said India has made it clear to China that a solution has to be found through peaceful means but its aggression would not be tolerated. Rajnath told the Lok Sabha about how Indian soldiers foiled Chinese plans to occupy Indian territory and are fully geared up for all sorts of challenges that could arise. Rajnath told Parliament that the Chinese side has so far violated all deals and agreements between the two countries and looks set to create more trouble by creating friction points in the region. The Indian Army, he reiterated, has made all preparations to deal with whatever comes its way.
Defence Minister Rajnath Singh in Ladakh. (Photo: ANI)
Outside Parliament, preparations are underway for the Bihar Assembly elections with PM Narendra Modi laying the foundation stones of seven urban infrastructure projects worth Rs 541 crore.
There is no speculation over when the election dates will be announced by the Election Commission because it is fairly certain it would be done as soon as PM Modi is done announcing all his schemes for Bihar.
In Maharashtra, Navy veteran Madan Sharma, who was beaten up by Shiv Sena men over a cartoon of Uddhav Thackeray, has announced he is joining forces with both the BJP and RSS. You can say they are one and the same; so Sharma has joined one and also the same. Sharma met Governor BS Koshyari and demanded President's Rule in the state. According to Sharma, Koshyari has assured him that he will speak to the Centre.
Narcotics Control Bureau (NCB) has issued no summons to speak to Sara Ali Khan and Rakul Preet who have reportedly been named by Rhea Chakraborty in the drugs case linked to late actor Sushant Singh Rajput. Simone Khambatta too is among those, who according to Rhea's alleged confession to NCB, attended parties at Sushant's farmhouse and consumed drugs. Sushant's viscera report, which will tell if he was poisoned, is likely to be out by Friday. A panel of AIIMS doctors will, however, meet on Sunday to decide the exact cause of Sushant's death with all reports on the table.
A lot of angles have branched out of the death since June 14, but the first angle to which the death was attributed was mental health problem. The Congress today demanded in Rajya Sabha a government policy on mental health. One suicide happens in India every 3.3 minutes. Why are people feeling so fed up with life on Earth we do not know, but scientists are trying to know if there is life on Venus. They are trying to know that for other planets and satellites too, but signs of alien life have left scientists surprised.
In the highly acidic clouds surrounding Venus, scientists have detected a gas called phosphine. This, the scientific community believes, could be an indicator of microbes on Venus. The connection between phosphine and microbes is ma-bete/beti ka connection. On Earth, phosphine is produced by bacteria thriving in oxygen-starved environments.
Artistic impression of Venus, where scientists say phosphine molecules exist. (Photo: Reuters)
If life exists on Venus, it would truly prove to be a living hell. So far, it is known only as hell. Carl Sagan, the man who called it that, was also the first man to have predicted life on Venus was possible. He said that two years before humans landed on Moon. Soviets tried to get to Venus as early as in 1961. Venera 13, a Soviet spacecraft, was the first lander to transmit coloured images from the surface of Venus. And while other landers arrived before and after it, pictures from Venera 13 are more widely seen because, well, they are in colour.
Life on Venus is being searched; on Earth, some are fighting for the right to life. The Delhi High Court is hearing a petition on same-sex marriage where petitioners have invoked Article 21. The government's top lawyer, Solicitor General Tushar Mehta, has told the court that marriage between same-sex couples is "not recognised by our laws, legal system, society and our values".
Who all are 'our'? That Mehta doesn't define but it is clear that this 'our', like India's 'collective consciousness', doesn't include all.
The issue of homosexuality and the fight for rights of homosexuals isn't a local problem. This local is global. JK Rowling's new book Troubled Blood has run into trouble and is being branded transphobic because the book has a serial killer and that serial killer happens to be a transvestite.
Transvestite, our Word Of The Day, was coined in 1910 by German physician and sexologist Magnus Hirschfeld. The word originates from Latin 'trans', meaning across or over and 'vestitus', which means dressed. A transvestite is someone who takes a sexual interest in cross-dressing. Hirschfeld used the term to describe people who habitually and voluntarily wore clothes of the opposite sex.
Until a book is read and a piece of art seen, you are not qualified to judge it. Because how do you judge what you have not seen and read? Those who have read the book have trashed it. But many have also defended it.
The only defence against coronavirus is a vaccine. Microsoft founder and billionaire philanthropist Bill Gates has said the world is looking forward to India as it is a leading vaccine producer on a global scale. Serum Institute CEO and owner Adar Poonawalla has, however, said the vaccine may not reach everyone across the world before 2024.
The vaccine distribution wouldn't start before the vaccine trials are successful.
Till that happens, your mask is your best guard.
We will see you tomorrow.
Now get the all-new DailyOh in your mailbox. Click here to subscribe.