Kalyan Karmakar's Food Diaries: To Japan and back, with no 'excess baggage'
I was diagnosed as pre-diabetic just before my trip to The Land of the Rising Sun. But I managed to eat so well there, and yet, keep extra weight off.
I heaved a sigh of relief when I stepped off the weighing scales at home the other day and saw that my weight had not gone up since the time I had measured it a month back.
That machine we all dread! (Photo: Twitter)We had just got back from a near fortnight-long holiday of Japan that day. While my wife ensured that we ticked off all the sightseeing and shopping spots during the trip, I ensured that we sampled some really good food. That is how we always split responsibilities while on a holiday.
There was a slight problem with the arrangement this time around, though.
My recent health check-up had revealed that I am pre-diabetic. I was advised to change the way I eat and to lose weight too to bring things under control. Food is important to me, but health comes first, of course. I asked my doctors about what I am allowed to eat and then decided to overhaul my diet basis, and yet ensure that I do not have a single bad meal.
As someone who loves food and loves experimenting in the kitchen, that should not be an impossible task, I promised myself — and sure enough, I proved myself right.
I cut down on eating out and began making more meals at home.
I increased the proportion of vegetables, nuts and fruits in my diet and tried to reduce my dependence on carbs. When it came to grains, I began trying out unrefined and complex grains such as red rice and black rice and buckwheat noodles, rotis, dosas and idlis made of millet-based flours, and whole-wheat and sourdough breads too. To be honest, I enjoy this now.
It's not just good-looking, red rice is great for health. I tried to exercise portion control while eating. Cut down on dessert and red meats. Eat food that was seasonal. Not just vegetables and fruits, but fish too. I played around in the kitchen with hung curd/thick curd dips and a variety of condiments, and tried making pesto with no cheese. These added loads of flavour to my meals.
I hardly drink these days, so avoiding alcohol was not a problem. I practised the values of mindful eating. I tried not to watch television or read while dining, especially when alone. I focused on the food instead and savoured it and ate in a happy frame of mind. This ensured that I knew when I was full and did not eat in excess. I even created my own hashtag for the journey I had embarked on — #LittleJackHornerMeals
Meals where I could look up at the end, like the nursery rhyme character of the same name, and ask, "What a good boy am I?" The results showed after three months — I was well on track for weight loss goals and my sugar levels had come down too.
Then the holiday came up.
The question was — what would happen to master Jack Horner while travelling, when we would have to depend on 'outside food'? The trip to Japan was a longish one too, and not a quick weekend trip — like the ones I had made to Pune and Mangalore recently — where I could get back to my routine soon.
And it was to Japan, for God's sake!!! Every food writer's dream food destination, and not a place where one goes every second day. My wife and I had planned this trip for five years, if not more. The last time I was here was forty years back when I was four! How could I not go all out and seek the best of food when there?
Life seemed so unfair.
I realised in retrospect that I need not have worried.
Japan allowed me to stick to all the principles of eating that I had tried to apply of late and yet, have the time of my life. It is indeed the country of clean eating.
Did I not 'sin' at all? I could not be in the land of the prized and very expensive Wagyu (of which Kobe is a type but not necessarily the best grade), Kakuni (slow-cooked braised pork) and Tonkatsu (breaded pork cutlet) and Tonkutsu (pork bone broth ramen) and exquisite grilled tongue — and yet, stay away from red meat, could I?
The world knows — and loves — Japan's wagyu. (Photo: Twitter/Kalyan Karmakar)
Well, I didn't — but here's where the Japanese have a trick up their sleeves. The portion sizes of meat dishes here are much smaller compared with that in Europe, for example, and near pygmy-like compared with that in Australia and the US. The focus here is on refinement, not size, and on leaving with you a taste memory that you will never forget. The meats are usually grilled or skewered, and that too with very little sauce.
Japanese sauces do have a sweet element at times, but they are rarely as sweet as what we have in Asian restaurants in India. The meals are usually multi-course. The exclusive kaiseki meal is the ultimate form of this and the Bento box is the most practical example. Therefore, meat and fish form just a small part of a meal and the experience is made complete by packing it with vegetables, legumes, steamed rice and soups.
A little bit of everything, a Japanese bento box is a perfect mix. (Photo: Reuters/file)
Many restaurants serve water or tea on the house. The tea could be Japanese green or barley tea. You could have it hot or cold. Here's the best part — it comes with no sugar added. The decision to add sugar is left to you, and we did not need to do so.
It is not that there are no carbs in their meals, of course, but the portions again are small. Except in the kare raisu (curry rice) meals where they go a bit overboard on the rice and the flour-thickened curry, the portion of rice in meals is small. The rice on offer was the short grained sticky rice which fills you up quickly.
It is also about smart eating habits here.
A ramen bowl is actually lighter than it looks. (Photo: Twitter/Kalyan Karmakar)
If you look at the average ramen bowl, which might seem to have a lot of noodles (ramen) and therefore carbs in it, it is worth noting that the bulk comes from the soup. The proportion of meat or fish slices in it are miniscule compared to the overall bowl. Whether you are having a tonkatsu meal or a sushi one, there's always miso soup to fill you up. Soba or buckwheat noodles, once consumed in the region around Tokyo, as the cultivation of wheat did not require much water compared to rice, is now popular across the country and is an alternative to refined flour-based noodles with lower GI. The story reminded me of that of millets in India. Low GI and low fuss — good for you and the earth.
Yes, there are dough-based and fried dishes, such as the takayaki or okonomiyaki of Osaka, but neither is tempting enough, to be honest, to make you want to eat a lot of it.
The Japanese version of the pakora — but lighter and fewer bites. (Photo: YouTube)
What about tempura, the Japanese pakora, you ask? Well, unlike in Japanese restaurants or buffets in India, where we are used to eating lots of them and as a dish in itself, in tempura restaurants in Japan, you have the tempura with rice and miso soup and thereby keep down the proportion of tempura in your meal.
The one place where I had to contend with refined flour options was at Western coffee shops or hotel buffets during breakfast — but I did try to add salads, nuts, muesli and prunes to the mix to include roughage in my diet.
When it comes to fish, there is a lot of focus on seasonality.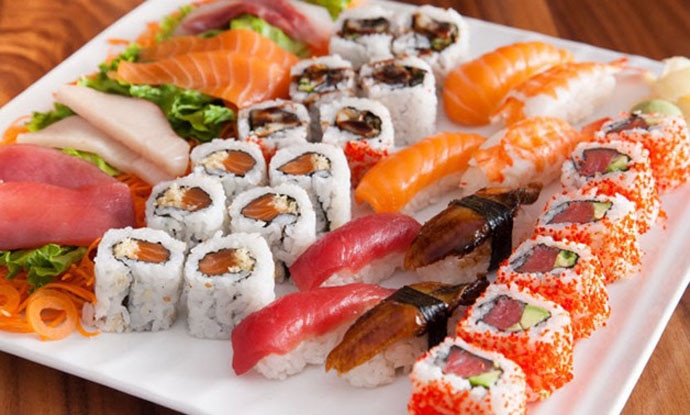 Fresh and light, sushi is bursting with nutrition. (Photo: Reuters)
Using fish which is fresh and packed with flavour ensures that they can just be cured and eaten, as in sushi and sashimi, or lightly skewered or grilled. Deep frying or cooking processes that involve slow-cooking fish seemed to be rare. This ensured that its nutritive values are retained - as is its taste.
The Japanese love their sweets and there are desserts galore everywhere — but we managed to largely turn a blind eye to them, to be honest, as only dark chocolate excites us these days.
The other thing which happened to us in Japan, as it does in most of our international holidays to well-developed parts of the world, is that we walked. And walked. And walked.
I hardly walk while travelling across India, thanks to poor pavements, chaotic traffic and people movements. The low price of taxis and autos here and of late, the availability of Uber and Ola doesn't force one to walk either, and I take the easy way out, I must admit.
The weather turned out to be unusually pleasant for this time of the year in Japan. The pavements were clean and even. People walked in an orderly manner. We used public transport a lot and that made us walk too, as the stations are large and required one to change platforms and use subways. The metro had escalators, which I prefer, while my wife uses the stairs. This time, especially after meat-heavy meals, I made it a point to use the stairs over escalators. We got lost a couple of times after meals and I saw that as opportunities to walk more.
I am sure all those steps counted too, as your body knows what you were up to in a way a Fitbit never would.
All of this, I guess, ensured that we ate to our heart's content in Japan — and yet came back home with no regrets or dead weight. Just happy memories, and a wish to go back soon.
Also read: Just keep quiet - because good food doesn't need big noise around it
The views and opinions expressed in this article are those of the authors and do not necessarily reflect the official policy or position of DailyO.in or the India Today Group. The writers are solely responsible for any claims arising out of the contents of this article.