The grand American holiday — Thanksgiving — is tomorrow (November 26, 2020) and the US of A has a big reason to celebrate and be thankful for. With a new President and Vice President taking oath in less than two months, the country is looking at turning a new leaf in the times of the pandemic and economic slowdown. And what better to add to the celebration than a thanksgiving recipe from their Vice President-Elect — Kamala Harris?
Now, Madam Vice President has professed her love for cooking many times in the past. She has said that she finds cooking therapeutic and has turned to her kitchen every time adversity struck, on both her professional and personal front. With 2020 being one of the most difficult years in recent memory for the whole world, Harris shared her family's favourite Thanksgiving recipe with the Twitterati.
The recipe is called Kamala's Cornbread Dressing, and we think it is worth trying — irrespective of whether you celebrate Thanksgiving or not. Since Kamala Harris's recipe gives the measurements in the imperial system, we have converted it to the metric system for convenience.
Kamala's Cornbread Dressing
Two packages of cornbread mix (about 250 grams each)
About 450 grams of spicy pork sausage
2 apples, cored and chopped
About 180 ml of chicken broth
About 60 grams of unsalted butter, melted
About 60 grams of fresh parsley, chopped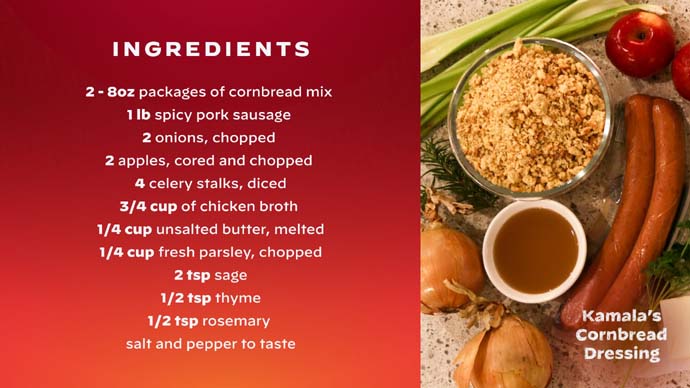 Bake your cornbread according to the instructions on the package. This can be done the day before. Once it's cooled, crumble it.
Take the sausage out of its casing, crumble it, and brown it in a little oil. When it's cooked, use a slotted spoon to remove it from the pan and set it aside.
Sauté the vegetables and apples in the remaining oil in the same pan.
Mix that with the sausage, cornbread crumbs, melted butter, herbs, and chicken broth.
Put the mixture in a baking dish and bake at 375° F (190° C) for about 40 minutes. Enjoy!