DailyOh! How pigeons carry messages across Indo-Pak border, to Modi's 10 crore letters
A pigeon has been 'arrested' in Kathua only for trying to reach home.
Hey,
How are you holding up? India's coronavirus numbers are holding pretty high and the country is inching higher on the global chart. India has left Iran behind to claim the 10th spot as a global corona hotspot. Now, that's not a spot any country wants to claim, but irrespective of what we want, we now have close to 1,50,000 cases. About 70,000 of those have been reported in the last 15 days.
It's a terrible feeling to be the messenger of bad news every day. But there's some news about a messenger today.
A pigeon has been caught along the international border in Jammu & Kashmir's Kathua region. It was carrying a coded message. It's the villagers along the border who caught it and turned it in to the police. There is nothing new about pigeons being caught carrying messages across the border, but do you know the pigeons are never actually carrying messages?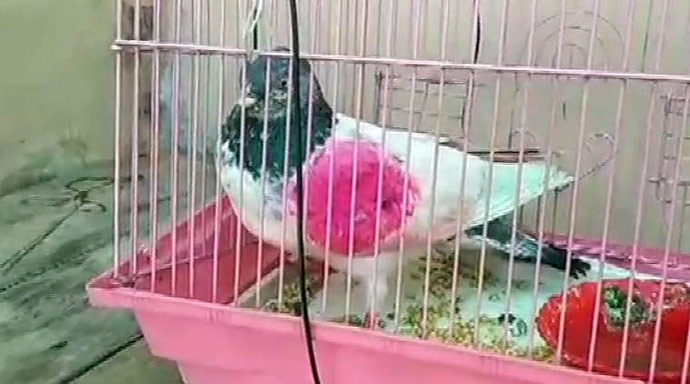 The pigeon caught carrying a coded message across the India-Pakistan border. (Photo: ANI)
All they are doing is returning home. It's people who plant messages on them. Heard about those drug dealers who sneak consignments into the luggage of unsuspecting travelers? This is exactly what happens to pigeons.
Let us talk about this in some detail because that saves us from talking about coronavirus all the time. For that, first let's tell you what a Homing Pigeon is. This, you can say, is the true messenger pigeon. Derived from the wild rock dove, Homing Pigeons are bred for their ability to find their way home over extremely long distances.
What you can really do with a Homing Pigeon is keep them in one place. Since we are talking India-Pakistan, let's say you keep one in India for some time and train it to find its exact spot by releasing it over short distances. Then you take the bird into Pakistan in a cage. Keep it there till the time to send a message has come. Then tie a message to the bird's feet and release it. The pigeon tries to go home, taking the message along. The unsuspecting pigeon has no clue what message it is carrying. It is only going home.
Now, don't try this with your balcony pigeon. You will only bring the poop inside and your message won't really go anywhere. Maybe there will be poop over the note too.
But messenger pigeons don't just carry messages. They have also been used to carry drug consignments. The question then is how pigeons track their way home from miles away when even humans can't do that without GPS these days. The answer could lie in magnetoreception. Some scientists believe Homing Pigeons use magnetoreception to find their way home. They can navigate by sensing the earth's magnetic fields, and perhaps also by using sound and smell. Some say they rely on the Sun because they can use the position and angle of the Sun to determine the right direction for flight. This messenger hasn't ever disclosed its sources, so it will need more scientific data to ascertain how this works and how the pigeon goes where it goes.
But where are Indians going in all those flights that are back in the skies? They too are going home because home is where the heart is. Also, the food. A new trend in flying pattern was seen on Day 1 of resumption of domestic flights in India. Normally, it's the metro-to-metro travel that sees more demand. Currently, it's the metro-to-non-metro routes that are witnessing more traffic. Experts say this suggests people are travelling less for work and more to go home. Work, you know, is all happening online and on video calls.
YouTube can give you recipes, you can get that right too. But Mummy gets it perfect. Home is where she is. For the poor, who chose to walk back home, because there were no choices, home is where dignity is. Even if frugal, an assurance of meals also exist back home.
Home, our Word Of The Day, comes from the Germanic word 'khaim', which meant a residence as opposed to simply a shelter. We use home and house interchangeably, but they aren't the same words. There's the difference between home and house. House is a shelter; home is, well, home.
If you are stuck away from home, you must make it home following all protocols put in place when the time is right. How not to do it is what we must learn from Union Minister Sadanand Gowda. Mr Gowda claims immunity from norms. The VIP culture works well for India, but viruses, you see, are looking to enter you through your nose; they have no care for norms. Prime Ministers, their aides, health ministers, actors, singers, dancers and everyone on Earth has been treated equally by the virus. Karan Johar has confirmed his house staff has been infected too.
The virus has done what humans couldn't. Credit where it is due. Credit to Corona for being an equaliser, credit to Gowda for being a Covidiot.
Because Mr Minister is our Covidiot Of The Day, we will take a minute to dwell on his idiocy. So Gowda flew from Delhi to Bengaluru on Monday. The norms in Karnataka say people flying in from Maharashtra, Gujarat, Delhi, Tamil Nadu, Rajasthan and Madhya Pradesh must undergo seven days of institutional quarantine. Which means it is not home-quarantining. But Gowda landed, stepped out of the airport, stepped into his car that was waiting for him, and headed home. Straight. His excuse? He is the Minister for Pharma, and so is part of essential services. Now, even doctors and nurses are being put in quarantine after they finish their shifts. But ministers have always considered themselves more essential than others.
Union Minister Sadananda Gowda arrives from Delhi to Bengaluru. He refuses to be quarantined. As per the new GO, all those returning from high risk states (Delhi included) have to undergo 7-day institutional quaratine. Ministers are not on the list of those who can be exempted. pic.twitter.com/4bAwWiSP0U

— Theja Ram (@thejaram92) May 25, 2020
We leave Gowda at that because Karnataka has a BJP-led government and we are sure the government has also left it at that.
But since we were talking of homes and houses, let us tell you about the sale of a house in Delhi. At Rs 75 crore, it is the biggest sale in recent times.
Mobius Foundation chairman Pradip Burman sold his bungalow in south Delhi's Shanti Niketan at a whooping Rs 75 crore. You may not know Burman from Mobius Foundation so let us tell you that Pradip Burman belongs to the family that runs Dabur Ltd. The bungalow has nine bedrooms. You are not advised to sleep for over eight hours. So even if you slept one hour in each bedroom, you will still have a bedroom to spare for the night.
But talking of crores, Prime Minister Narendra Modi is going to make use of his spare time. See, the PM is saving on a lot of travel time. To make use of that time and to mark the completion of one year of Modi 2.0 government in office, Modi is going to write personally to 10,00,00,000 families. That's 10 crore families. The letters will have no personal details. We guess it would be a note talking about the achievements of the Modi government. Also, all letters are likely to be the same because no matter how much time the PM has, he still won't have enough time to draft 10 crore letters with 10 crore things in them.
You may find reading such a letter boring, but it sure could be one for the keep for those who receive it. But what if you write a letter to the PM and also get a reply to it – straight from the PM? Stuff of dreams? No, real stuff.
An 11-year-old from Gurgaon wrote to PM Modi in 2019 after his victory. The girl wrote, "I am so happy that once again you are the Prime Minister. I have a request that when I go to my school, I see a lot of rubbish waste near it. I want that you should encourage people to clean the surroundings. If I will have to clean it, I will surely."
The PM's reply may sound sarkari but the letter is sure not the stuff you can trade with Arushi.
Arushi Yadav with the letter PM Narendra Modi wrote to her.
Mails have replaced letters, but mails can't really replace letters. The message can be conveyed but the feel of a personal letter never. That makes us wonder if receiving a message from a pigeon would feel better. We would then be singing "Kabootar aa, aa" instead of "Dakiya daak laaya".
We know the song on your mind right now, because it is the song on our minds too. Here you go:
We will leave you with that for today.
Will be back tomorrow.
Also Read: DailyOh! Who are Kim Jong-un's kids, to why IMD is asking us to stay indoors from 1 pm to 5 pm
The views and opinions expressed in this article are those of the authors and do not necessarily reflect the official policy or position of DailyO.in or the India Today Group. The writers are solely responsible for any claims arising out of the contents of this article.