DailyOh! Mamata bets big on Nandigram, to the chargesheet in Sushant Singh Rajput drug case
Mamata Banerjee has confirmed she will contest only from Nandigarm, says let the game begin.
Days after an explosive-laden car was found abandoned outside Mukesh Ambani's house in Mumbai the body of the owner of the car has been found. The police believe Mansukh Hiren jumped to death from Kalwa creek, deepening the mystery in the case. The car used in the crime was reportedly stolen from Hiren and Hiren had filed a report about the theft. Investigators have a new angle to investigate now apart from the old angles. Why would a man try to kill himself after finding that which he had lost? Investigators in another case have filed their chargesheet.
How long can a chargesheet be? Depends on the charges, the depth of investigation into the charges, and the patience of the person writing the chargesheet. The chargesheet in the Sushant Singh Rajput drugs, not death, case names 33 people and runs into 12,000 pages. The digital version runs into 40,000 pages. This still pales in comparison to the chargesheet filed in the Bhushan Steel case, which named 284 people and ran into 70,000 pages. Add to that the language in which chargesheets are filed and you have a heap of papers written in a language that anyone would want to run away from, save the judges. The judges love it because they write their judgments in a similar language running into pages after pages and then more pages.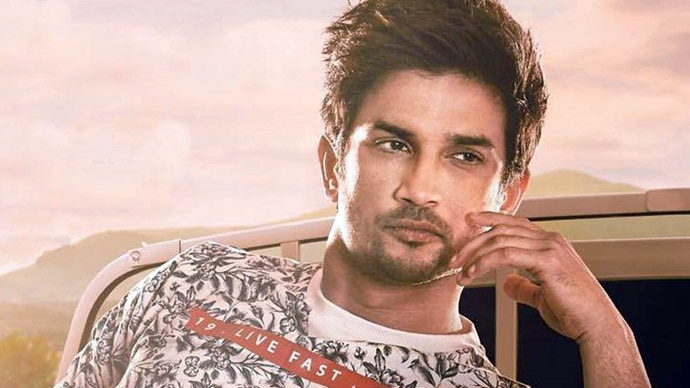 A 12,000-page chargesheet has been filed in the Sushant Singh Rajput drugs case. (Photo: Facebook)
In the pages of the Sushant Singh Rajput drugs case chargesheet are the names of Sushant's girlfriend Rhea Chakraborty and her brother Showik Chakraborty, Sushant's house help and many drug peddlers. It also has the names of over 200 witnesses.
Political parties are busy deciding which names should make it to the list of candidates for the assembly elections in four states and the Union Territory of Puducherry. Parties don't just have to find suitable candidates who can win but also accommodate the ambitions of those who can rebel and cause the suitable candidate's loss. Talk about walking a tightrope and then sit down to draw the list. You'll know which is tougher.
Mamata Banerjee has drawn her list. At a press conference in Kolkata, Mamata Banerjee declared, "Khela hobe, dekha hobe, jeta hobe... khelenge, ladenge, jeetenge… [Let the game begin, we will see, and we will win]." But khela na hobe (the game is not on) for TMC spokesperson Debangshu Bhattacharya, who was behind TMC's poll anthem Khela hobe. The TMC has not given a ticket to Bhattacharya for the upcoming elections.
My dear friend, The game is ON! #KhelaHobe pic.twitter.com/TmzsWDedk9

— Debangshu Bhattacharya Dev (@ItsYourDev) March 2, 2021
In the khela going on in Ahmedabad, Rishab Pant's 101 got India ahead of England by 89 runs. India will have three wickets in hand when the contest resumes tomorrow.
The one contest most people have their eyes set on is going to happen in Nandigram because Didi has declared she is a candidate from Nandigram, and only Nandigram. Suvendu Adhikari has said he may contest against Mamata. What if he may not? Adhikari has said if he doesn't, he would ensure the win of whoever is pitted against Mamata. The confidence Didi has shown in this battle reminded us of the confidence she had shown in the battle against 'mama' Somnath Chatterjee in 1984. Why 'mama'? We will tell you later.
'Mama' Somnath Chatterjee was asked to contest from the Jadavpur seat by Jyoti Basu in 1977. He won. He won again in 1980. So when the 1984 elections came, he was confident about his invincibility from the seat. Didi was a Congress leader then. Pranab Mukherjee was in search of a candidate to take on 'mama'. Rajiv Gandhi suggested the party should field someone young and someone new. Pranab dialled then West Bengal Congress leader Subrata Mukherjee for his suggestions. Subrata asked a few Congress leaders to contest. All of them said no because who wants to contest to lose.
Mamata Banerjee will contest from Nandigram. (Photo: PTI)
Subrata then suggested Mamata's name. Pranab had by then met this young leader and she fit the bill of being young and new. So, Mamata was chosen as the candidate (to lose) against Somnath Chatterjee. She was known to be a fighter even then. She would go on putting up Congress posters through the night. In the morning, Left workers would take them down. The next morning they would find the posters up again because Mamata won't relent.
Even though the fight in Jadavpur was seen as a lost battle, Pranab came to campaign for Mamata because she was working very hard to win. During her campaigns, Mamata told voters, "Aami mama ke bollam, 'Mama tumi toh eto baar jeeteyccho, ebar aamake chance dao. Mama kukur cherey dilo' (I told my maternal uncle, 'You've won enough, now let me have a chance.' He let loose his dogs on me)." When the results were announced, mama had lost by 19,660 votes. In the next Lok Sabha election held in 1989, Mamata lost to Malini Bhattacharya by over 30,000 votes, her only electoral loss so far. So, you see, nobody is invincible but some are very difficult to defeat.
Parties have to find candidates who are difficult to defeat. While parties are at it, let us try and find where the word candidate comes from. Candidate, the Word Of The Day, comes from the Latin 'candidatus', meaning 'clothed in white'. This was so because the ancient Roman political candidates often wore white togas (or robes). Indian politicians too often dress in whites but now the word has nothing to do with the colour of the clothes. You are a candidate if you are applying for a job.
Roman political candidates often wore white togas. (Photo: Wikimedia Commons)
To Tamil Nadu now, where AIADMK has released the first list of its candidates for the Tamil Nadu elections and declared that Chief Minister Edappadi K Palaniswami will contest the polls from Edappadi. Will Edappadi vote for Edappadi? Wait for May 2. Deputy CM O Panneerselvam meanwhile will contest from Bodinayakanur.
On the other hand, the DMK-Congress alliance has hit a roadblock with the Congress asking for 27 seats assembly seats and the DMK not ready to concede more than 22. Tamil Nadu has 234 assembly seats. The Congress has already climbed down from the demand of 40 seats to 27. If it climbs down some more, it may hit the ground.
Why climb down, when you can go up and fly high. Which reminds us, have you watched The Flight Attendant? The comic thriller is streaming on HBO Max. Why should you watch? For comedy and thrill.
Talking of OTT content, new government guidelines to regulate OTT platforms have been called 'toothless' by the Supreme Court because there is no provision of prosecution. The court gave protection from arrest to Amazon Prime Video's India head Aparna Purohit in FIRs lodged over the web series Tandav. Amazon Prime and Purohit's counsel Mukul Rohatgi said that the two scenes that were problematic have already been removed. What about those who have watched the deleted scenes? They are doing fine as no harm has been reported.
But harm was reported from the Indo-Nepal border in Pilibhit because an Indian national was killed in the cross-border firing by the police. That has set tensions running high in the region. Are you tensed about the CBSE Board exams? Well, the dates have been revised and you can the revised dates on cbse.nic.in.
On that note, all the best for the exams.
We will see you Monday.
Stay safe and stay tension free.
PS: Reading Exam Warriors may not help.
Now get the all-new DailyOh in your mailbox. Click here to subscribe.
Also read: Political obliteration of the Congress and loneliness of the Gandhis
The views and opinions expressed in this article are those of the authors and do not necessarily reflect the official policy or position of DailyO.in or the India Today Group. The writers are solely responsible for any claims arising out of the contents of this article.