Marium, the baby dugong who stole the hearts of her caregivers and followers in Thailand after she was found orphaned in the sea, has died.
The official reason given is a combination of shock — and ingesting plastic.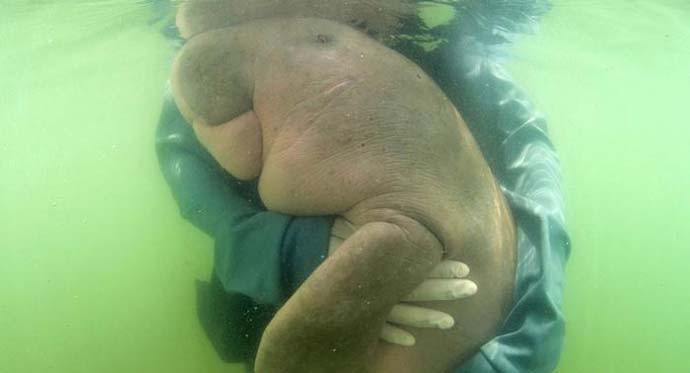 They can't run. They can't hide: Marium, the baby dugong found in Trang province, Thailand, has died from eating plastic. (Photo: AP)
In an interview to Agence France-Presse, Chaiyapruk Werawong, head of Trang province Marine Park, said that Marium died after going into shock and all efforts to resuscitate her failed.
"She died from a blood infection and pus in her stomach," he said — adding they found plastic waste in her intestinal tract.
The news hit the headlines around the world.
According to media reports, several pieces of plastic were found in the little dugong's intestine, with one measuring up to 20 centimetres. An autopsy showed that the plastic had caused obstructions in the animal's stomach, leading to inflammation and gas build-up. This was confirmed by veterinarian Nantarika Chansue's post on Facebook.
"We could partially treat the respiratory infection but the obstruction of plastic rubbish... could not be cured," she said in the post, calling for the young animal's death to serve as a lesson.
"She taught us how to love and then went away as if saying please tell everyone to look after us and conserve her species," she added.
Little Marium was found washed up in shallow waters off southwestern Thailand in April this year.
She rose to fame after photos of her nuzzling playfully next to her rescuers went viral.
Her caregivers posted videos and updates on her condition, including one when she was being sung to.
According to posts on the Facebook page of Thailand's Department of National Parks, Wildlife and Plant Conservation, her caregivers used to feed her seagrass, milk and medicines by hand. The videos of her cuddly and playful demeanour — with a face that looked like it was always smiling — made her a celebrity in Thailand, with her followers on social media increasing with every passing day. 
Many of her followers have expressed their grief.
There was also outrage that plastic pollution had played a role in the little dugong's untimely death.
Jatuporn Buruspat, director-general of the Department of Marine and Coastal Resources, told Associated Press that there were also bruises on her body, besides the large quantity of plastic in her stomach. "She must have thought these plastics were edible. We assume she wandered off too far from her natural habitat and was chased and eventually attacked by another male dugong, or dugongs, as they feel attracted to her," Jatuporn said.
With plastic dumping becoming a forever problem in the oceans globally, it is not just one magical little Marium that we have lost — but many more dugongs and multiple other sea animals, whose innocent blood we have on our hands.