The royals seek and take a lot of help for everything from wearing clothes every day to getting out of those clothes by the end of the day. But the royals of England are wary of taking help for mental health because "it wouldn't be good for the institution". The institution allows the royals to get help to wear clothes and then, as we said, get out of them, apart from everything else. The institution believes it must therefore be protected.
Prince Harry and Meghan Markle with Oprah Winfrey.
The royals also don't like the colour black or shades of brown. They reportedly worried over what colour Archie would turn out to be. Archie, if you have not cared about the royals, is the son of Prince Harry and his wife Meghan Markle, the couple that has refused to do royal duties and take royal salaries.
These inside secrets came outside when Meghan sat for an interview with Oprah Winfrey. The interview was later joined by Prince Harry too. Meghan said she felt suicidal but the royal family was against her going to a mental health expert. According to Markle, she felt suicidal because of the 'institution'. Meghan said the royal family did not want Archie to be a prince or offer him security. Why? Because they were concerned about how "dark his skin might be when he's born". Why shouldn't black and brown have protection if whites have it? Maybe because dark can't get darker. Remember what Buz Luhrmann said: everybody's free to wear sunscreen. Also, remember everything else he said in the song and forget what the royals think about dark skin.  
Let's move over to Mithun Chakraborty who is playing the Cobra card. Gouranga, as Mithun was named before he named himself Mithun, began his political career by joining the CPM and then joined the TMC. He then quit politics. What you quit, you can always rejoin. Mithun, it seems, decided to rejoin politics after meeting RSS chief Mohan Bhagwat last month. What has Mithun brought to the table? Lots of punch lines – most talking violence. Mithun Da has worked with the Dadas of CPM and TMC's Didi, who rarely talked violence. Their henchmen just did it. Mithun chose the threat of violence as a counter to possible violence. Forget physics, forget chemistry, forget logistics. How will Mithun neutralise his enemies? With just one bite. He ain't no 'Jol Dhora', not a 'Bele Bora', but a Cobra. We know Mithun is Mithun, who at one point was Gouranga, but at no point cobra. But do you know the one thing common between cobra and Mithun? Both use threat as offence. Mithun does it through dialogues. How does the cobra do it? By spreading the skin at the back of its neck to make itself look bigger.
Cobra, the Word OF The Day, comes from Portuguese cobra de capello, literally meaning 'snake with hood'. Cobra's hood and Mithun's threat dialogues are meant to scare the 'enemy'. In the political arena, the only thing that scares the candidates is the fear of loss.
TMC changed its Habibpur candidate after fielding her from the constituency on Friday. Why? TMC says Sarla Murmy is not in good health. But sources say otherwise. They say Sarla wanted to contest from Malda and was fielded from Habibpur and had decided to meet Mamata Banerjee to demand a seat change.
In Tamil Nadu, Kamal Haasan has accused DMK chief Stalin of plagiarism of promises. Haasan said it was he who promised 50 lakh jobs and an honorarium for homemakers. Parties can copy promises and then copy each other in not keeping any of the promises made. But talking about homemakers reminds us that today is International Women's Day. Virat Kohli used the day to decipher why "God created life inside them [women]". Having 'solved' that big science mystery, captain Kohli went on to wish all wonderful women 'Happy Women's Day'. Whatever that means. Kohli did not show the daughter's photo even though the daughter is present in the photo he shared.
The post and photo Virat Kohli shared on Instagram today. (Photo: Instagram/virat.kohli)
Kareena Kapoor used the day to tell people that there is nothing women can't do. The Instagram post was just another teaser of her younger son. Full picture abhi baaki hai. So women can do anything except get to see the picture of Kareena's younger one until Kareena decides to show it. You can be a man, or woman, or any other gender, capable of anything and everything, but you still can't find the name of Taimur's little bro.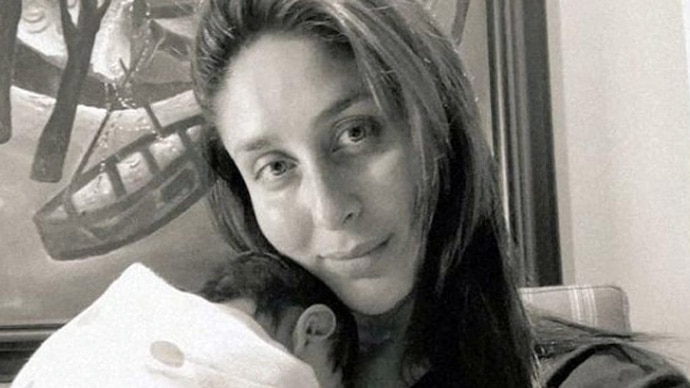 Kareena Kapoor posted this photo on her Instagram account for International Women's Day. (Photo: Instagram/kareenakapoorkhan)
View this post on Instagram
Great, if you haven't even been trying. But women have tried hard to win their rights, even the most basic of them. Heard of the Shirtwaist Strike? It happened in November 1909. Why is it important? Well, it was the biggest strike by female American workers. Back then, mostly Jewish women worked in the American garment industry. Factory owners thought they are women, born to work. So why pay them decent wages? Why even provide them with basic sanitary conditions? So workweeks of 65 hours were considered normal and could stretch up to 75 hours. You work long hours too? Well, workers back then could be jailed for reporting late for work. They also had to bring their own needles, threads and sewing machines. To prevent them from taking breaks, workers were locked in sweatshops. So the women rebelled. These women could also rebel because they had been part of labour unions in Europe before immigrating to the US. The strike ended in February 1910 with demands of the workers being met, but Clara Lemlich Shavelson, who led the strike, was later blacklisted for her union work.
Two women strikers picketing during the Shirtwaist Strike. (Photo: Wikimedia Commons)
In India, Shiv Sena Rajya Sabha PM Priyanka Chaturvedi demanded a 50 per cent reservation for women in Parliament after which the Upper House was adjourned over fuel price rise. The demand of 33  per cent reservations has risen to a demand for a 50 per cent quota but the demand has remained a demand.
If you want to watch a women-centric movie today, we recommend Hidden Figures (2016). The movie tracks the story of a team of female African-American mathematicians who served a vital role in NASA during the early years of the US space programme. You can also watch it see how racism doubly discriminated against women of colour. Someone should also organise a screening for the British royals.
The good news, however, came from the world of cricket. The International Cricket Council (ICC) announced the expansion of women's cricket events post the 2023 cycle, a full year after the resounding success of the Women's T20 World Cup 2020. The ICC said the T20 World Cup will have 12 teams instead of 10 from the 2026 edition. The ODI World Cup will also be expanded from eight teams to 10. When? From the 2029 edition.
ICC has announced the expansion of women's cricket events post 2023 cycle.  (Photo: Reuters)
Both deal with terrorism cases, but NIA has a national to its name, so the scope of its investigations is wider.
In the Batla House encounter case, accused Ariz Khan was convicted today. What's the punishment he has got? We will know on March 15.
That will be all for today.
Now get the all-new DailyOh in your mailbox. Click here to subscribe.