So Phullu has been given an A certificate by the Central Board of Film Certification headed by Pahlaj Nihalani because it is about menstruation.
After all, this is an establishment which would like its women permanently pregnant and according to a booklet from the ministry of pracharak Shripad Naik, they should have no meat, no "desire" and no impure thoughts during their pregnancy. That's not all. There is also the Arogya Bharti which is currently engaged in Garbha Vigyan Sanskar, producing the perfect baby.
That women should be essentially baby making machines who dedicate themselves to the household is an idea endorsed by those at the highest levels in the Sangh Parivar. So clearly nothing related to them, and certainly not to their periods, should be in the public domain. How they will deal with a similar film, based on the extraordinary work by Arunachalam Muruganantham, Padman, due for release this year, starring Akshay Kumar, is only one of the problems.
The larger problem is the culture of silence around women, their biologies and by extension sex. Which is why one can only applaud the extraordinary work being done to demand no tax on sanitary napkins.  
Central to breaking the silence around women's bodies is talking about it in popular culture. We cannot be what we cannot see. Similarly men raised in a certain cultural environment where such conversations are taboo will only be forced to acknowledge it if they see it onscreen and hear it in everyday talk. So praised be, let's all make watching The Handmaid's Tale mandatory for Mr Nihalani as a start, since one cannot expect him to actually read the book by Margaret Atwood — too much effort and not advisable for a man of his limited intellect.
Let him watch the Hulu series instead. "If you didn't want an army you shouldn't have given us uniforms,'' says a voiceover from Elizabeth Moss, Offred in the series, as she marches off in the season finale after refusing to stone one of the handmaids. The series envisages a future where women are nothing but reproductive machines, valuable enough to be exported for their fertility, in an age where infertility is rampant because of ecological degradation.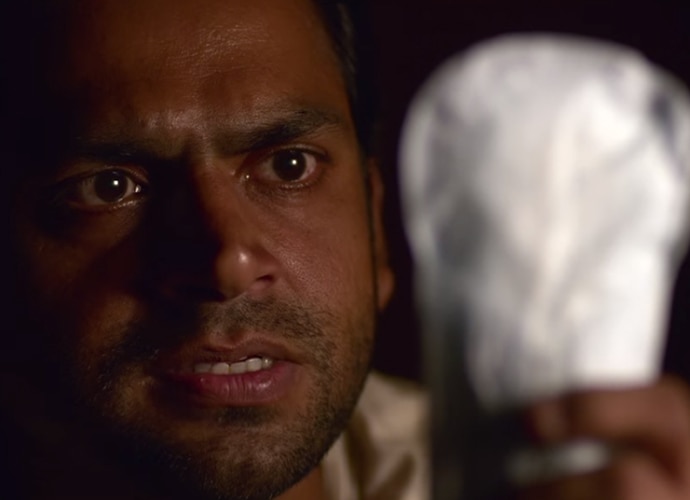 Photo: Screengrab/Phullu Trailer
The handmaids are women selected to service the Commanders because their wives are unable to bear children, and one wrong step by them can set them up for stoning or worse to be strung up. It would gladden the hearts of the Sangh Parivar men (truly an oxymoron isn't it, given the absence of women in the parivar) but imagine such a future. But it's also a future where women win only by joining forces with each other, through solidarity with one another.
O blessed day, when will that day come? How about starting now, by forcing Mr Nihalani to overturn the certification? And praised be, under his eye, let us ensure women don't talk about themselves or their bodily functions in shame. They're as real as we are.