Indians, as a society, have a box full of things We Don't Talk About. It's a huge box and all the things that scare us, embarrass us, or make us feel awkward are tossed into it, where they remain throbbing, struggling to break out despite society as a whole pressing down on that lid.
But, in 2018, three remarkable things managed to free themselves of the box.
Out they popped, and came to rest on our tables, glimmering, quivering, refusing to be ignored. And we finally had to acknowledge them — get outraged or embarrassed by them, but, all the same, talk about them, discuss them, face up to them.
Here are the three talk taboos we managed to break in 2018:
One scene in Veere Di Wedding seemed to shake up the nation and wake many up to the fact that women can — and do — masturbate.
While actor Swara Bhasker was trolled relentlessly for doing the scene, the whole episode did lead to conversations about masturbation, how many women have difficulties orgasming, and how female pleasure continues to be a neglected aspect in heterosexual love-making.
Within a few months, we had Swara Bhasker and Kiara Advani portray masturbation on screen. (Photos: Screengrabs)
The conversation was carried forward by Karan Johar's story in the anthology film Lust Stories.
A large section of society has a long way to go in accepting women as beings in control of their own sexuality. This section needs help, counselling, guidance — and occasionally, a whack on their heads.
Women do, and should, masturbate, without mixing the pleasure with guilt. It's not dirty, it's not immoral — and it's really good. You need to know what you like before you can even communicate it to your partner. You deserve pleasure. Explore it, claim it. Own it.
II) Menstruation and its many 'effects'
A Supreme Court judgment allowing women of all ages entry into the Sabarimala Temple in Kerala erupted into a huge controversy.
While the row had many dimensions, one of the core issues was the supposed 'impurity' of menstruating women. The Sabarimala deadlock has not yet been broken — women devotees were again forced out of the temple hours before this article was written — but the episode did lead to multiple conversations about how menstruation is a perfectly natural phenomenon, and there is nothing mysterious, sinister, ugly or dirty about it.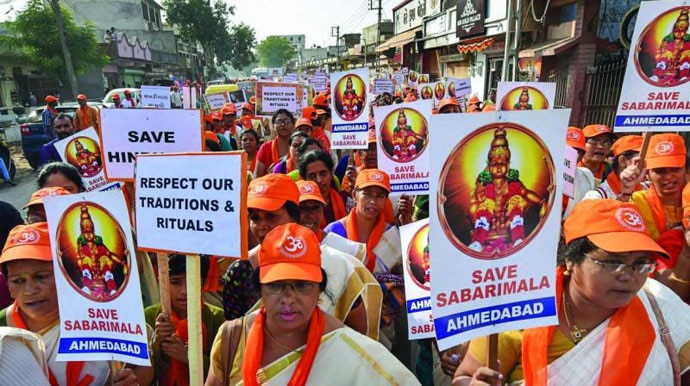 The Sabarimala issue led to protests across the country. (Photo: PTI/file)
In a country where sanitary pads are still hidden away from the eyes of a household's male members, the very fact that periods dominated primetime TV debates is a step forward.  
The row showed exactly how regressive large sections of our society continue to be. Ignorance is very fertile ground for superstition — and the level of ignorance about something that happens every month to nearly 50% of humanity is astounding.
Periods need to be mainstreamed — urgently. The best way for that is awareness sessions in schools, but since many people have outgrown that age and are still ignorant, similar sessions need to be organised in offices, housing societies, malls — where men and women can sit down together and talk and learn about periods.
III) PCOS is common, dangerous — but treatable
The beautiful Sara Ali Khan chose to talk about her struggle with Polycystic Ovarian Syndrome (PCOS) on Koffee With Karan, where she had come with her father Saif Ali Khan.  While this was a Bollywood actress admitting she was not a celluloid goddess but very much a struggling human, this was also a daughter talking about reproductive health in front of her father — something many, many Indian women still struggle to do.
Sara Ali Khan talked about struggling with PCOS on Koffee With Karan. (Photo: Screengrab)
Sara speaking about how she struggled to lose weight because of PCOS made more people take notice of the condition. PCOS is scarily common — according to one study, one in every five women in India suffers from it. But, because its symptoms are difficult to pin down on one cause and because women tend to not prioritise their health, it often goes undiagnosed, till it leads to more serious ailments, such as diabetes, infertility or uterine cancer.
The symptoms of PCOS can include weight gain, hirsutism (excessive facial hair) and female balding — all of which can dent the self-image and confidence of a woman. The only way forward is to recognise the symptoms early, so that they can be addressed.
When a celebrity like Sara Ali Khan talks about PCOS, she not only gives it more visibility, but also tells women that the condition can be beaten. We need more such conversations about both male and female reproductive health.
Everyone — especially women — need to heed what their bodies are telling them. It's not always easy to trace symptoms to their actual causes, and timely medical involvement can save much more serious trouble later on.
While we still need a lot more awareness and 'normalisation' on all these issues, at least, the first small step — of talking about them in a big way — was taken this year.
Here's to more giant leaps in 2019.