The popular tourist destinations of Uttarakhand have become all too popular in recent times. Traffic police claims there is simply not enough parking place for everyone who would like to visit the hill station of Nainital. Therefore, police are turning away vehicles, requesting people to go elsewhere. There was a similar situation in Mussoorie some years ago.
Meanwhile, hoteliers in Nainital claim they have around 30 per cent of their rooms occupied because of the police action. This is peak season and normally hoteliers make enough money now to see them through the lean monsoon period.
For the hospitality industry to turn people back after they have driven hundreds of miles is perfectly inhospitable and there is no doubt that Uttarakhand's reputation as a tourist-friendly destination is taking a severe knock. 
What should have been planned was to spread tourists thin over the countryside. Photo: Twitter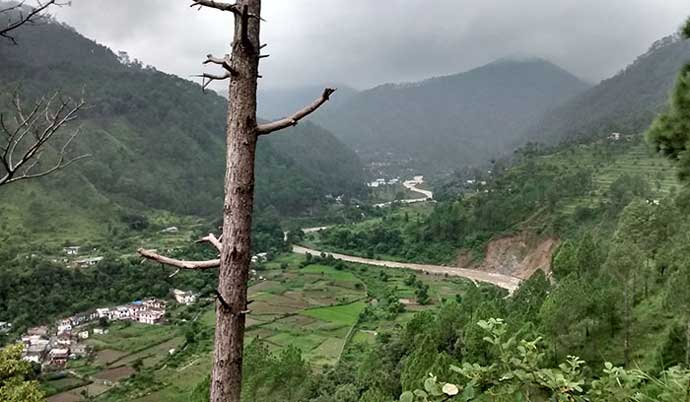 Don't allow silent valleys to be ravaged. Photo: Euttaranchal
The interest in tourism is valid, but the policy was stupid to say the least. Photo: Screengrab
That things have come to this pass is a result of illogical planning by the state. When Uttarakhand was created 18 years ago, planners decided that tourism and the generation of hydroelectricity were the best potential sources of revenue for the state. The interest in tourism was valid, but the policy was stupid to say the least.
Money was poured into developing existing tourist destinations and pilgrimage spots, without taking topography into consideration; while millions thronged to the attraction sites of the "char dhams" (holy abodes): Badrinath, Kedarnath, Gangotri and Yamunotri. Since there is not enough flat land for infrastructure to deal with such numbers of visitors, permission was given to build hotels on the banks of rivers, which is an open disregard of building norms and Supreme Court orders.
When the Kedarnath disaster occurred five years ago, more than 30 such hotels were washed away in Rudraprayag district alone. No one was held accountable.
Nainital, the headquarters of the Lake Development Authority, has more than 2,000 illegal buildings. That is a town in itself.
Nainital comprises a bowl spread more than 11sqkm. The mountains on the eastern and northern sides are composed of shale, which is very unstable.
In 1880, when it was relatively uninhabited, a landslide caused much damage and many deaths. After the catastrophe, building norms were introduced that forbade construction on land with a slope more than 30 degrees. This has been openly flouted.
Much of the catchment area of Nainital is forested and the built up area is so congested that if a landslide similar to the one in 1880 takes place today, the damage in terms of life and property will resemble the Kedarnath disaster.
Naintal must not go the Kedarnath way. Photo: Reuters
No contingency plans are in place for such an event.
Instead, Nainital continues to be advertised as one of the main tourist destinations of the state. Vested interests have ensured that other smaller destinations in the region are not given such prominence.
What should have been obvious to the public servants involved in planning the future of the state was that the hills of Garhwal, where the religious centres are situated, were too steep and unstable to support mass tourism, while places like Nainital and Mussoorie had a limited capacity in terms of accommodation, parking space, etc. Today, the Lake City of Nainital is also facing a water crisis.
What should have been planned was to spread tourists thin over the countryside.
There are 16,000 villages in Uttarakhand. If even 5,000 of them had been developed as tourist destinations, with a capacity for 200 tourists each, a million tourists could easily have been accommodated. This would have helped in generating rural employment, too.
Today, the Lake City of Nainital is also facing a water crisis. Photo: Screengrab
How would one get tourists to the villages? The answer is simple. The tourism industry touts destinations like Kausani as a "mini-Switzerland".
This is idiotic, to say the least. The highest point in the Alps is around 4000m above sea level. Uttarakhand comprises a section of the Himalayan range, with peaks rising to more than 7,500m.
How is it "mini" compared to Switzerland? On either side of Uttarakhand are world-famous tourist destinations, that is Nepal and Himachal Pradesh. In the centre lies the step-sister, Uttarakhand, unknown to the rest of the world.
Having said this, Uttarakhand has the highest density of wildlife in the country. The obvious thing is to designate itself as a "wildlife state", as Sikkim recently called itself "organic state".
Uttarakhand is well and truly a 'wildlife' state. Photo: Corbett National Park
Each of its 5,000 villages can market itself for its view, a natural artefact, a temple, a flower, a herb, a bird, a mammal, a reptile, a butterfly, etc. This can ensure local people take more care of these attractions. This can also ensure a person can visit Uttarakhand repeatedly at different seasons and experience something new each time.
Training in running home-stays could be imparted to unemployed youth, subsidised loans can be given to add rooms to their homes and the state government can push it.
This is not a new idea. I have floated this at various high level meetings. While the enthusiasm expressed at hearing the idea is high, somehow it never translates into implementation. I have introspected on whether the idea works or not. There seems to be only one thing wrong with it: there is no crooked money to be made in implementing this vision.
Perhaps in the coming years, there will be disasters that will force government to re-think the tourism policy. Perhaps the migration from villages that is leaving Uttarakhand desolate will cause questions to be raised about the quality of governance. After all, how have thousand-year-old villages come to be abandoned in seven decades of Independence?
Tourists want to come to Uttarakhand, residents want to host them in their cottages. The only thing preventing this is an incompetent interface of poor planning, faulty investment in infrastructure, rampant corruption and lobbying by interested parties.
Like the forest fire debacle, which I wrote about, it is possible that circumstances, facts and public pressure cause something positive to happen eventually. Until that day, one will have to bear with the fact that despite a "have car, will travel" attitude, one might not necessarily reach one's destination, despite the best of intentions.