Of course, the free vaccines will only be available at government hospitals, but the private hospitals can also buy the vaccines. If you prefer a private facility, the PM has also addressed your concern and capped additional hospital charges at Rs 150.
The PM today announced free vaccine for all those above the age of 18 from June 21.
PM Modi's address to the nation today comes at a time when India has been reporting a significant dip in Covid cases and deaths.
And thanks to this, states are slowly moving towards (old) normal life. Relaxations in lockdown curbs start from today in states including Delhi, Tamil Nadu, Uttar Pradesh, Gujarat and Maharashtra after the devastating second Covid wave that forced restrictions.
So far so good. But do remember that your safety still lies in wearing your mask. And as the PM said and we reiterate, vaccination is your only shield against the virus. 
So don't think too much between Covishield and Covaxin, and just get jabbed. As long as the vaccines are available in your state.
But you don't need to travel across the state to get the shot if you are in Delhi. CM Kejriwal announced the 'Jahan vote, Wahan vaccination' campaign today. "We will tell people to visit their designated polling stations to get vaccinated. Door-to-door vaccination to be done soon. In four weeks, all above 45 years of age to be vaccinated," he said. Further, the government has arranged e-rickshaws to ferry people to the vaccination centres.
Delhi government announced its vaccine campaign today. (Photo: PTI)
The Delhi government has effectively covered all bases all in its plan. However, a plan is only as good as its implementation. The proof of the pudding, after all, lies in the eating.
Meanwhile, the All India Institute of Medical Sciences (AIIMS), Delhi, has started screening children for Covaxin's clinical trials. AIIMS Patna had recently started the trials on youngsters aged between 12 and 18 years. In his speech today on the vaccine policy, the PM also mentioned that the government is working on bringing more vaccines from abroad.
Confirming the news of the investigation, Antiguan Prime Minister Gaston Browne said that Choksi filed a complaint with the police to the extent that he was abducted. "He made a formal claim in writing to his attorneys that he was abducted from Antigua and taken to Dominica. It is a report that the police have taken very seriously and they are currently investigating the abduction," he said.
Choksi alleges that he was abducted from Antigua and Barbuda. (Photo: India Today)
Choksi's lawyers had alleged that the businessman was abducted on May 23 from Antigua by people with "links to India" in collaboration with Antiguan officials. He was beaten up, tortured and taken to Dominica in a vessel where he was arrested, they added.
However, PM Browne told the media in his country that while the abduction seemed "unlikely", his administration would be very "concerned" if such a thing turned out to be true. There is a good reason for the Antiguan PM to believe so. Politics of the Choksi case aside, Antigua and Barbuda is known for having the lowest violent crime rate in the Caribbean. In fact, the kidnapping rate for Antigua and Barbuda was 2.1 cases per 100,000 population, as of 2018. So Choksi essentially was in one of the safest countries he could be, before this alleged "abduction".
Abduction, our Word Of The Day is defined by the Collins COBUILD Dictionary as "to remove (a person) by force or cunning." Sounds similar to kidnapping? Well, there is a small difference as per law. Kidnapping (literally, child stealing) relates to the crime against minors and people of unsound mind. Abduction, on the other hand, could be in respect of all persons. Abduction comes from the Latin word abdūcō that translates to "take" or "lead away". It is an amalgamation of ab (meaning "away") and dūcō (meaning "to lead").
When Choksi alleged abduction, he said that he was led by a lady (whose identity is still a mystery), who was a part of the team involved in his abduction.
However, there is no mystery in the name of the young lady who made her grand entry into the British royal family. It was a happy weekend for the Duke and Duchess of Sussex. Their second baby is officially here — Meghan Markle gave birth to a healthy girl on Friday.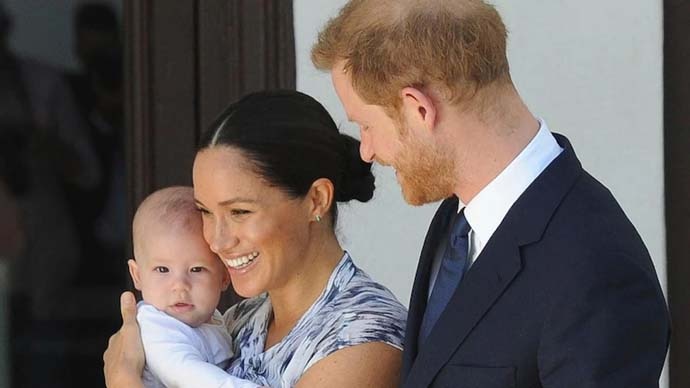 File photo of Britain's Prince Harry and Meghan, Duchess of Sussex, holding their firstborn son Archie. (Photo: AP)
Today also happens to be World Food Safety Day. In a world where about 600 million people suffer from foodborne diseases worldwide, this day is marked by the UN to help prevent, detect and manage foodborne risks. The day also marks the efforts in contributing to food security, human health, economic prosperity, agriculture, market access, tourism and sustainable development.
In terms of safe food, in India, we say that when one is unwell or low — physically or mentally — the next best thing to mother's love is a steaming bowl of khichdi. And we have your dinner idea sorted for tonight with our recommended masala khichdi — the good ol' khichdi with a zingy twist.
We leave you on that note. See you tomorrow.
Now get the all-new DailyOh in your mailbox. Click here to subscribe.