Pakistan bans soft music on its flights: Ah, the naya bans in Naya Pakistan!
From Ahmadis to buffaloes and cheese, Naya Pakistan is newly defining the ABC of bans!
Pakistan, we've been informed, is turning over a new leaf. It has a shiny new Prime Minister, Imran Khan, who wishes to build a Naya Pakistan. For this, he's started early. If conspiracies are to be believed, Khan made it to the PM's chair in a very new manner — nasty critics say, the Army 'selected' him the winner, and then organised an election around him.
But that is idle talk. Ever since Khan came to power, he has taken some tangible, visible, and of course, new steps to make Pakistan the new heaven on earth.
This has involved banning some practices (and people) of Old Pakistan.
Here's a look at some of the very best naya bans of Naya Pakistan:
1.) PIA flights face the music
Pakistan International Airlines has many more than 99 problems, but music choices ain't one. The airline's Chief Operating Officer, Air Marshal Arshad Malik, recently ordered that the music currently be playing on flights be replaced with religious hymns.
PIA has a lot of serious problems — luckily, it knows which one must be addressed first! (Photo: Reuters/file)
Now, PIA is neck-deep in debt, several of its employees have been arrested for smuggling drugs, others have been found to have faked their academic certificates. But the COO has his priorities right. If fliers are ever alarmed that their pilot may not be adequately qualified — some have not cleared Class 10 — at least, they will have godly music to comfort them.
2.) Ahmadis are cancelled
Ahmadis — or other religious minorities — have never exactly led a charmed life in Pakistan. But the anti-Ahmadi rhetoric of Khan's Pakistan Tehreek-e-Insaaf (PTI) in the run-up to the elections was vicious, even by Pakistan's standards.
Atif R Mian is considered among IMF's 'top 25 brightest young economists' — but he wasn't good enough for Khan's non-Ahmadi economic council. (Photo: Reuters)
After coming to power, Khan officially fired an Ahmadi economist — Atif R Mian, the only Pakistani to be considered among the IMF's 'top 25 brightest young economists' — from his economic advisory council, simply because religious extremists did not like him.
3.) Cheese, na-cheez
Pakistan is in deep, deep debt and needs radical ways to improve its economy. The country could have thought about how China is bleeding it dry. It could have tried to generate jobs internally. It could have tried to clamp down on homegrown terrorist and religious extremist networks to attract foreign investment.
What it intends to do is ban the import of cheese.
Making Pakistan grate again. (Photo: Wikimedia Commons)
If only the evil foreign milk product is banned, Pakistan will turn into a land of milk and honey.
Akshay Kumar was right.
Yeh cheez badi hai mast mast.
4.) VIP buffaloes
As part of its austerity drive, Khan's government is auctioning luxury cars belonging to the official machinery. Turns out the Pakistani establishment has a LOT of cars — some imported, some domestic, all fancy. It also has some stray choppers lying about.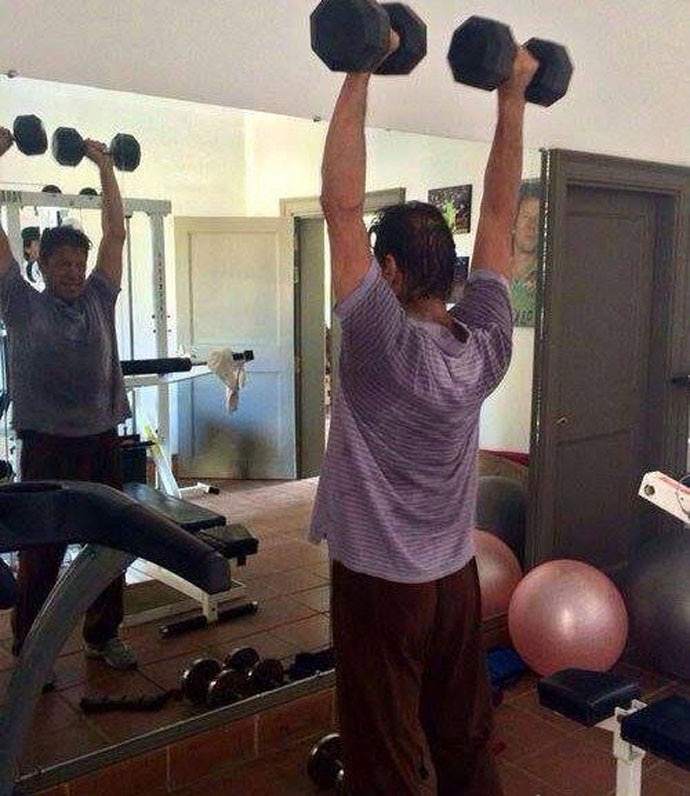 Khan is a fitness enthusiast, and has no use for buffaloes. (Photo: Twitter)
But the novel element here is eight buffaloes kept at the PM House — Khan's predecessor, Nawaz Sharif, apparently needed them for his "gastronomic requirements".
Khan, who believes in both fitness and austerity, had them auctioned off, and they fetched a handsome $19,000.
5.) Ghair-sanskaari Valentine's Day
This ban precedes Khan's election to office — Valentine's Day celebrations were banned by courts in Pakistan in 2017 and 2018. But the ban this time has a 'naya' twist — the University of Agriculture Faisalabad (UAF) has decided to observe February 14 as 'Sisters' Day'.
Love — but only thy sister, mister! (Photo: Reuters/file)
And the idea is not from a Pakistani variant of the Bajrang Dal, it came straight from the intellectual brain of the university's Vice Chancellor, Zafar Iqbal Randhawa. The VC, however, is no killjoy — he has allowed loving brothers to 'gift scarves and abayas' to their dear sisters on D-Day.
Under the able leadership of its new PM, new Pakistan is indeed marching on the path of new progress and development — its new ban-ners flying high.
Also read: How Pakistan's economic future now depends on donkeys, eggs and funny reporters