The world is dealing with a viral infection. China, from where the virus originated, is dealing with both a viral and a bacterial infection. The Chinese men, women, and those who don't want to be identified as either, are also dealing with Xi Jinping. We will save the discussion on Xi for another day. Today, we will keep the focus on the bacterial infection.
The infection is proving to be particularly bad for men because it is leaving some (not all) of them infertile. Neither Xi nor coronavirus posed that risk even though — together and individually — they pose a lot of other risks.
In a Chinese province, 3,245 people have tested positive for brucellosis. (Photo for representation only: Reuters)
According to the Health Commission of Lanzhou, 3,245 people have tested positive for brucellosis. The positivity isn't spreading human-to-human though. It's coming from proximity to livestock - eating them or breathing around them. Brucellosis gives those infected fever, headache, muscle pain kind of problems. But the disease, also known as Malta fever, can lead to inflammation of testicles and leave people infertile. Malta fever is not known to be a real killer so far.
How many fatalities did coronavirus cause among coronavirus warriors in India? Step out in your balcony tonight at 9 pm, or climb up to the terrace and count the stars in the sky. Can't count them all? Now, don't blame the government for not keeping a count of doctors, nurses and other healthcare workers who died saving those fighting the virus. The logic doesn't add up for you and the numbers don't add up for the government. Hisaab barabar.
The Centre in Rajya Sabha has said health is a state subject. And we are all State's subject but states are concerned about other subjects.
States are up in arms asking how could the Centre pass a law on farms, farm produce and farmers? PM Narendra Modi, who is done replying to birthday wishes on Twitter, replied to the opposition parties. In an address, Modi asked the opposition parties to not spread lies. The opposition said withdraw the bills after the bills sailed through the Lok Sabha and are to be introduced in Rajya Sabha.
The Lok Sabha yesterday passed three bills:
i) Farmer's Produce Trade and Commerce (Promotion and Facilitation) Bill, 2020
ii) The Farmer (Empowerment and Protection) Agreement of Price Assurance and Farm Services Bill, 2020
iii) The Essential Commodities (Amendment) Bill, 2020
The opposition has opposed all three. Even NDA ally, Shiromani Akali Dal (SAD), has opposed them. SAD leader Harsimrat Kaur Badal felt so sad after the bills were passed in Lok Sabha that she quit as the Union Minister. The party has not left BJP-led NDA though. The government passed the bill, not the party. Same thing, but different.
While Modi told the opposition parties to not mislead farmers today, yesterday he told farmers to not be misled. Responsibility in a misleading exercise needs to be fixed at both ends. In between comes the government.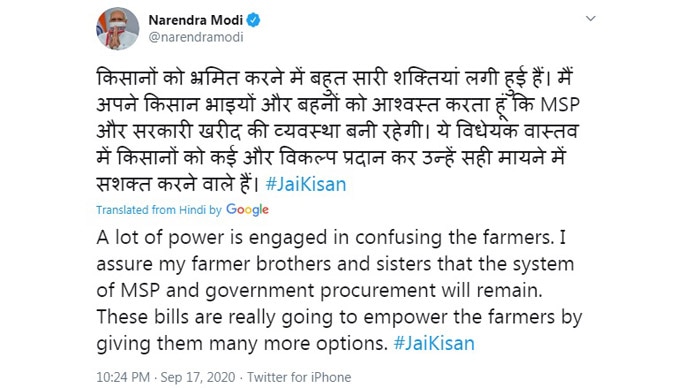 Farmers say the legislation would deprive them of a fair price for farm produce, the government says opening the market to private players and competition would ensure better prices. Why don't farmers want better prices? "Because they are being misled."
A misled and miffed farmer is bad news for any political party because farmers vote. You may not like a party or government but you do not matter to the party or the government till you are a voter. Even if you vote for Party B, Party A stands a chance of wooing you. If you don't vote at all, you can go get misled or go and mislead, you don't count like the stars in the sky.
Farmers count on election day. So farmer is our Word Of The Day. Farmer draws from the farm. But 'farm' was not exactly a piece of land for farming. In the late Middle Ages, people used to rent or lease land for agriculture. In return for the land, the person who took the land on rent would give a fixed monetary payment. The sum of money to be paid was called 'ferme' in French. Farm drives from ferme. The farmer was someone who collected the rent. Over time the word 'farmer' came to be used in general sense referring to a person who cultivates land. 
Indian farmers are called annadata. (Photo: Reuters)
Politicians can often be heard calling farmers annadata (provider of food) — because it would be naïve to call them votedata openly — and praising them for the hard work they do. You maybe working hard too but have you worked hard enough to turn yourself into a vote bank? Your food — which has not come from annadata — for thought. 
Talking of hard work, 77-year-old Amitabh Bachchan, who recently recovered from coronavirus, worked for 17 hours straight. The only peeve he had was the constant change of clothes for the shoot of Kaun Banega Crorepati. How many crores he made in those 17 hours is up for speculation. But there was a time when Bachchan made Rs 480 a month.
A still from Kaun Banega Crorepati.
How did he manage? Read it from Bachchan's blog: "And then the colleagues and friends and work, little of it, but there, the meagre salary and how we survived with just that, 480 rupees a month! 350 rupees a month gone for bed and lodging, food separate, eating the pani puri or the puchka pani at Victoria Memorial. 2 rupees would fill the stomach thats it and done for the entire day ... looking forward to the free office lunch the next morning!"
Talking of money, the Reserve Bank of India (RBI) has said people could be back to hoarding cash again. RBI knows it because RBI keeps track of the currency in circulation (CIC) even if government has lost count of who died and who lost her job. RBI's tracker has found the year-on-year CIC growth was 22.6 per cent as of September 4 as compared to 13 per cent on the same day last year. In March 2020, year-on-year CIC growth was 14 per cent.
So why are people keeping cash? Because cash is comfort. It may not be so in reality, but people get a sense of security when they have cash in hand. Don't confuse it with people hiding cash in pillows and under mattresses for a cosy sleep. They generally have sleepless nights fearing tax raids. Maybe demonetisation too.
Those who lie and hide have to fear the law, but actor Kangana Ranaut has no fear of facts. She knows when she goes wrong, she can go delete the wrong. But the fact is, the wrong leaves a mark, or someone just saves the mark for posterity.
Ranaut threatened an India Today Group journalist with legal suit after it was pointed out that Ranaut was lying when she said she was forced to vote for a Shiv Sena candidate because the Sena was in alliance with BJP. India Today Group's Marathi web channel Mumbai Tak pointed out that Ranaut had the option to not vote for Raut's party, but vote for the BJP.
She later deleted the tweets. So the tweets are not on Ranaut's timeline, Paytm is not on Google Play Store. Google took the decision to take down Paytm after it found the app to be violating its anti-gambling policies. Is it safe for you to use the app on your phones still? Your answer. What Google has found has no bearing on the security of transactions made through the platform in India. If someone finds something that has a bearing on it, we will bring it to you.
We will leave you with this for today and the weekend to do things serious and fun.
Tomorrow, the IPL season kicks off with the first match being played between Mumbai Indians and Chennai Super Kings. If you are a cricket buff, this should set you for the weekend.
We will be back on Monday.
Now get the all-new DailyOh in your mailbox. Click here to subscribe.