As I switched on my TV set for my morning dose of the news, I heard the anchor read out my name. And there I was, in my pink kurta, doing a piece to camera (we call it 'PTC') outside the home of the Delhi chief minister. The rush of blood felt the same as I have felt for the past 14 years plus when watching myself on screen.
But there was something unusual, or rather, grossly weird about this particular bulletin. It showed me in a different set of clothes in the next shot, a different location and time, standing next to the stage as US President Trump descended, walked towards my camera and paused.
My heart skipped multiple beats as the video journalist who was accompanying me signalled anxiously to start my much-awaited PTC. Those fleeting seconds, I felt a lump in my throat — but I mumbled something, fumbled for words and then, the moment had passed.
The President of the United States of America, Donald Trump, nodded his head in disappointment and walked away.
I stood frozen as the video journalist cursed me for missing out on a golden moment.
The next second, I was being shaken vigorously, woken up from a nightmare I would not want to live. I usually have such dreams — PTCs are the core around which all stories revolve.  Yes, us TV reporters eat, sleep and drool over our PTCs. From a fresher to the most seasoned journalists, from the famous Chand Nawab of Pakistan to the unknown Chandramani of Rajasthan, the PTC is a reporter's first love. There is no 'if' or 'but' about it.
I would travel seven seas just do a PTC. It may be the most beautiful place in the world to see — but I wouldn't bother to venture anywhere at the cost of a PTC.
The PTC is a reporter's 15 seconds of fame (that one can conveniently stretch to 30 and unabashedly to 50, if it misses the scrutiny of newsroom inspectors). Reflecting on my PTCs, fellow colleagues might agree the toughest are those that are delivered in bone-freezing cold or boiling-hot weather conditions.
The PTC is a reporter's 20 seconds of fame. On the day of the Budget, an attempt for a PTC with former railway minister Suresh Prabhu.
Thinking about soaring temperatures, I am transported back to the scorching Thar desert in the year 2010.
It was midsummer and I was on a particularly arduous errand, covering the Desert Safari as a part of the diamond jubilee celebrations of the esteemed National Defence Academy. The Army convoy cut smoothly through the golden sand dunes of Jaisalmer, moving towards Barmer. The team was racing against time and unwilling to halt even for a few minutes. My challenge was to race ahead of the convoy, stop and wait to deliver my message —on camera. I had a good three minutes to do an "okay" take.
Cut to the next scene: I was in a sitting position by the side of the burning road, the sun beating down on us and the convoy marching towards us in the background. As the camera light blinked red, I started speaking.
Take 1: "These men of steel brave the toughest of weather conditions to to to..."
A cavalcade was speeding closer and closer.
Take 2: "No matter how tough the weather conditions... ttthese tough men brave tough conditions..." The Gypsies zipped past us one after the other. Drops of sweat ran down my face. That was my last chance! Well, as a reporter, it was my day to learn the hard way, so a Take 3 and Take 4 followed, then a chase and more.
It took two hours, a lot of patience from my buddy video journalist and a bit of compassion from the men in uniform to finally hit the target.
The trick was to not let go.  
After all, a PTC is the chance for a journalist to capture the imagination of the country, to connect directly to the viewer, an effective tool to deliver a hard-hitting message that would go beyond the five Ws of a story (Who, What, When, Where, Why) — many a time, it's actually way beyond those facts.
A big hug PTC!
One such PTC that I wouldn't and couldn't forget was at the Nigambodh Ghat.
Way back in 2011, while the national capital was reeling under floods, some channels went through the roof sensationalising the phenomenon. Picture this: At the Ghat, a reporter cribbbed, standing in water that barely reached his waise that it would make for a such drab PTC. Then, all off a sudden, he dipped into the muddy sewage, literally kneeling till it reached his shoulder. That's when he started his 'dramatic' PTC: "Dilliwalon ke liye khatre ki ghanti! Poori Dilli baadh ki chapet mein hai aur dekhiye Nigambodh Ghat mein paani kandhe tak pahunch gaya hai — alarm bells are ringing as Delhi is hit by floods and here, at the Nigambodh Ghat, water has reached till shoulder level."
The reporter went on and on giving retakes. I was already weary, drenched and smelling like fish and in no mood to give unsolicited advice. As I started a wrap-up of the day, I suddenly saw people in front screaming.
Backstories to PTCs are for memoirs. PTC during UP Assembly election as Akhilesh Yadav about to take off in his chopper.
The video journalist with me called out, his voice almost inaudible in the cacophony, "Move, run, come out, run," he shouted.
"Why? What's happened?" I asked. He was pointing to something. As I turned my head and looked back, the fellow reporter was running towards me, panting heavily.
Behind him, a black water snake slithered towards us with great dexterity. The snake was undeterred by the shouting and screaming and was almost two steps away before he dipped into the water and vanished.
Well, I figured, sometimes the act of doing a PTC can make headlines —and you become news yourself. 
That takes me to a sweltering May afternoon when I was reporting in Ballabgarh about how a Dalit family was mercilessly attacked by upper-caste goons. 
While reporting, I was interrupted by someone whom I would not have imagined there in the remotest of my thoughts. 
The small courtyard of the dilapidated house was packed with paan-chewing, media-hungry netas and some mute spectators. The mourning for the horrific death of two children of the house was drowned by a sudden pandemonium. I stood next to the badly-burnt father narrating the incident —just when Rahul Gandhi, scion of the Gandhi family, walked in. 
He seemed to be miffed by the media presence and told me with a certain air of arrogance "Are you moving out or should I go?" His sudden outburst had interrupted my flow. I was taken aback by his unwarranted behaviour and replied: "I was here before you. I am just doing my job. Why are you shouting at me, Rahul?" 
This went on air as it happened.
"Rahul ko gussa kyon aaya?" read a headline on TV that also spilled over onto social media.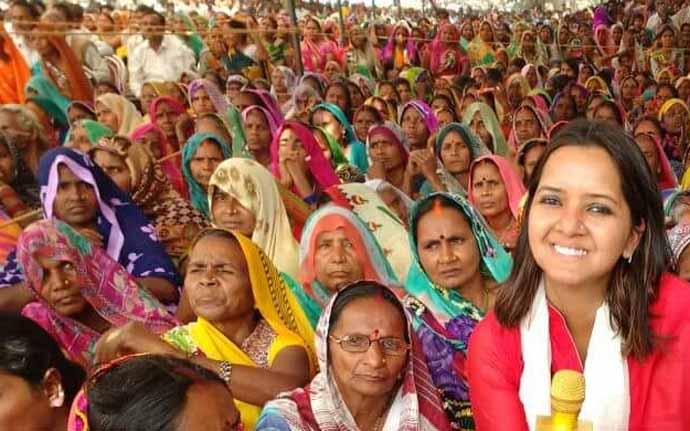 In the rural hinterlands of India, the village folk just love the camera.
To be fair, Rahul Gandhi apologised later. But, as a reporter, keeping your cool works.
Then, there are those PTCs right in the middle of a sea of people in a godforsaken place where you feel like an alien from space.
In the rural hinterlands of India, the village folk just love the camera —so they often brazenly refuse to budge from the frame. If it's a serious story, they would be right there, joking and laughing. If it's a lighter story, they would gleefully crowd your frame in rustic revelry.
The urban crowd is more in your face. So, when I would politely request "Sir, could you not stare into the camera? It's spoiling our frame", they bluntly reply, "Madam, it's a democracy, we can look anywhere. After all, these are my eyes". Then there are some who wait and watch from the stands. Right when the camera rolls, they walk into your frame, talking on their mobile phone, pretending to be oblivious of their surroundings.
Changing the frame won't work. They want to know the time the PTC would run. Whatever the circumstances, the foot soldier simply refuses to give up.
If you happen to be a journalist from a third world country, where the media is still adolescent, then PTCs sometimes just seem to get more humourous —or, to the contrary, dangerous, depending on the precise situation you are in.
A reporter needs to have P(atience), T(act) and C(leverness) to do a PTC. Backstories to PTCs are for our memoirs —unless they go viral, like the trademark 'Chand Nawab-style'.