Britain's Prince Andrew and 5 others who were stripped off their royal titles
The Queen of Britain has stripped the royal and military titles off of one her sons, Prince Andrew. But what led to the decision and who are other royals whose titles were taken away?
Britain's Queen Elizabeth has stripped off royal and military titles of her 61-year-old son Prince Andrew. This development comes at a time when the Duke of York is fighting a rape case against him in the US.
A statement from Buckingham Palace regarding The Duke of York: pic.twitter.com/OCeSqzCP38

— The Royal Family (@RoyalFamily) January 13, 2022
However, the Prince will continue to retain his title of HRH or His Royal Highness, but will not use it in any official capacity. He also continues to hold his military service rank of Vice Admiral. But, the Independent reported a group of British Armed Forces have written an open letter to the Queen in the past week asking the monarch to dishonourably discharge him from his title.
WHAT DOES IT MEAN?
Prince Andrew was stripped off his royal and military titles. Photo: Getty Images
Prince Andrew losing his royal and military titles means that the Queen has demoted the royal member from his royal and military place. His titles being redistributed into the family means he will not be getting any of the titles reinstated at any point of time.
With the act, the Queen has distanced the British royal family from the lawsuit against her son. It also means that he's cut off from access to public funds.
WHY WAS PRINCE ANDREW SHUNNED?
Prince Andrew pictured with Jeffery Epstein. Photo: Getty Images
This is also not the first time that Prince Andrew was stripped off of his titles. After what is considered his disastrous interview with the BBC News, over his friendship with convicted sex offender and late American financier Jeffery Epstein, the Prince 'voluntarily' resigned from some of his duties.
But reports quoting Palace sources said that his mother had actually fired him and cut off his salary.
Something similar happened in 2011, after pictures of him at Epstein's New York mansion in 2010 were published in tabloids.
For the unversed, Prince Andrew faces allegations of rape by Virginia Giuffre (before named Virginia Roberts) and a US judge has opened up a trial in the case. Giuffre claims that she was forced by Epstein to have sex with Prince Andrew when she was only 17 years old. Prince Andrew has refuted the claims vehemently, and is now even supposed to prove that he can't 'sweat' in a court because of counter-allegations.
Now, the Prince has been left without most of his official royal titles, a disgraced image, and even mounting debt.
But by far and wide, Prince Andrew is not the only British royal family member to have been stripped off his or her titles. While in Prince Andrew's case the royal action may seem fair; sometimes, the monarchy has been ruthless and even out of bounds in reining in its royal members from the lives they wanted.
Here are some British royals who lost their titles:
1. PRINCE HARRY AND MEGHAN MARKLE
Prince Harry and Meghan Markle lost their royal titles in 2020: Photo: Getty Images
Prince Harry and his wife Meghan Markle were also stripped off their royal titles in 2020 after they decided to live private lives, without royal public duties, in Los Angeles. Though both remain Duke and Duchess and retain the HRH title, they can't use it in official capacity.
At the time, Prince Harry had even expressed his sadness over the development.
2. PRINCESS DIANA
Princess Diana was stripped off her royal titles after divorce from Prince Charles. Photo: Getty Images
Princess Diana's tragic royal life story has been enshrined in pop culture. Princess Diana lost most her titles including HRH when her divorce with the Queen's son Prince Charles was finalised in 1996, just a year before she was killed in an accident in Paris. Reportedly, she was ranked the lowest as a royal family member post her divorce at the behest of Prince Charles.
3. KING EDWARD VIII
King Edward VIII abdicated the throne for marriage. Photo: Getty Images
This royal member was the King when he gave up the British throne to marry an American divorcee, Wallis Simpson. King Edward VIII chose to voluntarily abdicate the throne after the monarchy, the British government and the Church of England condemned his marriage to Simpson. He then became Prince Edward and was given the title of Duke of Windsor.
There were several others who were bestowed royal titles for their work, but were eventually stripped off their titles for various reasons:
4. HARVEY WEINSTEIN
Former American film producer Harvey Weinstein's royal titles were taken back after his sex scandal. Photo: Getty Images
Yes, this former American film producer, convicted of sex crimes, was also once bestowed the Commander of the Most Excellent Order of the British Empire, or CBE for his contributions to the British film industry. But soon after his sex scandal became public, he was stripped off the title.
5. BENITO MUSSOLINI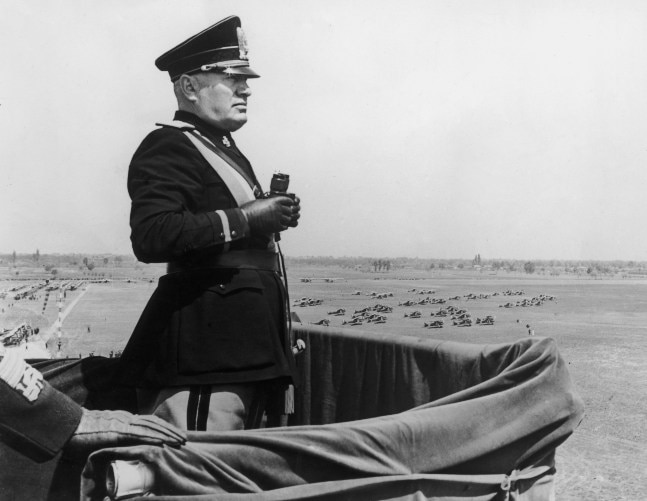 Italian dictator Benito Mussolini was stripped off his royal titles for conspiring with Germany. Photo: Getty Images
The British stripped off the titles of several people previously associated with the royal family for their role in World War II. The Italian fascist dictator Benito Mussolini, who was named Knight Grand Cross of the Order of the Bath by King George V in 1923, was stripped off the title when he decided to team up with Nazi Germany against UK.
To sum it up, among the British royals, the Queen giveth, and the Queen taketh away.
The views and opinions expressed in this article are those of the authors and do not necessarily reflect the official policy or position of DailyO.in or the India Today Group. The writers are solely responsible for any claims arising out of the contents of this article.