Why Siddaramaiah is asserting his Hindu identity
Both Amit Shah and Yogi Adityanath are linking being a Hindu to determine how the office of the Karnataka CM functions.
Karnataka chief minister Siddaramaiah has made a strong remark against the RSS and its various affiliates, and the BJP has gone to town with it, announcing a rather dramatic jail bharo agitation on Friday (January 12) and threatening to file a defamation case against the CM.
The BJP's contention is that Siddaramaiah has called the party and the RSS "Hindu terrorists".
I am RSS I am BJP #ArrestMeSiddaramaiah

— Shobha Karandlaje (@ShobhaBJP) January 11, 2018
The row was triggered by a remark the Congress leader made at Chamarajnagar on January 10, when, according to a report in the Hindustan Times, he used the word "ugragami" for the RSS and the BJP. "They are also extremists of one kind. BJP, RSS, and Bajrang Dal have extremists," he said.
While the literal translation of "ugragami" is extremist, it is also used to refer to terrorists. On Thursday, Siddaramaiah clarified that he meant "Hindutva terrorists", as opposed to Hindu terrorists.
The BJP's reaction is predictable. The remarks, seen out of context, fit right into its narrative of Congress being an "anti-Hindu" party which raises the bogey of saffron terrorism to defame Hinduism, while it goes soft on violent Islamic extremism.
In Karnataka, the party has been going hammer and tongs at the Congress for not acting against Islamist outfit Popular Front of India and its political wing, Social Democratic Party of India, which it alleges are behind the killing of several Hindu activists in the state.
Siddaramaiah, however, had added: "Anybody who spoils communal harmony will not be tolerated. We will not spare anybody, be it [Popular Front of India], [Social Democratic Party of India], Bajrang Dal or [Vishwa Hindu Parishad]."
On Thursday, he said: "I had said they are Hindutva terrorists. I am also a Hindu, but I'm a Hindu with humanity, they are Hindus without humanity. That is the difference between me and… (them)."
In the cacophony that the BJP has raised and sections in the media have amplified, only the "RSS-BJP are terrorists, they are without humanity" remarks are likely to stand out. However, the comments have generated a curious dichotomy: while the saffron brigade is tearing into Siddaramaiah for insulting Hinduism itself, another section is castigating the Congress for peddling "soft Hindutva".
Congress Soft Hindutva in Gujarat got mutated in Soft terrorism in Karnataka by @siddaramaiah. Congress has lost moral ground as a national party. It is becoming a cover for forces aspiring balkanisation of India and civil war.

— Prof Rakesh Sinha (@RakeshSinha01) January 10, 2018
Ever since #BJP came to power in 2014,the Perpetual Muslim Appeasers have started resorting to Soft Hindutva. Are they afraid of rising Hindu Unity under Modi?While Rahul Gandhi became a Shiv Bhakt Janeu Dhari Hindu & visited Temples, #MamataBanerjee's hosting Brahmin Sammelan!

— Jagrati Shukla (@JagratiShukla29) January 8, 2018
With this in mind, I do think Congress' Soft Hindutva is good for Bharat. I do hope @OfficeOfRG & @siddaramaiah takes this up for Karnataka elections. We dont want Hindus of another state being sold out like they're selling us out in Rajasthan, MH & MP.

— Neha S (@neha_aks) January 10, 2018
He started now soft hindutva, from beef eater to Ram is in his name and he is equally Hindu

— ???????? Parsuram (@ppani76) December 31, 2017
The discourse is that the Karnataka CM, (through his "I am a Hindu too" remark has fallen into the BJP's trap) like Rahul Gandhi and his temple visits in Gujarat, too is trying to woo Hindu voters, and that the election is likely to turn into a display of competitive communalism, with issues of development and administration neglected.
Is assertion of religious identity communalism?
The distinction between Hindutva and Hinduism is one that has long been emphasised upon. Siddaramaiah, by calling the country's ruling party – one that won a massive mandate – extremist and inhuman, was being irresponsible.
However, was the remark communal? Does the mere assertion of one's religious identity make one communal?
What Siddaramaiah said was simply a statement of fact – he is indeed a Hindu. He has not used the identity to distance or distinguish himself from any other religion, he has not said his conduct as CM will depend on his personal faith.
Contrast this with how, as recently as in the past few days, BJP chief Amit Shah and Uttar Pradesh CM Yogi Adityanath have used the Hindu identity.
On January 10, Shah, addressing a rally at Holalkere region of Chitradurga, said: "As many as 21 BJP and RSS workers have been killed in Karnataka in the last three years and the government is not even investigating it. When the BJP comes to power, it will send all the people to jail. This government is an anti-Hindu government."
Before that, Uttar Pradesh chief minister Yogi Adityanath too had labelled the Siddaramaiah government anti-Hindu for overturning the beef ban that the BJP had brought in when in power in Karnataka. "If Siddaramaiah is a Hindu, then let him ban cow slaughter and beef in the state. The BJP government previously had brought an effective piece of legislation to ban cow slaughter. What did you (Siddaramaiah) do? Soon after coming to power, the Congress government retracted it," Adityanath had said on January 8.
Being Hindu is one thing, being pro- or anti-Hindu quite another. Both Shah and Yogi are linking the Hindu identity to how Siddaramaiah should act as chief minister, wanting the faith of the post-holder to determine how the office of the CM functions.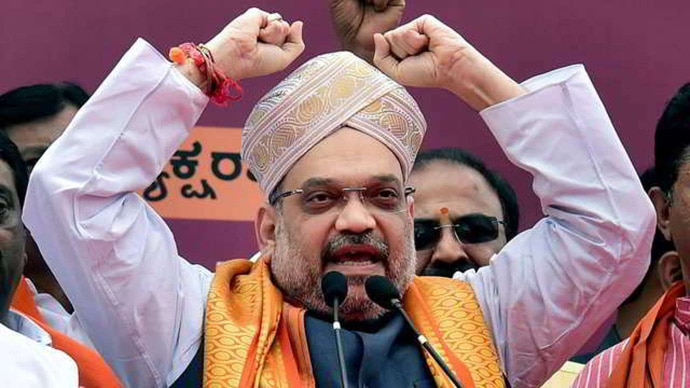 BJP chief Amit Shah has said the Karnataka government under the Congress is 'anti-Hindu'. Photo: PTI
They have clearly sought votes on the basis of religious identity, promising to look after the interest of one community if brought to power. This is indeed communalism, something that should have no place in a country described as "secular, democratic" by the Preamble to its Constitution.
BJP is colonising Hinduism
Harping on the religious identity of its opponents is an old trick of the BJP. In Gujarat too, while the Congress faced flak for asserting that Rahul Gandhi was a "janeu-dhari Hindu", the remark had come only after the BJP turned his religion into a veritable poll issue.
Why should Rahul Gandhi not visit temples, whatever his religious identity? Is the BJP the only party that is allowed to proclaim its Hindu-ness, and what gives it the right to ask other leaders to prove their Hindu credentials?
This in part has to do with the "secular" parties' historic reluctance to be seen as overtly Hindu, fearing that it may distance them from other minority communities.
This has given the BJP the space to project itself as the only champion of Hindus, the only party not afraid to flaunt its Hindu credentials and hence the only "saviour" of the religion "threatened" by minority-loving politicians.
It is possible to be a devout Hindu, Muslim or practitioner of any other religion, and yet remain non-communal. Mahatma Gandhi, Maulana Abul Kalam Azad, were religious men, but very far from being polarising figures.
Indian society does not seem close to the stage where religion and politics can be separated. Unfortunately, religion in politics is used only as a tool to divide, to the extent that a politician opening his mouth on faith sends up red flags for the "seculars and liberals".
However, religion can also be used as one way of countering communalism – where leaders are comfortable with their religious identity, but manage to assure voters that it will not influence their policy decisions in any way. What parties like the BJP, the Shiv Sena, the AIMIM practise is dangerously different from this – religion there becomes not just the leaders' personal, but the party's political identity, they use it to mark their difference from other parties, effectively promising to represent one community more than others.
The BJP's model of strident, exclusionary Hindutva is gaining currency only because voters feel it is the only party willing to speak up for Hindus, whereas others actively shun the identity.
Other parties should not allow the BJP to become the sole spokesperson of Hinduism, when its commitment to the religion is highly expedient politically – beef, banning of which in Karnataka is supposedly the litmus test for Siddaramaiah's Hindu-ness, is perfectly acceptable food item in Goa and the northeastern states.
The colonisation of the country's majority religion by one party is bad news, for India and our democracy.
Also read: What Adityanath sparring with CM Siddaramaiah means for upcoming Karnataka Assembly polls
The views and opinions expressed in this article are those of the authors and do not necessarily reflect the official policy or position of DailyO.in or the India Today Group. The writers are solely responsible for any claims arising out of the contents of this article.