Angiography
What Adityanath sparring with CM Siddaramaiah means for upcoming Karnataka Assembly polls
BJP, in its attempt to wrest the poll-bound state from Congress' rule, has fielded its most controversial Hindutva mascot.
The acrimonious war of words between Uttar Pradesh chief minister Yogi Adityanath, who's on an intense campaign tour of the poll-bound southern state, and Karnataka CM Siddaramaiah, is a sign of our times, portending more uncertainty in the immediate future. While Yogi Adityanath criticised Siddaramaiah over beef, farmer suicides and "Hindu credentials", the Karnataka CM took potshots over UP "starvation deaths", failing healthcare as evidenced in the Gorakhpur hospital deaths, communal clashes and crime in UP, as well as governance as a whole.
I welcome UP CM Shri @myogiadityanath to our state. There is a lot you can learn from us Sir. When you are here please visit a Indira Canteen & a ration shop. It will help you address the starvation deaths sometimes reported from your state. #YogiInBengaluru https://t.co/lj0m4fMphC

— Siddaramaiah (@siddaramaiah) January 7, 2018
Thank you for the welcome @siddaramaiah ji. I heard number of farmers committing suicide in Karnataka was highest in your regime, not to mention the numerous deaths and transfer of honest officers. As UP CM I am working to undo the misery and lawlessness unleashed by your allies.

— Yogi Adityanath (@myogiadityanath) January 7, 2018
While Yogi Adityanath raked up the beef issue once again, asking Karnataka CM to ban cattle meat to "prove his Hindu credentials", he also accused Siddaramaiah of belatedly remembering that he's a Hindu. "When we were in power in Karnataka, we had enacted a law prohibiting cow slaughter. The Congress government, as soon as it came to power, repealed that law. The cow is a very scared animal to Hindus. If Siddaramaiah is a Hindu and talks of Hindutva, he shouldn't allow cow slaughter," Adityanath said, in addition to comparing Siddaramaiah's temple visits to Congress president Rahul Gandhi's. It must be remembered that about the latter, Yogi had said that Gandhi offered puja as he were doing namaz.
Yogi also issued the usual reminders of Karnataka government observing Tipu Sultan's birth anniversary, saying the people of Karnataka must choose between Hanuman and Tipu, while complaining about law and order issues in the context of recent communal flare-ups in the state, and alleged murders of Hindu activists. Moreover, the UP CM also said as part of his Parivartan Yatra, that it would serve Karnataka well to have a BJP government in the state to align its ideology and welfare with that of the Centre.
Congress leader and Karnataka CM Siddaramaiah, in his turn, once again, deplored the UP model, lamented the steep rise in child morality and crime rate in Uttar Pradesh, derailed law and order, as well as the acutely failing public healthcare system, the normalisation of minority bashing, among other issues characterised by India's most populous state.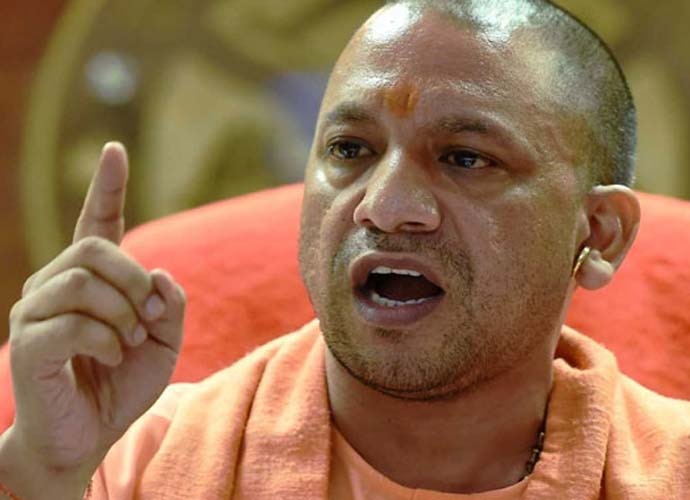 With the new voters' list for 2018 out, the political significance of this bitter exchange couldn't be overstated. But what's the context of each of these allegations hurled at each other? Let's look back.
Farmer suicides in Karnataka
Caught under a prolonged draught, Karnataka indeed registered the sharpest spike in farmer suicides, which went up by 40 per cent in 2016. There were 2,027 farmer suicides in three years in Karnataka, and 3,515 suicides in five years. However, it is the BJP-ruled Maharashtra that also registered a high number of farmer suicides, in fact higher than Karnataka in a shorter period, as did Telangana, Tamil Nadu, Uttar Pradesh and Madhya Pradesh.
In fact, 11,000 farmers have committed suicide in the last nine years in Madhya Pradesh, all under CM Shivraj Singh Chouhan government. It must be noted that India's abysmal irrigation system, coupled with unreliable precipitation, mounting debt, and crop loss have resulted in a staggering blow to the agricultural system. This, when read along with the impact of PM Modi's demonetisation diktat of November 2016, gives a clearer picture of farmer suicides affecting not just Karnataka, but most agrarian Indian states.
Communal barbs
While Yogi Adityanath threw the barb of farmer suicides to poke a hole in Siddaramaiah's "Karnataka model of governance", the rest of his allegations are fully in sync with the Hindutva mascot's communal polarisation strategy. From questioning Siddaramaiah's "Hindu credentials", to raking up beef-eating, Yogi Adityanath's speeches and accusations have been about replaying the now tried and tested formula of fomenting the Hindu-Muslim divide.
For example, other BJP leaders, such as Union minister Anant Kumar Hegde, Shobha Karandlaje, among others, have been helping flare up communal tensions in the poll-bound state. While minister Hegde said the Constitution would be amended to remove the word "secular" from the Preamble, and compared Ambedkar with the ancient coder of the caste system, Manu, calling the Constitution "Ambedkar smriti", Shobha Karandlaje has been spreading fake news and inflammatory tweets, because of which she has been "booked" by Karnataka police.
Karnataka has seen a rash of communal incidents in the previous months, clearly as a build-up to the Assembly elections. While CM Siddaramaiah has blamed the BJP, particularly its national president Amit Shah, for fomenting communal tensions, law and order has taken a hit in the Congress-ruled state.
Abysmal UP model of governance
But the irony of UP CM Yogi Adityanath lecturing Karnataka, a state with one of the highest literacy rates, healthcare, PDS, revenue share, among other indicators, on governance couldn't be starker. For one, Uttar Pradesh's public healthcare system has become a nightmare, not only with the staggering infant deaths in the BRD hospital in Gorakhpur, CM Yogi's parliamentary constituency for two decades, but also the general lack of priorities within governance, with focus on creating cow shelters and cow census taking precedence on most other things, making it a compromised system.
Each day, 1,043 children under the age of one die in UP, making it one of the worst in infant mortality rate in the country. In addition, starvation deaths have been on the rise in UP, owing to the gross exclusions on the PDS, mostly driven by Aadhaar.
UP has witnessed 60 communal incidents in 2017, according an August 2017 report, which is the highest in the country. The number of cow-related incidents spiked after Yogi was installed as UP CM, while hounding of minorities has become a norm by now.
More uncertainty
It's obvious that Yogi challenging the "Karnataka model of governance", with its in-built secularism and technology-driven focus, is less about actual governance and more than electoral stratagems of the BJP variety.
Given the war of words, this is a trying time for the Karnataka CM, as this is an important state that the Congress still commands and the BJP wants to wrest at any cost.
With BJP ruling 19 of India's 29 states, the map of India is more saffronised than ever. However, after the Gujarat election results, and the RK Nagar by-poll win by TTV Dinakaran, BJP's electoral ambitions might be tested very hard in Karnataka. Precisely why, the sparring between two chief ministers has an ominous ring to it.
Also read: What I discovered about weaving saris on a Pochampally Ikat trail
The views and opinions expressed in this article are those of the authors and do not necessarily reflect the official policy or position of DailyO.in or the India Today Group. The writers are solely responsible for any claims arising out of the contents of this article.