The foreign hand again: The mystery of the Pakistan election poster with Amitabh Bachchan, Madhuri Dixit
Yes, Bollywood stars are often told 'Go to Pakistan' when they say something unscripted. But that's not for real!
No matter how many Bollywood movies Pakistan bans, they can't do without Bollywood in an alternative reality that heavily depends on Photoshop.
Bollywood stars Amitabh Bachchan and Madhuri Dixit have rarely shared screen space in their decades-long career in Bollywood. Ahead of the Pakistan general elections 2018, some mischievous soul fulfilled this unfulfilled desire to see them together. And what better occasion than this fun-filled campaign season, which even saw a candidate willingly lying down in sewage water to seek votes?
The poster, in question, is strange though.
Though first spotted on Twitter, it is said to have been actually seen in Multan. Supposedly, it is pinned up against an unpainted wall. So many pins have been used to stick the poster onto the wall that it instantly makes us wonder at this being a very precious creation, which the creator doesn't want to just fall from the wall, the way so many other posters have gone.
In alternative reality: When Amitabh Bachchan and Madhuri Dixit share screen space, that too for the PTI (Photo: Twitter)
There are four faces on the poster — two named, two unnamed.
While there is no confusion over who these unnamed persons are, the identity of the named duo is shrouded in mystery. The poster carries the 'bat' symbol of Imran Khan's Pakistan Tehreek-e-Insaf (PTI), and the names of Sardar Abbas Dogar and Sardar Owais Dogar are written below their photos.
But the party has washed its hands off the issue and declined to be party to the great fun the Internet is having at the cost of the PTI.
Apart from Big B and Madhuri, the poster has a Bollywood character of its own. According to a report, there is also an Urdu couplet on that poster, which reads, "Main jhukha nahin, main bika nahin, kahin chupp chuppa ke khada nahin/Jo dattey huey hain ladai ke maidan me, mujhe un logon mein talash kar." Or, basically, 'No, I haven't bent. Or fled. You can look for me among those still standing on the battlefield.'
Go figure.
A PTI candidate has pics (apparently a couple of decades old) of Amitabh Bachchan and Madhuri Dixit on his election poster pic.twitter.com/bzDGchEAvW

— omar r quraishi (@omar_quraishi) July 22, 2018
No wonder the mastermind of this bombastic slogan chose Bollywood personalities to match the spirit of the couplet.
Nobody is complaining apart from PTI though, which found this is an attempt to malign the reputation of the party, by falsely suggesting that the PTI has hired Bollywood stars for its campaign because of, well, desperation.
Not really. Indians will have to literally pinch themselves to believe that Amitabh Bachchan and Madhuri Dixit — given how politically correct they are — will campaign for the PTI.
Yes, Bollywood stars are often angrily told, 'Go to Pakistan' when they say something unscripted. But that's not for real!
Surprisingly, this is not the first Bollywood connection of the Pakistan general election 2018. Shah Rukh Khan's cousin Noor Jahan was supposed to contest as an independent candidate from a constituency of the Khyber-Pakhtunkhwa assembly. Later, she withdrew her nomination papers, not because her Bollywood cousin was trolled over her. The Awami National Party requested her to withdraw as her family was associated with the party for years.
While this seems to be a prank with an imaginary candidate getting imaginary support from two Bollywood stars, there have been similar pranks with real candidate. A fake poster of an independent candidate, Abdul Aziz, has gone viral on social media as he was attributed the poll symbol of a grave in that poster. Another fake poster of independent candidate Haroon Khan Lambran portrays his symbol as a 'pacifier' — a rubber nipple meant for infants.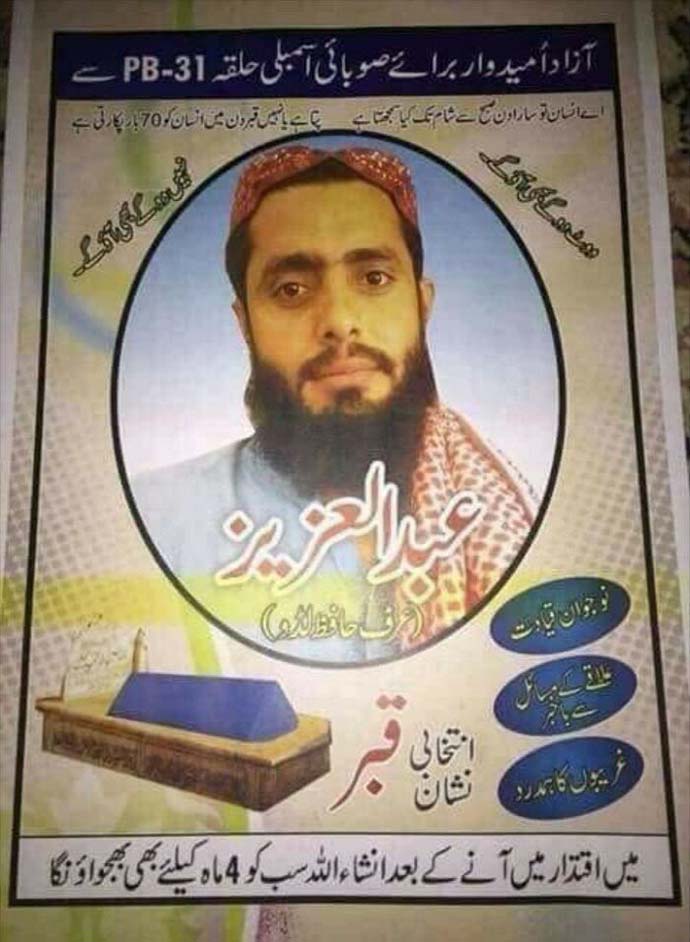 Fake poster alert: No one is promising grave in exchange of votes (Photo: Social media via Geo TV)
What you get when you seek votes? A photoshopped pacifier, apparently (Photo: Social media via Geo TV)
What we should be debating is what system allows people like this to contest elections. What was ECP thinking when granting this election symbol?

— Faisal Sherjan (@fsherjan) July 15, 2018
Such fake posters, despite bad Photoshop, have created debates on social media as people are asking how Pakistan's Election Commission could have allowed a poll symbol like a grave — or whether India is actually throwing its starry weight behind PTI through old photos of B'town biggies.
Case in point: Photoshop skills in Pakistan need improvement. But such imagination itself is laudable — as is the undiminished love for Bollywood.
Also read: How this television ad proves that there are more bankers than Amitabh Bachchan fans in India
The views and opinions expressed in this article are those of the authors and do not necessarily reflect the official policy or position of DailyO.in or the India Today Group. The writers are solely responsible for any claims arising out of the contents of this article.