Hello, Health
9 age-old infused water remedies to drown your health concerns
Traditionally, health was sneaked in via our drinks unobtrusively, and very very effectively.
What we drink is as important as what we eat, often even more so. It can make or break our health. But not many people understand this and take their sips very lightly. It was not like this earlier though. Traditionally health was sneaked in via our drinks unobtrusively, and very very effectively. There are some very simple and age-old infused water remedies that we all can do well to remember again. And all it takes is mixing one simple ingredient with hot water and sipping.
Ginger water
Ginger has the ability to soothe the stomach and aid digestion, and when had early in the morning, before meals it can keep the blood sugar levels balanced too. Just add some crushed ginger to water, boil, then cool and have.
Lemon water
Lemon juice is highly alkaline, and an alkaline gut is good news for keeping lifestyle diseases at bay and also for preventing weight gain. Just squeeze the juice of half a lemon into a cup of warm water and sip, first thing in the morning.
Barley water
The beta-glucans present in barley water helps flush out toxins from the body and thus help cleanse the system. They also help in keeping our cholesterol levels in check. To make, heat water and pearl barley to a boil. Add a pinch of black salt and cook on a low flame for 30 minutes. Cool and have.
Cucumber water
Cucumbers are loaded with vitamin B, are rich in potassium and magnesium (which may help to lower blood pressure); they also help flush and detox our body. Just add slices of cucumber to room temperature water, leave for a couple of hours and then begin sipping.
Cinnamon water
Cinnamon balances blood sugar, helps avoid spikes, which in turn helps cut the risk of diabetes and prevent hunger pangs and cravings. This spice has anti-inflammatory properties too.
To make the following four infused waters just soak 2 tsp of the spice in a cup of water overnight. Boil this water, strain, wait for it to cool down and then have it; or simply mix the water well next morning, strain the water and have it on an empty stomach.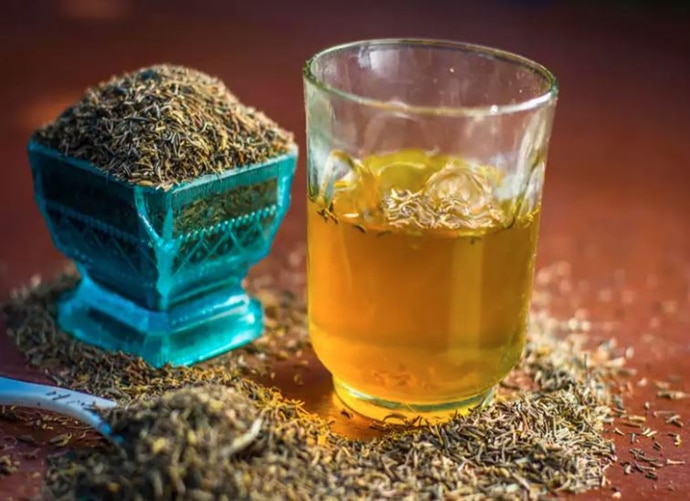 Jeera water
Jeera is rich in iron, which helps the immune system function optimally and beat anaemia. It has anti-congestive properties and when had in the morning can help stimulate the production of enzymes, and boost the metabolism.
Ajwain water
This is a great remedy for keeping flatulence in check, indigestion issues at bay and making sure that the digestive system works well. It also helps fight against acidity.
Fennel water
Fennel helps soothe inflammation and sorts out our digestive issues. It can also help reduce the appetite and cut cravings. Tip: drink fennel tea before (expected to be) heavy meals to ensure that you eat less.
Coriander seeds water
Coriander seeds help balance the hormones and provide relief to thyroid patients. They also enhance the digestion and immunity, help in losing weight and due to their anti-inflammatory power. Plus they help relieve arthritis too.
Also read: Hum sabke Mann ki Baat - A suggestion for the PM's next address
The views and opinions expressed in this article are those of the authors and do not necessarily reflect the official policy or position of DailyO.in or the India Today Group. The writers are solely responsible for any claims arising out of the contents of this article.