It happens only in India. Why Iceland Football's old tweet went viral in 2018
Nothing stops the subcontinent from joining the fun at FIFA World Cup.
The only time in the last few days that Indians have made it to the front page of a national newspaper — that too donning the football cleats — is in a pocket cartoon by EP Unny of The Indian Express on June 15. The schoolboy, a constant in Unny's pocket cartoon "Business as Usual", wearing a cap marked "Delhi", is rolled up like a ball. Two legs with soccer cleats are kicking him around — one is marked BJP, and the other AAP. The boy says in the bubble, "With years of practice, how come we aren't fit for FIFA?"
India's football team may not have matched up in recent years, but nothing stops Indians from joining the fun at the world's greatest sporting spectacle. As the subcontinent slept, arguably football's most gifted star, Lionel Messi missed the penalty kick to win, and Iceland held on for a golden point. The match ended in a draw.
The nail-biting night finished jubilantly for Iceland. Both Argentina and Iceland now have a point in the group, but the draw ended feeling like a win for Iceland.
From EP Unny's "BUSINESS AS USUAL", published in The Indian Express.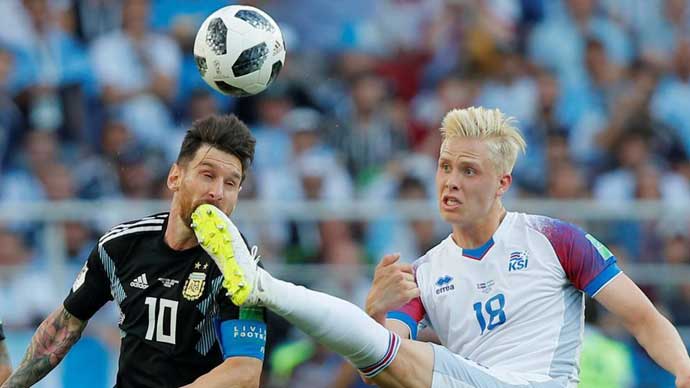 1:1 - Lionel Messi versus Iceland. Photo: Reuters
The team fought hard in defence, and totally earned the draw. India woke up to the underdog taking on soccer giant Argentina, and finishing equals. And as a cheer went up for the smallest World Cup nation, an image went viral across India's social media platforms.
The image showed a hilarious mathematical calculation of how Iceland's national football team had been selected for Euro 2016. The short, amusing chart was tweeted in June 2016 by the handle @icelandfootball, run by sports journalists. The chart followed Iceland's famous win over England. Few shocks in European Championship history could match the time when Iceland progressed through to the quarter final of Euro 2016, with only 23 players matching the requirements to be selected for the competition.
HAHAHA! How the Icelandic national team was picked, this is absolutely hilarious!! #football #Iceland #Euro2016 pic.twitter.com/MH4GbENfVO

— Icelandic Football (@icelandfootball) June 23, 2016
The chart later made international headlines. "Sheepherders and imprisoned bankers: How Iceland found its team," read a roaring headline after the image was retweeted more than 10,000 times.
In mock seriousness, the image listed out that of the 3,32,529 people who live in Iceland, 3,10,254 were immediately discarded for being minors, women, overweight or above the age of 35. From there, a further 13,467 could not be counted due to their jobs as whale watchers, earthquake and volcano monitors, sheep herders, sheep shearers or – hilariously – imprisoned bankers. Fans in the stadium for the game, Icelandic federation officials, the masseur, team doctor, physiotherapist, water carrier and other members of the backroom staff added to another 8,781 to the discard list.
Non-Icelanders who have tasted hakarl would say that in the early rounds of FIFA 2018, Iceland hakarled Argentina. Photo: Agency
With a Swedish coach, Lars Lagerback, in charge, that left just 23 players available for selection for the tournament.
Iceland's 2-1 victory in Euro 2016 stunned everyone, including England, who flew home in embarrassment and team manager Roy Hodgson resigned from his post, after four years in charge. And Iceland Football tweeted this hilarious image, which went viral in India today.
The Icelanders, for their part, had great fun with the image. Among the most hilarious replies was the query, "Where does @ThorBjornsson_ fall on this chart?"
The query, of course, referred to Hafþór J Björnsson, whose Twitter profile doesn't mince words. It lists him as "Pro Strongman Athlete, Worlds Strongest Man competitor, Iceland's Strongest Man 2011, 2012, 2013, 2014, 2015 Europe's Strongest Man 2014, 2015".
Iceland is a country with no professional football clubs. As Icelanders would say after the match draw against Argentina in FIFA 2018 – Hakarl and brennivin all around! Globe-trekking celebrity chef Anthony Bourdain called hakarl "the single worst, most disgusting and terrible tasting thing" he had ever eaten.
Gordon Ramsay exclaimed "Bloody hell!" before violently spitting it out. But in Iceland, Hakarl – the fermented shark meat – is a quintessential dish, equivalent to the American apple pie. Brennivin, sometimes called "Black Death", is a clear, unsweetened schnapps that is considered to be Iceland's signature distilled beverage and is a regular accompaniment for hakarl.
Non-Icelanders who have tasted hakarl would say that in the early rounds of FIFA 2018, Iceland hakarled Argentina. As for the escapades with hakarl and brennivin, that's for another day.
Also read - World Cup 2018: Sorry, Bengalis. You are not India's greatest football fans
The views and opinions expressed in this article are those of the authors and do not necessarily reflect the official policy or position of DailyO.in or the India Today Group. The writers are solely responsible for any claims arising out of the contents of this article.