Like SRK is the ageless romantic hero, Salman is an action force to reckon with, and Ajay Devgn is the police officer who converses with his conscience on a regular basis, our own Vicky Kaushal is just a step away from getting nicely typecast.
Following Uri — The Surgical Strike, Vicky is our josh incarnate.
Shoojit Sircar is the latest filmmaker who has lots of josh about Vicky. But the collaboration the duo are eyeing could easily be a new flashpoint in our political discourse. 
Udham Singh was a Punjabi pre-Independence revolutionary, who assassinated the infamous British army-man Michael O'Dwyer in 1940, to avenge the terrible Jallianwala Bagh Massacre. He was tried and hanged the same year in London.
The next big debate will be this: Shoojit Sircar's narrative on Udham Singh and Vicky Kaushal's josh dobara! (Photo: DailyO)
As it appears, Shoojit, whose last release was October, has had this story in mind for quite some time. He reportedly was considering Irrfan Khan for the role, but as Irrfan is recovering from serious illness, the deal is now done with Vicky Kaushal.
So, Uri is that work ex on Vicky Kaushal's CV that is totally taking him places. There was not much hype before the movie released — but after all the boosts it received from all quarters, it is still running steadily. As reports say, the official collection of the film stands at over Rs 239 crore.
Now, Udham Singh will tread on the same path — and even go further, because there's more here than meets the eye. 
Singh was a believer in armed rebellion. In 1924, when he was 25 years old, he got associated with the Ghadar Party and was organising overseas support for India's freedom. In 1927, he returned to India and was arrested for possession of unlicensed arms. He was released in 1931. He escaped to Germany then, and went to London thereon where he found employment as an engineer. Meanwhile, he acted in two Hollywood films — Elephant Boy (1937) and The Four Feathers (1939).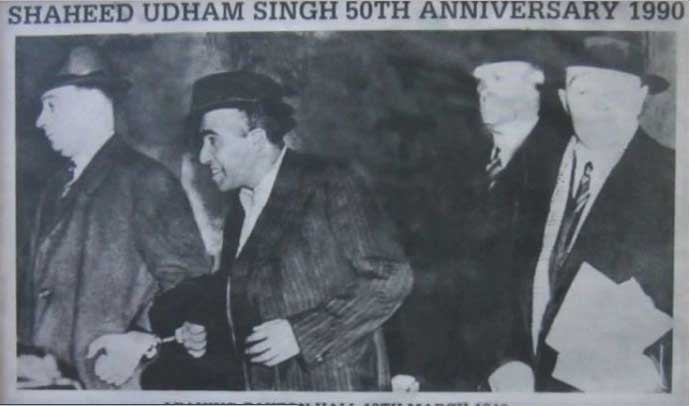 Udham Singh leaving Caxton Hall. (Photo: Newspaper clipping/India Today)
On March 13, 1940, Michael O'Dwyer was scheduled to deliver a speech at Caxton Hall, London. Udham Singh managed to sneak into the meet with a hidden revolver — as the meeting ended, he shot twice as he moved towards the platform.
We can already visualise Vicky Kaushal in this role!
And we can expect people shouting over whether Udham Singh has been either valourised or demonised.
The controversy has deep roots in history. Mahatma Gandhi referred to the assassination of Michael O'Dwyer apprently as 'an act of insanity'. Jawaharlal Nehru too wrote in the National Herald:
The assassination is regretted but it is earnestly hoped that it will not have far-reaching repercussions on the political future of India.  
In 1974, Udham Singh's remains were exhumed and repatriated to India. Some of his ashes were scattered in the Sutlej river while the rest were kept inside a sealed urn at Jallianwala Bagh. The Mayawati government in 1995 named a district after his name — Udham Singh Nagar district — now a part of Uttrakhand.
Politics has done its part.
Now, it's time for Bollywood which, so far, has made only one forgettable attempt, Shaheed Udham Singh, a 1999 movie starring Raj Babbar.
It's time vicky Kaushal breathes back life and fire — and josh — into a historical nationalistic figure we want to see more of.