Did the Balakot crow die fed up of Pakistani lies?
The country has been lying incessantly since the Pulwama terror attack in Kashmir.
The Indian Air Force's air-strike on terror camps in Pakistan's Balakot continues to be in the news — the daredevil air-strike is a reality which even Pakistan doesn't dispute.
The only thing disputed, however, is the number of casualties.
Pakistan has been caught spreading lies about the Balakot air-strikes. (Source: Reuters)
On the Indian side, the discrepancy in the number of causalities cited, coupled with the government's reluctance to clear the air, has put the ruling Bharatiya Janata Party (BJP) and the Opposition at loggerheads.
While the Opposition parties continue to raise questions over senior BJP leaders assigning numbers to the casualties without any confirmations, New Delhi's silence is only giving birth to more questions.
The unfortunate part is that the war of words within India is letting Pakistani lies find an easy escape — Pakistan has been claiming that India itself disputes the impact of the Balakot strikes.
But the fact is that amid the current standoff between the two neighbouring countries after the deadly suicide bombing in Kashmir's Pulwama, Pakistan has been lying through its teeth. And these lies are largely drawing strength from a crow, whose story has been scripted by the Pakistani media.
Well, the story has no traditional caw-caw like that in the legendary tale 'The Thirsty Crow' — in the Pakistani story, the crow was found silent, inactive. Dead.
As per the Pakistani establishment, the only casualty in the Balakot air-strike was that of a crow.
A day after the airstrike, reporting from ground zero of the hinterland in Khyber Pakhtunkhwa, prominent Pakistani journalist Hamid Mir had shown the carcass of a 'slain crow' and even tweeted about it.
I visited mountain area of Jabba 25 km away from Balakot today in KPK where Indian Air Force dropped bombs yesterday I found one dead body at the spot and it was a crow pic.twitter.com/FmiMQZ60DK

— Hamid Mir (@HamidMirPAK) February 27, 2019
The video clipping of the news report went viral — but mainly because people made it the subject of memes, despite it being a serious issue.
The memes apart, there are some critical questions that Pakistan needs to answer.
The first being how Pakistan has been changing its position over the Pulwama terror attack and its aftermath.
A day after the Balakot air-strike, the Pakistani air force reacted by sneaking into Indian territory in Jammu region, only to be chased away by the alert Indian Air Force on February 27.
In the subsequent dogfight then, one Indian fighter jet was hit, forcing Wing Commander Abhinandan Varthman to eject from his aircraft. He thus landed in Pakistani captivity.
On February 27, Pakistan claimed to have captured two Indian pilots. Major General Asif Ghafoor took to Twitter reportedly to spread his lies. And his PM, Imran Khan, went a step further in sharing details, apparently saying one of the two captured pilots had been hospitalised.
Well, who was other one, supposedly hospitalised?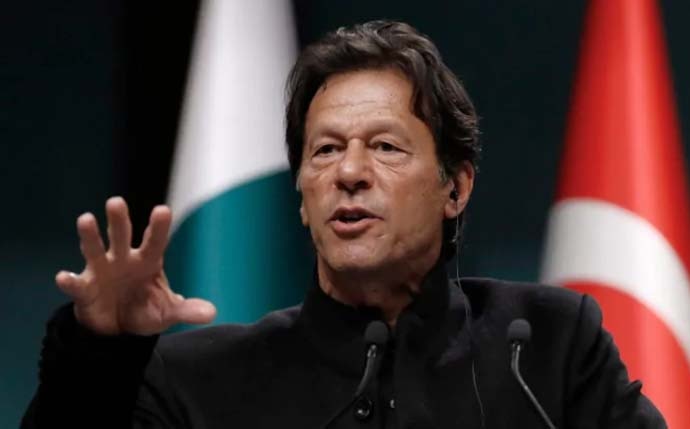 Even Pakistani Prime Minister Imran Khan has been spreading 'the tale of two pilots'. (Source: AP)
Was he the one flying the F-16 that had sneaked into Indian territory before being shot down? Was he the one mistaken as an Indian pilot and allegedly lynched by his own fellow citizens of Pakistan?
Or had the misinformed army general misinformed his PM to mislead the world community?
Can Pakistani lawmakers or journalists like Hamid Mir dare to ask questions about why their country apparently lied about the second pilot?
But then, while such questions remain unanswered, Imran Khan's subsequent statements have added to the kitty of Pakistani fibs.
On March 8, Imran Khan said no militant group would be allowed to operate from Pakistani soil and carry out attacks abroad (especially in India), days after his government announced a sweeping crackdown against Islamist militant organisations.
As per Pakistan, at least 182 religious schools "run by banned groups" have been shut, and more than 120 people detained.
Well, if Pakistan had refuted a hand in the Pulwama bombing that left over 40 paramilitary personnel dead on February 14, why did it go for a crackdown?
And how had the 'banned terror groups' actually been operating from Pakistani soil?
Well, Pakistan does have a history of launching such crackdowns on terror with fanfare — only to fade out. A similar pledge was made in early 2002, after Pakistan-based militants attacked the Indian Parliament. Since then Pakistani terrorists have attacked Mumbai, Pathankot and Pulwama, just to name a few.
After every new terror strike in India, Pakistan goes for a customary crackdown only as a show for the world.
After a lull, terror strikes resume.
So, why should Pakistan be taken seriously this time, when its army and PM are not sure even about the number of pilots who landed in their territory after the Balakot air-strike?
Pakistan's lack of seriousness on terror is reflected in its 'slain crow' story.
But then, there's a perceptible link between Pakistani lies and the dead crow. As per Indian traditions, the crow has proverbially been intolerant to lies — remember the saying, 'Jhoot bole kauwa kaate'.
The crow could have died, miffed with Pakistani lies, for all we know.
In a country where terror camps exist, despite 150 schoolchildren being killed by extremists in Peshawar, a crow's life is only a joke.
Also read: Hey New York Times, Pulwama was not an 'explosion', just like 9/11 wasn't 'a plane crash'
The views and opinions expressed in this article are those of the authors and do not necessarily reflect the official policy or position of DailyO.in or the India Today Group. The writers are solely responsible for any claims arising out of the contents of this article.