Can a dead person try to escape police custody? Well, the Jammu and Kashmir Police seem to think so — this case, however, is not funny at all.
Rizwan Pandith, a 29-year-old teacher from south Kashmir's Pulwama district, recently died in police custody. The way the police are building the case leaves many questions unanswered — and much room for doubts.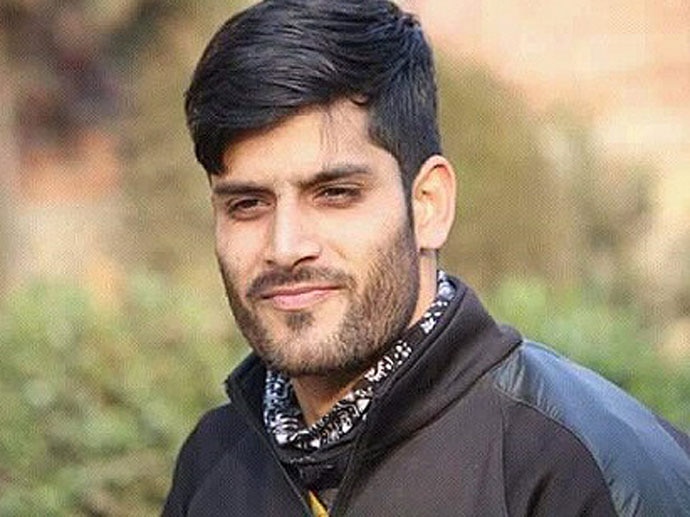 Rizwan Pandith's death is surrounded in mystery. (Source: Twitter)
On March 17, Pandith was arrested from his home in Awantipora by the J&K police in connection with a terror case. On March 19, the police said he died in custody.
His bereaved family alleges that he was tortured to death — and the allegations of 'custodial killing' are only getting shriller with each passing moment.
Apart from a day-long shutdown in Kashmir against the incident, roadside protests are also being occasionally witnessed with political parties like the National Conference (NC) taking to the streets.
But none of the politicians visited the bereaved family.
Amid widespread public condemnations, the police have been largely silent. The only time the police publicly spoke about the incident was to confirm the death.
"The said person died in custody. In this matter while following the procedure laid down in section 176 CrPC a magisterial inquiry is underway. Separately, police investigation has also been initiated in the jurisdictional area of incident," the police handout said.
The magisterial inquiry in Srinagar, however, has been closed.
Shockingly, a FIR has been filed against Pandith himself.
As per a news report published in The Hindu on March 24, three days after Pandith's death at special counter-insurgency cell, Cargo, an FIR was lodged against the deceased for "an attempt to escape from a police vehicle" on the way to a location in south Kashmir.
The role of the J&K police in Rizwan Pandith's death has become extremely controversial. (Source: PTI)
No FIR, however, has been filed against the police officials in whose custody he died.
According to the police, the inquiry will now be conducted by the additional deputy commissioner in Pulwama as Pandith had allegedly tried to escape.
But when the police already confirmed that Pandith died in custody, when did he try to escape and how?
As per The Hindu, the preliminary autopsy report compiled by the Government Medical College (GMC), Srinagar, suggested that Pandith's death took place "at least 12 hours" prior to the autopsy on March 19 afternoon, when news of his death broke. "It inferred that Pandit died on Monday (March 18) evening, a day after he was picked up on February 17, and the family was intimated on Tuesday morning about the death," the report said.
The GMC confirmed "excessive bleeding caused by deep wounds on his body" — and "excessive bleeding can lead to fatal shock".
"External wounds have been suspected to be caused by some sharp object," the GMC report suggested. It ruled out any 'internal injury' but pointed out "some injuries were found to be older than others".
Pandith's custodial death is the state's first this year.
The last such death was reported in August 2016.
Call it fate or coincidence, the other deceased was also a young teacher. Hailing from Pampore area, again in Pulwama district, Shabir Ahmad Mangoo was allegedly tortured to death in army custody. The police lodged a FIR against the army in that case — investigations are still underway.
In 2016, Shabir Ahmad Mangoo died in police custody. (Source: Twitter)
Since the eruption of militancy in Kashmir in the 1990s, numerous cases of custodial deaths have been reported. In 2008, the state police admitted that 330 people had died in custody over the years — and 111 had disappeared from cells, with no further information about them.
After 2008, though reports of custodial killings have declined, such deaths didn't stop.
Custodial deaths have often led to militancy-of-revenge episodes with more youth picking up arms. And this theory holds true, even in the latest case.
Merely two days after Pandith's death, his friend Shahid Manzoor joined militancy. In an audio message that surfaced on social media, he is heard pledging "jihad to end oppression'' of the security forces.
The iron fist policy against militancy has been a failure. The Indian Army's 'Operation All Out' seemingly failed to generate desired results as Kashmir has only witnessed a surge in youths joining militant ranks after the 'poster boy' of new-age militancy, Burhan Muzaffar Wani, was killed in July 2016.
Last year alone, the security forces killed over 250 militants — but almost the same number of youths picked up arms.
This year, militancy-related incidents have seen a shocking rise. On February 14, the suicide bombing that killed over 40 Central Reserve Police Force (CRPF) jawans is believed to be the biggest ever terror strike by a local militant in Kashmir.
Amid this precarious situation, when police and other security forces should focus more on wining the hearts of people, Pandith's death, coupled with the way in which the case is being handled, is only raising questions over the state of policing.
As for poor Pandith, if the preliminary post-mortem report is to be believed, he died on March 18 — his birthday.
But police however challenge the claim.