The Indian commercial cinema space has always been monopolised by a handful of two or three male superstars, who have spawned their own ecosystem.
It's a very strange ecosystem like I had mentioned in my earlier piece. It consists of one male actor — a superstar if you may, several female actors, producers, distributors and character artistes.
This parasitic relationship is carried forward with every film. When this male star signs a new project, he picks a female actor he is most comfortable acting opposite, the movie is produced by his friend, and the side roles go to all his actor-friends, who hang out with him at parties and are usually photographed laughing at his jokes.
This ecosystem has thrived right from the time of Raj Kapoor without exception. From the days of gold and platinum jubilees of the single screens to the opening weekends of multiplexes, the system has only strengthened itself.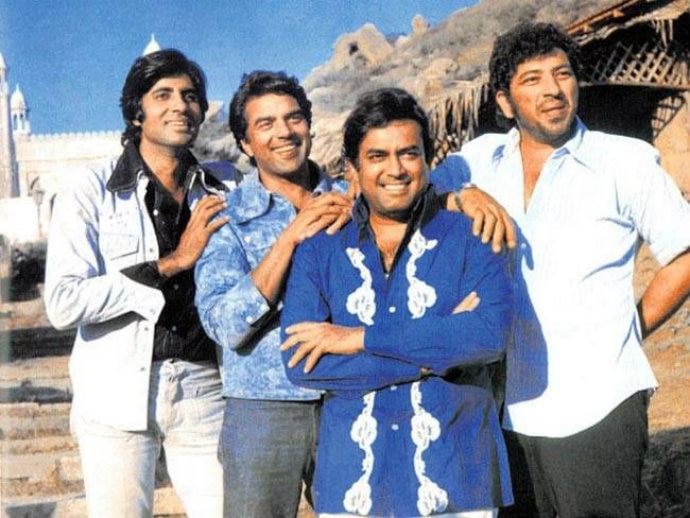 A star-crusted cast means assured audience-presence at the theatres. (Source: India Today)
No big producer ever dared splurge on a project unless they had their favourite superstars on-board. These superstars would sometimes eat away 70 to 80 per cent of the entire film's budget but nobody would mind since their inclusion in the cast assured that the audience was drawn to the theatres.
This system had reached a peak in the last two decades — Indian film stars became a staple on the Forbes' Lists Of Richest Actors, giving Hollywood stars a run for their money.
However, prominent blips started appearing in the usual pattern in 2016 when the same superstars started delivering flops at the box office. Reason? A bad opening weekend.
Shah Rukh Khan's Fan (2016) flopped despite adequate screens and promotions.
Salman Khan delivered Tubelight (2017), another flop, a year later.
Who badly wants a hit? (Source: YouTube screen grab)
And Shah Rukh Khan followed it up with an even bigger flop, Jab Harry Met Sejal.
Aamir's Secret Superstar was termed a 'niche film' despite him having a chunky role in it.
In 2018, Salman's Race 3 experienced a decline after the first weekend itself amidst social media banter about how bad the film was.
But none of the above can be considered to have dealt a body blow to the Bollywood star ecosystem. That dubious distinction should go to Thugs Of Hindostan.
The thugs that robbed Bollywood of its star ecosystem. (Source: YouTube screen grab)
This film had everything that the so-called Bollywood marketing experts think that a commercial film should have. It featured Amitabh Bachchan and Aamir Khan together for the first time. Katrina Kaif was the female attraction and the film was being directed by Vijay Krishna Acharya who had helped create the super successful Dhoom franchise.
The film's production budget was one of the largest and employed the best technical hands to create an on-screen VFX extravaganza. The film was released in 5,000+ screens across the country, which was again one of the highest. The estimation was: The film would rake in the required moolah just because people would be curious to see it once.
But reality turned out to be just the opposite.
The audience vacated the seats as quickly as they had filled them. Soon, memes of how bad the movie is filled the social media space. How the audience deserted the movie was quite apparent from actor-writer, Suchitra Krishnamoorthy's tweet, who seemed spooked because she found herself alone in one of Mumbai's posh movie theatres.
Mark my words. The disastrous fate of Thugs of Hindostan is a huge blow to the star ecosystem of Bollywood. Nobody in Bollywood would have imagined in their wildest dreams that such a film, headlined by the best in the industry, would crash and blow up like a car in a Rohit Shetty movie!
The audience's verdict is very clear: I am not ready to spend my money on your film if you don't tell me a proper story. And I don't care who's acting in the film.
Make no mistake, it's the multiplex audience who is calling the shots here because they are the ones spending the big bucks. For, single screens doing good business is not going to affect a film's fate, if a film has to do well, the multiplexes have to remain packed.
Funnily, the same multiplex audience also has Netflix downloaded on their phones. They have ample access to content and they have started spending their money to access them. To force these people to abandon their phones and trudge to the movie theatres is becoming an increasingly complex exercise. The multiplex audience doesn't care about a star, all they are asking is, "Will I be entertained?"
Badhai ho, it's a hit! (Source: YouTube screen grab)
This is the reason why Ayushmann Khurrana's Badhai Ho is still making money, while Thugs of Hindostan is bruised at the box office.
And this is what the future of Bollywood is going to be. There will be stars — several medium-level stars and a handful of big stars, too. But in the era of Netflix, Bollywood will lose all its superstars.
Bollywood will spend more money on the production and more importantly, on the scripting. It has to. It needs to.