In search of the liberal Indian: Suleiman Khan and Anwar Sheikh spend X-Mas Eve in Lutyens' Delhi
"Oh, Pakistan!" The journalist's eyes glazed over. "That's my favourite country! The food, the men, the culture!"
Explainer: This is part of the continuing series of two close friends, Suleiman Khan and Anwar Sheikh. Suleiman works in Saudi Arabia and is politically curious. Anwar is a rising Congress leader. For earlier parts of this series, visit the author's page on DailyO.
8.30am
The bitingly cold Delhi air whipped around his face as Suleiman Khan stepped out of the airport. His flight from Saudi Arabia had arrived an hour late. He smiled as he spotted his friend Anwar Sheikh just outside the exit gate.
Anwar gave him a quick hug as the two men slid into a spanking new 5 series BMW.
"I know what you're thinking, Suleiman," Anwar said with a sideways glance as they fastened their seat belts. "Rahulji was so thrilled with the party's performance in the Assembly elections that he gifted a few senior family loyalists like me with new cars. But leave that aside. On this trip, I'm going to introduce you to some of India's most distinguished liberals who will be running India after May 2019 when the Congress returns to power."
Politics can never fill its political hunger! (Photo: Reuters)
"That's wonderful, Anwarbhai," Suleiman said with a smile. "I've heard so much back in Saudi Arabia about the new political winds blowing across India."
"Not winds, Suleiman," Anwar said, as they drove up to his south Delhi apartment. "It's a storm. Next May, Rahulji will be prime minister and it will be business as usual. You'll soon forget the five nightmare years under Modi ji."
As they entered the apartment, Anwar tapped Suleiman lightly on his shoulder. "It's Christmas eve, bro. We're going to a very special party tonight where you'll meet the crème de la crème of Delhi's liberal intelligentsia."
Suleiman smiled. "The same folks, Anwarbhai, who say we are living in an undeclared Emergency where dissent is stifled and then go on TV to abuse Modiji in public?"
Anwar grimaced. "It's an invisible Emergency, Suleiman. You don't have to put 1,00,000 people in jail as we did in 1975 or sterilise people or censor the press. These days Modiji uses more subtle tactics. Just wait for tonight. You'll meet the cream of Lutyens' Delhi. You can ask them all the questions you want."
The capital knows no halt on all that single malt! (Photo: Reuters)
10.00pm
The X-Mas Eve party was in full swing when Suleiman and Anwar entered the sprawling courtyard of an imposing bungalow. Anwar led Suleiman through a thick crowd of guests talking animatedly in little groups.
"Anwarji," bellowed a short silver-haired man in a shiny black suit. "Congratulations on your promotion. Rahulji was very impressed by the campaign you strategised in Rajasthan."
"Thank you, Sirji," Anwar replied deferentially. "It is the support of senior Supreme Court lawyers like you that has put those Hindutvawadis on the back foot."
The silver-haired lawyer demurred. "No, no Anwarbhai, it's a team effort. We liberal intellectuals have to stick together to rid the country of this dictatorial government." He paused to sip on his single malt. "Oh, and who is this?" he asked, glancing at Suleiman.
"This is my friend Suleiman," said Anwar. "He works in Riyadh, Saudi Arabia. He's in Delhi for a short holiday. I wanted him to meet secular liberals like you."
Just then, a feisty middle-aged journalist walked up to them. Suleiman recognised her from the TV news shows she used to anchor on a channel. He hadn't seen much of her on TV since.
"Now, now," exclaimed the silver-haired lawyer with his trademark wolfish grin. "Suleimanbhai, this is just the person whom you must meet. She is the epitome of liberalism. She's even written a whole manifesto on it."
The journalist grinned wickedly and thrust out her hand at Suleiman. "Hi Suleiman, where are you from?"
"Saudi Arabia."
"My favourite country," the journalist laughed throatily. "I know they killed Khashoggi but overall they're such lovely people, these Saudis, so hospitable and of course Mecca and Medina are so divine."
Suleiman managed a weak smile. "Ma'am, the Saudis aren't really that liberal – "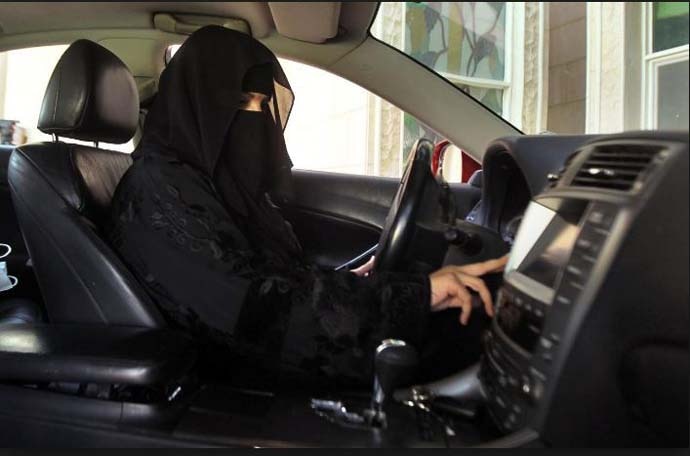 But Saudi Arabia is liberal enough to let women drive cars. No? (Photo: Reuters)
The journalist cut him off mid-sentence. "They're reforming under the Crown Prince, women can now drive, even watch sports. Here in India, we've become an illiberal, communal, hate-mongering Hindutva republic."
Suleiman was taken aback. "Actually, my Saudi friends tell me how secular and liberal Indians are," he said. "Muslims in India are even allowed loudspeakers for their azaans, Muslim film stars are idolised, a former prime minister declared Muslims have the first right to India's resources – "
The journalist again cut him short, this time angrily, her face turning a shade of red. "Suleiman, what about the lynchings, the gaurakshaks, love jihad. Modi encourages all that. At least in Saudi Arabia, there's law and order."
Anwar shot his friend a warning look as the silver-haired lawyer, now on his second single malt, listened in rapt silence. Suleiman said, "Ma'am, if you spend a week as my guest in Saudi Arabia or Pakistan, where I have many relatives, you'll know how lucky you are to live in India."
"Oh, Pakistan!" The journalist's eyes glazed over. "That's my favourite country! The food, the men, the culture!"
As the silver-haired lawyer ambled away, still grinning wolfishly, to fetch his third glass of single malt, Anwar hurriedly took Suleiman by the elbow and guided him towards a group discussing Modi's imminent defeat in the Lok Sabha election.
As Anwar and Suleiman walked towards the group, they heard a defence analyst say, "Mark my words, Rafale is the biggest scam of this government."
Suleiman nudged Anwar as they passed the group. "Wasn't that man an arms dealer himself for a fighter jet that is a rival of the Rafale?"
Anwar placed a finger to his lips. "Some things, Suleiman, are best left unsaid."
In this Left vs Right battle, there is no centre. (Photo: Twitter)
12.00 midnight
As they moved to the buffet dinner table, raucous cries of merry Christmas rang out among the guests on the lawn. Suleiman looked at his friend and grinned: "In Saudi, we'd get ten lashes for saying that in public."
Anwar rolled his eyes, but said nothing. Dinner over, they ran into the silver-haired Supreme Court lawyer, now on his fourth single malt. He slapped Suleiman on his back. "I hope, Suleimanbhai, you've had a taste of the liberal, tolerant new India we'll vote into power next May."
He waved towards the guests milling around. "These are some of the most secular, liberal people in India. We don't abuse Modi, he is after all our prime minister. We believe in the politics of love as our leader Rahulji has said. We go to temples to get Hindu votes. We go to mosques to get Muslim votes. We are totally secular."
"And liberal!" Suleiman was startled for a moment as the feisty lady ex-anchor came up to them from behind and trilled in his ear: "We liberals are tolerant and interact with even those awful right-wing bigots."
As Suleiman and Anwar walked back to their car, Suleiman said thoughtfully to his friend: "Tolerance of course is the first principle of liberalism. But Anwarbhai, isn't she the same person who refused to be part of a panel debate at an event that featured a right-wing academic bigot, as she called him? Anwarbhai, who's the real bigot?"
Anwar sighed as he got into his brand new BMW. "Suleiman, you'll never change, bro."
Also Read: Only in India: Suleiman and Anwar celebrate a noisy but legally noise-free Diwali
The views and opinions expressed in this article are those of the authors and do not necessarily reflect the official policy or position of DailyO.in or the India Today Group. The writers are solely responsible for any claims arising out of the contents of this article.