September heralds the month of Fashion, marked by fashion weeks and the arrival of fresh clothing on mall racks signifying the advent of Autumn and Winter collections. Whether you're seeking a wardrobe refresh due to the swiftly changing weather or simply a fashion enthusiast looking to incorporate trending pieces into your collection, read on. 
What's trending
DailyO went on a hunt to seven famous brand stores at DLF Mall of India, Noida, to find out what's trending this season.
These seven stores were carefully selected based on their popularity, trending sections, and affordability. So, we ruled out designer clothing items. The brands we chose were:
ZARA
H&M
Marks & Spencer India
Only
Vero Moda
Uniqlo 
Mango 
Let us take a look at some overall fashion trends that we spotted at all these stores, and where you can find them: 
1. Glitters 
With Autumn and Winter comes glitters, sparkles and sequins. In almost all the stores that we visited, we found that everything glittered... dresses, outfits et al, everywhere. 
For instance, the Zara store had glittery denims, dresses, crop tops and even sandals. 
Another store that also had a lot of items with glitters and sparkles was surprisingly Mango, which is otherwise known for its more casual and formal wear. Mango was also the only store that still had its Spring/Summer collection in. 
Take a look at this dazzling skirt adorned with floral embroidery, and a bodycon nude glittery dress, both available at Mango: 
Vero Moda was another brand with an abundance of sparkly collections. According to the manager, one of the top-selling items in the store was loose-fitted long dresses in rich colours like maroon, and orange with a glittered pattern fabric.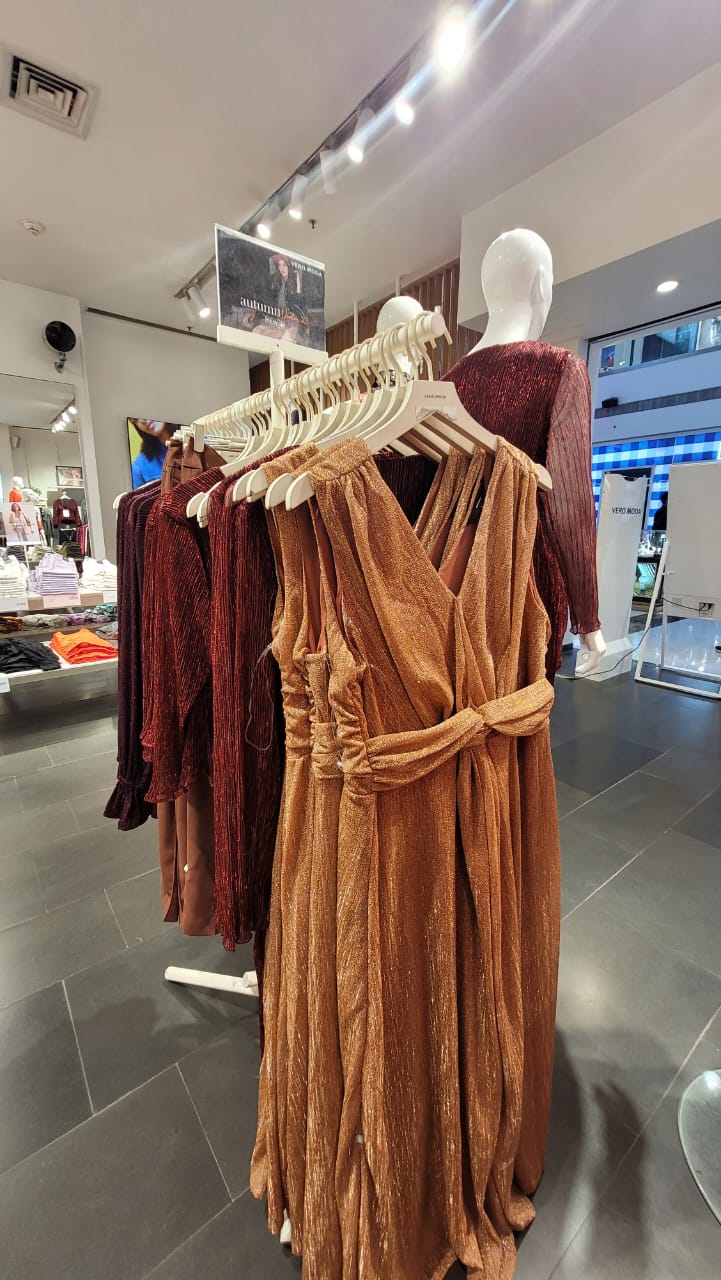 2. All things denim
Wearing all things denim, once considered very 80s, is making a comeback in stores. However, this doesn't necessarily mean it's time to dust off those skinny, washed-out jeans from your wardrobe that you haven't worn in the last 10 years. Instead, this trend involves wearing everything – from tops and jumpsuits to dresses – made of denim. 
Out of all the stores that had a lot of denim, Zara probably stood out with the most number of bizzare pieces. Why bizzare, you ask? Take a look for yourself: 
If you thought the picture above was a skirt, think again. It's actually a crop top. Previously, Zara introduced something called the 'inside-out pant', which was exactly what it sounds like, and it left Internet users both disgusted and amazed at the same time. 
Well, apart from these crazy pieces, Zara also had other basic pieces that were made of denim: like dresses, vests, crop tops, and of course, baggy pants. 
The other two stores that also had denim skrits were Only and H&M. 
3. Coastal Grandmother / Granddaughter trends 
Imagine yourself living by the beach or anywhere coastal with a lot of money. How will you dress up? This is precisely what the coastal grandmother or granddaughter trend embodies – a fusion of dressing comfortably yet luxuriously while living by the beach. 
And it looks like the trend has reached the stores. We spotted a lot of crochet tops, dresses, and even coats (for winters). All the items had a flare to them, and were mostly in nude, white and light colours.
Take a look (we spotted a majority of them at Marks & Spencer and Uniqlo): 
4. Bold colours
Not only pink; we will be seeing a lot of colours this year. Whether it is neon green, purple, red or even blue. People are taking a break from basic colours and going to options with a pop of colours and this trend is something that we have seen on various fashion runways; and are now in Indian stores.
According to Jitendra, a sales manager at Zara Noida, "Red is the colour of the season." 
However, a sales staff from Marks & Spencer said, "Blue is the latest trending colour right now." 
Another popular colour that we spotted on runways and in stores was purple. So, if you were thinking of adding a bit of spice to your wardrobe, it is the right time.
5. We're not done with Barbiecore
If you think Barbie season is over, you're wrong. We spotted a lot of pinks, yet again, even in the autumn-winter collections, thanks to the movie Barbie. This includes coats, dresses, and tops in pink. 
Also, if you're thinking about accessories...
This season is for pearl and gold pieces of jewellery, with crochet bags!