If any evidence was ever required on the appropriateness of 'Im the Dim' and 'Taliban Khan', monikers attached to Pakistan's 'selected' Prime Minister, Imran Khan, his speech at the UN General Assembly provides it.
Full of bloopers, bamboozle, belligerence, and blackmail, the only thing new in the speech of the erstwhile 'flannelled fool' was the stage, not the state of mind of an unabashed Islamo-fascist who is deeply influenced by the mumbo-jumbo whispered in his birdbrain by his wife, 'Pinky Peerni', and the instructions dictated to him by his handlers at the General Headquarters, Rawalpindi.
Imran Khan's threats should be taken with seriousness by India. (Photo: Reuters)
Otherwise, virtually everything Khan said was a compendium of his unhinged rants since August 5, when India revoked Article 370 in Jammu and Kashmir.
The litany of lies and the thinly disguised threats of a nuclear holocaust are again old hat.
These threats were de rigueur in the 1990s. Back then, Pakistanis also spread the most lurid, if also ludicrous, stories about J&K, in the hope of inviting some sort of external intervention. The same tack is being repeated now. Only, this time, even the modicum of decency is gone.
While Imran Khan certainly makes for a very poor advertisement of Oxford University, his attitude is but a reflection of the culture of his manufactured 'nation' and the poor upbringing of even the elite in what is now seen as 'Terroristan'. But the mental meltdown of 'Taliban Khan', who justified jihad against India, needs to be seen in India as a virtual declaration of war. Ignoring it as the rant of a deranged mind would be a mistake, nay a blunder. Although India has been in a state of undeclared war with Pakistan for the last 30 years, it is now a declared war. It will be fought at both the non-kinetic and kinetic levels.
The kinetic level will be mostly sub-conventional — using jihadi terrorists and all other tactics of dirty warfare to bleed India. India's security establishment anticipates this, but it needs to be prepared for new, innovative and even audacious, tactics from the enemy — the recent weapon drops by drones in Punjab being a case in point.
Pakistan, because of its links and involvement with terrorist groups, which have been actively engaged in other global jihadist wars, will certainly use terror tactics deployed elsewhere. India will really need to up its game and think out of the box to pre-empt, prevent and punish the terrorists.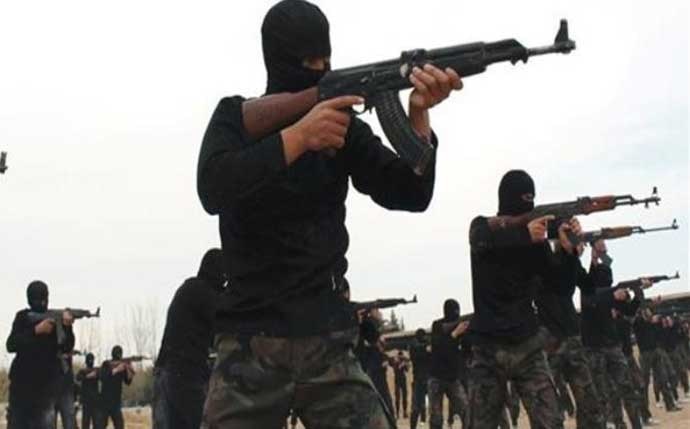 India needs to think out of the box to pre-empt, prevent and punish Pakistan-sponsored terrorists. (Photo: Reuters)
More importantly, the dirty war will not remain limited to only the Union Territory of Jammu and Kashmir but will extend into rest of India as well, something alluded to by Imran Khan and other Pakistani officials when they referred to Indian Muslims rising up against the Indian state.
It remains to be seen whether Pakistan will calibrate the dirty war to try and keep it from crossing the threshold of an inevitable retaliation from India like those after the attacks in Uri and Pulwama.
Apart from the fact that there is no fail-safe mechanism for ensuring terror attacks don't cross the threshold, it is also quite likely that Pakistan will pull out all stops to provoke India to go up the escalation spiral, which Pakistan hopes will bring the rest of the world rushing to the region.
The chances of miscalculation by Pakistan leading to an all-out conflict cannot be ruled out. For all their bluff and bluster, those who rule the roost in the 'Islamic State' of Pakistan know that wars aren't fought with empty treasuries.
Even a stalemate in a conventional conflict will be ruinous for Pakistan's already on-the-ropes economy and unstable polity. While India is braced to handle the kinetics of the declared war, it needs to end its inexplicable reluctance to take this war into Pakistan.
So far, we have played by the book. This needs to change. The sort of unspeakable crimes that are visited on its religious and ethnic minorities by Pakistan should be exploited by India to mount a campaign and force the world to hold our neighbour to account.
An occasional reference by Indian officials to some of these crimes against humanity is not good enough. These are more in the nature of socking it back to the Pakistanis and not part of a sustained campaign. Pakistan making a human rights case against India is akin to the Daesh or Islamic State preaching the virtues of secularism. Since there has not been any real pushback from India, such is Pakistan's chutzpah that on the day India changed J&K's constitutional status, our neighbour imposed a draconian new law in the Khyber-Pakhtunkhwa province.
And yet, no one bothered to raise this issue on the world stage or before the international 'Human Rights mafia'. From Gilgit to Gwadar and from Waziristan to Wazirabad, Pakistan has vulnerabilities waiting to be exploited. It will take time, patience and, most of all, perseverance to bring Pakistan to heel. Now that war has been declared, India must join it and finish the evil that Pakistan represents.