#MeToo is has been called the "Indian Working women's revolution" because it was sudden, it jolted society out of their comfort zones, and found its strength from the working middle class women on social media. Like any revolution, it was not going to be easy to shake the old traditional hierarchies of power and dominance. The "empire" would strike back.
Far away from the metropolitan cities of the mainland, a small organisation — the Kashmir Women's Collective — decided to foray into these dangerous waters. The organisation published a list of anonymous accounts of sexual harassment cases accompanied with screenshot of IM conversations as evidence and accounts of victims who suffered sexual violence and intimidation at the hands of journalists, bureaucrats, political workers, all powerful people in their own fields. While they did anticipate backlash, what shocked them more was the political tagging of the group itself.
In a state that is paranoid about "mukbirs" or informers of the security forces, their perceived widespread network which "gets common people killed", everyone is a suspect. So much so that rumours had it that even Burhan Wani was an "Indian agent", until he died.
It is a continuing blanket of fear that has held the Valley in grips ever since militancy broke out in early 1990s. It is also an extremely dangerous label — the accusation of being with the establishment whether true or not puts a mark on your back.
Whether that gets you killed is another story.
This widespread fear is also used as a disciplining tactic to scuffle dissent. Like "Witch Hunts" in the 1600s in Britain, anyone who disturbs the spectrum of things, of narratives, of those who take too much space, fears the risk of being called "Pro-State Indian Agents" — a dangerous label. Kashmir Women's Collective had not anticipated that it would be called out publicly as a "statist group" which shall, allegedly, be shown "no mercy".
Conflict has a way of keeping everything hostage to itself.
Talib Hussain who led the fight for the Kathua rape case — an eight-year-old girl's heinous hate murder crime — has now been accused of rape.
Talib Hussain's victim decided not to seek justice for herself because it would strengthen the Hindu Right's case against Asifa's murderers. She held herself hostage to the Hindu-Muslim tussle which played around Asifa's case, while she kept cutting herself with sharp objects to reduce her pain.
Talib Hussain who led the fight for the Kathua rape case has been called out as a rapist. (Photo: Twitter)
Kashmir is another story.
Beyond the usual skirmishes around Nowhatta and Maisuma, and young boys who pick up guns, Kashmir essentially is a battle of narratives — of constant reminders of the UN Resolutions, of Kashmiri Pandits, of Gawkadal and Nadimarg, of plebiscites that were never held, of letters which asked the Pandits to flee, of promises which were broken, of refugee camps, it is a constant never ending battle field of stories, a madness which even Saadat Hasan Manto would fail to decipher.
In this politically maddening atmosphere, what has irked people is sexual harassment becoming the headline for a day.
One day, women spoke beyond the conflict in a parallel space.
That day the limelight fell away from conflict to victims of sexual harassment.
This did not go well with many people on social media in Kashmir.
"Why are the feminists not condemning his death?"
This is in such sharp contrast with mainland India where it would be absurd to ask Priya Ramani — the first woman journalist to publicly accuse former minister MJ Akbar of sexual misconduct — what she thinks of the farmers and the agrarian crisis in India. But in Kashmir, questions that scream "How dare you not talk about the issues we feel are important?" are loud, assertive and clear.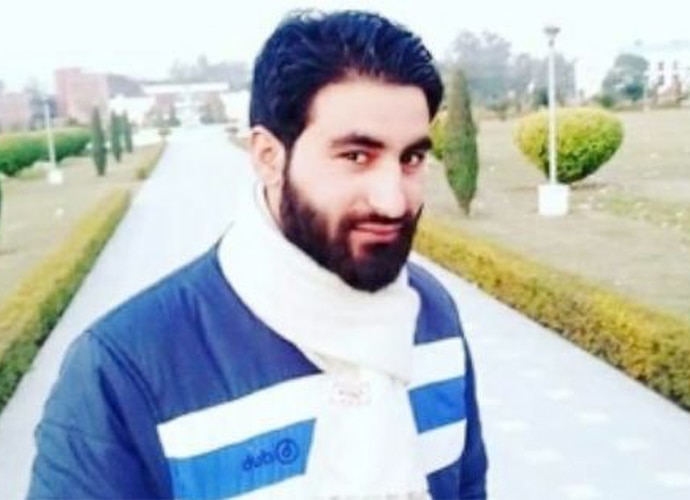 "What about Manan Wani?" (Photo: Facebook)
Of course Manan Wani's death is a tragedy on so many levels, but what does insurgency have to do with a woman who was forced to leave her job, her only source of income because she could not stand harassment at workplace anymore?
Are there no victims in Kashmir beyond the conflict?
It is absolutely essential to now carve out a parallel space for issues which are equally important. A famous transgender singer in Kashmir, Reshma's rights matter as much as Insha's, the girl who was blinded by pellets. But in Kashmir the space for a narrative for anything other than conflict has been shrinking, and to now forcefully create one, will take immense courage.
Another allegation against KWC is that it has turned justice into a "Khap Panchayat" or even "mob lynching" where no due process is being followed. It is being accused of circumventing the official procedures and bodies like Women's Commision, or police stations and therefore assuming the role of a parallel investigating body.
Such claims may appear genuine to a lot of law-abiding citizens but it is extremely ironic to those of us, who have grown up on stories of valour of Sang Baaz, or the stone-pelters who by no stretch of imagination follow the "due process" to vent out their grievances. Children have been blinded, police stations have been burnt, schools closed, policemen injured, yet it was never seen that the community at large asked any of this to be put to an immediate halt because the "institutions have to be respected".
Today, survivors of sexual assault are being reminded of the democratic and institutionalised functioning of justice in India, of police stations, when hundreds of police stations have been torched since 1990s.
Who knows the failure of "due process" better than the Kashmiris themselves?
Stone-pelters do not abide by "due process". Then why must women calling out abusers? (Photo: Reuters)
What happened to Kunan Poshpora? Did those women not file an FIR? What happened to Sarla Bhat? Did any court take up her case? Yet, three decades have passed, but it does not stop us from talking about the horrors these women and countless others went through.
So why should women who face abuse and violence now not publicly come out and talk about their pain? They are not demanding justice, they are not asking for prosecution in Indian courts where a simple divorce case would take years, they are asking to be heard. And the identity of the accused, his political affiliations and the ideology he wears on his sleeves matters little to them.
Shehryar Khanum, one of the members of KWC, tells me that the only thing that should matter and remains the principal focus for them as an organisation is not the identity of the accused but the suffering of the victim. The entire narrative, she explains, has to rewoven around women.
When fourteen sexual harassment cases hit us at all at once, even at that moment if we refuse to talk about the sufferings of women who were young and braved the work to make careers in journalism, who were hit hard by the reality of male-dominance at the work place, but instead go on to discuss if KWC has pro-State affiliations or separatist tendencies, the whole idea behind the movement stands negated.
This moment belongs neither to the KWC nor to the accused; it belongs to the survivors who braved a patriarchal society to come forward and pull the curtains off of crimes our society has brushed under the carpet for years.
It should force us to collectively talk about the idea of consent, of the absolute discretion of a woman to say a "no".
These questions make sure that the whole idea behind the movement stands negated. (Photo: Reuters)
Talib Hussain repeatedly tried to "console" his victim by telling her that he would do nikah with her. It did not occur to him that he did not violate her chastity but her personhood, her being. One of the KWC members was publicly accused of being in a consensual relationship with her boss, a charge she vehemently refutes. But let us assume for a second that it is true, how does being in a "consensual" relationship become an accusation? It is therefore pertinent that the civil society of Kashmir starts a loud and open discourse on the idea of consent. And women's organisations could play a fundamental in initiating this debate.
After repeated character assassination plots, death threats, political and ideological tagging, everything KWC has braved, Shehryar tells me, is not lost. "When I go any cafe, I see everyone talking about #MeToo; this is the only topic of discussion around these days. Wasn't this the fundamental motive of #MeToo, to have society discuss sexual harassment out in the open?"
Miles away from the Valley, lawyer Indira Jaising publicly renounced her association with Talib Hussain, and announced her unilateral decision to not appear on behalf of Talib as a pro-bono lawyer.
Both these stories have a common thread running right through them — time's up!