Noida namaz order: If Muslims can't pray in parks, will UP police ensure no puja pandals come up on public property?
Insistence on following the rule-book cannot be selective. That's bullying, not secularism.
The Uttar Pradesh administration's recent flip-flop over the order banning namaz in a public park displays two things — a) For some officers in the UP police, the best way to avoid tension seems to be to not 'provoke' certain elements in the majority community b) Just being a Muslim in a public space is apparently a 'provocation' to some.
The Uttar Pradesh police recently issued a notice to offices and establishments to direct their Muslim employees to stop offering Friday prayers in open areas, such as parks. The notice went on to add that companies would be held liable if their employees violated the directive.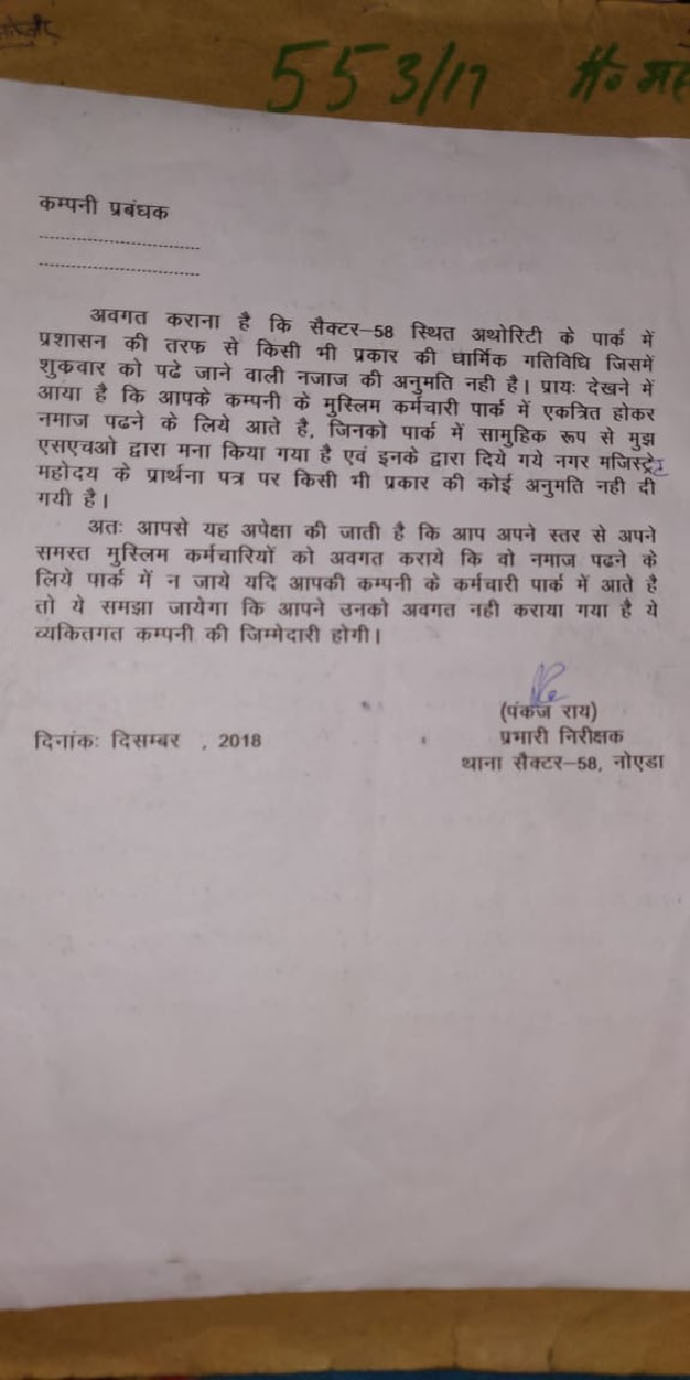 The order by the UP police. (Photo: Twitter)
After a furore, the administration on December 26 clarified that companies would not be held responsible for what their employees do. Just that — companies wouldn't be held responsible, for no one likes to upset corporates, and the order was anyway overreaching the law.
There's still no clarity on whether the Friday prayers can go ahead uninterrupted though.
The ostensible motive behind the police's notice was that religious activities should not be held on public grounds without permission from the administration. Fair enough. But we need a little more context here.
The order specifically mentioned a park in Noida's Sector 58, where Muslims from nearby offices apparently gather to pray. According to reports, on December 7, a 'man in a saffron scarf' had come to the area, video-recorded the prayers, and threatened to have them stopped.
According to Muslims who work in the area, the park has been used for prayers for the past five years, and there had been no problem so far. News 18 quoted a local, Rashid, describing the December 7 'visit'. "He said he had stopped namaaz in Sector 16 and he had gotten the loudspeakers taken down from Medina Masjid in Khoda colony as well. He made a video of us and said he would make it viral. He was trying to show us in a bad light," said Rashid.
The police, too, have said they acted after they received complaints from locals, and the notice was sent out to 'avoid law and order problems'.
Pankaj Rai, SHO of the Sector 58 police station, from where the notice was first issued, said: "The elections are approaching and there is some concern on that front too, as it may lead to some disharmony."
Thus, from what we can piece together so far, some 'locals' one day decided to object to Muslims praying in public. The administration, wishing to avoid trouble, decided the best way to deal with this was to stop Muslims from practicising their faith in public. Not tell the trouble-makers where they could get off.
Interestingly, this is the same police that had spent Rs 14 lakh of public money to shower flower petals from a chopper on kaanwariyas — a group very much practising their faith in public.
The argument that in a secular state, faith should not be practised on public property is sound in theory.
Don't they disrupt traffic on public roads? But the UP police showered petals on them. (Photo: PTI/file)
But, by that sound logic, will the Uttar Pradesh government now ban all Ganesh Puja and Durga Puja pandals, which see roads dug up, loudspeakers blaring songs and traffic obstructed? Can the administration seriously pretend to claim that every local pandal that springs up on street corners for every festival takes all the requisite permissions?
In the past few years, we have seen rallies on Ram Navamai and Hanuman Jayanti — a recent phenomenon — where people ride through the streets flashing weapons, often without police permission. In Bihar, in March this year, such a rally was led by the son of Union minister Ashwini Kumar Choubey, to celebrate the Hindu New Year. In Bengal, the BJP has been officially — and enthusiastically — organising such rallies, again often without permission.
In contrast, the Friday prayers in the Noida park are causing no inconvenience to anyone. They get over in less than 30 minutes, do not obstruct roads, do not involve loudspeakers. The people who gather there to pray had officially applied for permission, which is yet to be granted.
Also, these prayers are an integral part of faith. In Islam, the Friday namaz has to be held in a gathering. The Ram Navami and Hanuman Jayanti rallies, while being linked to a universe of belief, are basically a show of strength. Yet, we see the administration being very tolerant towards the latter — and brandishing the rulebook at the former.
Why the double standards?
Again, the administration has every right to demand enforcement of rules — but that has to be impartial.
First, the rules should be equally applicable to all. Second, if the administration insists on making some grounds out of bounds, it should make alternative arrangements.
It is the state's duty to ensure that all Indians can freely profess and practise their faith. (Photo: PTI/file)
Where are Muslims supposed to go and pray?
Article 25 of the Constitution of India says that all persons are "equally entitled to freedom of conscience and the right freely to profess, practise and propagate (their) religion". Thus, it is very much the administration's responsibility to make sure people have adequate space and opportunity to practise their faith. It can easily demarcate some grounds especially for Friday prayers, and make sure people are not disturbed.
Recently, the Supreme Court said there was no need to revisit a 1994 HC judgment that held that "(Mosque) is not an essential part of the practice of the religion of Islam and namaz (prayer) by Muslims can be offered anywhere, even in open." Now, the UP government is saying Muslims can't pray in open spaces. Can the authorities please make up their mind?
Let's not fool ourselves.
The UP police order had nothing to do with religious activities in open spaces. It was simply a precaution to avoid a communal flare-up, in an atmosphere where some followers of a certain religion feel empowered enough to take the law into their hands at any real and imagined provocation, and where merely belonging to a certain other religion is a 'provocation'.
This is not secularism. This is not even India, where every religion has practiced, and celebrated, side by side for decades.
The UP police needs to decide — it cannot have different yardsticks for different religions.
Also read: Do Muslims need mosques to offer namaz: How the VHP, and a BJP chief minister, helped shape this debate
The views and opinions expressed in this article are those of the authors and do not necessarily reflect the official policy or position of DailyO.in or the India Today Group. The writers are solely responsible for any claims arising out of the contents of this article.