The iconic historian Sir Jadunath Sarkar used Western analogy to describe legendary Maratha ruler Chattrapati Shivaji as a great statesman. Using the writings of British educationist-thinker Hal Fisher and Italian statesmen Count Cavour, Sir Jadunath indicated that a true statesman is one who enjoins his own ambition, with the progress of his nation and countrymen. 
Sarkar goes deeper to describe how a statesman goes about his goal in his book, Shivaji and his Times: "Statesmanship lies in correctly calculating and skilfully utilizing the forces of one's age and country so as to make them contribute to the success of his policy. A statesman doesn't grumble about inadequate material available for his objective. Nor does he court failure by insisting on abstract perfection impossible in his age. Statesmanly wisdom lies in correcting taking stock of the material around oneself and using it suitably and skill fully to meet the great objective. His genius lies in enlisting the greatest amount of support for his policy while weakening that policy as little as possible by his concessions besides his instinctive perception of what is possible or not possible under the circumstances".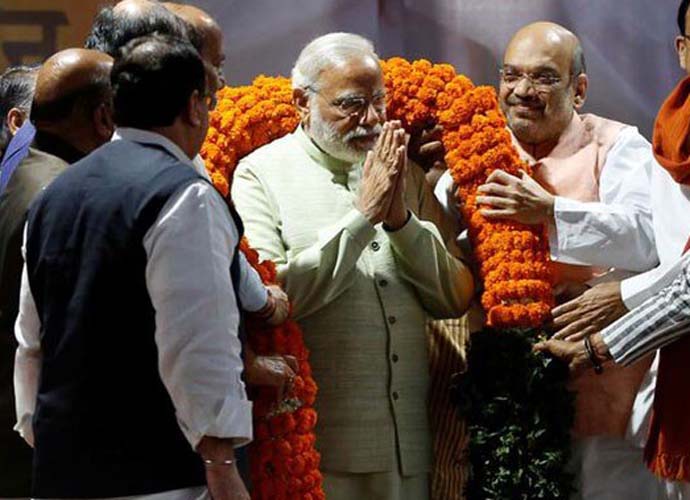 Narendra Modi: An international statesman, nurtured in the Bharatiya fold. (Source: India Today)
'Those who vote for us belong to us — those who didn't vote also belong to us'
The crux of what he said in his first two speeches was repeated by him while on a visit to Guruvayur Temple in Kerala on June 8 when he said: "Those who voted for us belong to us and those who didn't vote also belong to us. For me, Kerala has the same importance as Varanasi. We are not here to play politics. We are in politics to enable India to achieve its right place in the world." To say that in a state that didn't give BJP a single seat was certainly the mark of a statesman.
The May 23rd speech sent the country into raptures. This included some who saw him with suspicion. On the third front, it did the unthinkable — it brought around many Muslims leaders including those from amongst the orthodox Wahabis to welcome the pluralistic tone of his speech.  
Whether these Muslim leaders were doing it as part of what I have discussed earlier as a long term Pan-Islamic strategy (which dictates that now that Modi has come to stay, he must be engaged with) or whether this was a gesture out of genuine appreciation is yet to be ascertained. But the very fact that they were forced to reach out to the Prime Minister showed that the emerging statesman in Modi had impacted them too.
'Ab Sab Ka Vishwas' (Now we have to win confidence of all)
As Modi said: "The government might have been elected with a huge majority (Bahumat) but will be run with consensus (Sarva Sammati). Ab Sab Ka Saath, Sab Ka Vikas aur Sabka Vishwas (Now, we will win the confidence of all). It was a clear signal to Muslims, vast sections of whom in the 2019 polls had tried to defeat Modi, sparse sections of the community showing appreciation of the fact that the Modi government didn't discriminate on religious grounds while implementing welfare and development schemes.
Analogy around Lord Krishna casts Modi as statesmen in the Indian fold  
The analogy Modi drew around Lord Krishna's role in the battle of the Mahabharata in the May 23 speech, comparing it with the results of the 2019 polls, and his role in the elections, was what cast him in the role of a statesman in the Indian or the Bharatiya mould.
Modi said: "After Mahabharata, when Krishna was asked as to which side he had fought on, the Lord said he had fought on the side of neither the Pandavas, nor the Kauravas, but on the side of the people of Hastinapur, which meant that he had fought on the side of righteousness. During the elections, I felt it was being fought by the people of India and not by any party or individual".  
In his characteristic style, spurring emotions, Modi said: "This is the victory of the hapless poor as much as the ailing patient. It is as much a victory of those homeless seeking a home as of the crores of labourers of the unorganized sector and the middle class which honestly paid taxes but never got the returns". 
'Only two castes remain now: The poor and those who want to help in ending poverty' — Drawn from Gandhi
Then, as a statesman out to unify the nation rising above the cobwebs of caste class and religion, Modi said: "This result presents a new narrative before the country. It has demolished all possible barriers. Only two castes remain now: the poor and those who want to contribute to elimination of poverty to make a poverty-free Bharat. We have to support both — those who want come out of poverty and also those who want to help in its removal."
Modi's talk about the rich being enablers for removal of poverty is rooted in Mahatma Gandhi's concept of trusteeship, in which he said that the rich too were only the trustees of the wealth they might have earned through their personal efforts and therefore, they should spend a part of their wealth for the poor.  
This principle of Gandhiji is original rooted in the ancient Hindu concept of  'Mahajan Parampara' (a business tradition wherein businessman spend their private money for uplifting the lot of the poor by providing schools, food and other things). This has spawned a great tradition of philanthropy in Gujarat and some other parts of the country which can be seen even today.
Mahatma Gandhi's philosophy also showed in PM Modi's speech. (Source: India Today)
Logical attack on Congress:
Significantly, Modi's attack on the Congress in his Parliament speech, after getting elected the leader of the NDA and the BJP, was strong but both measured and logical — and certainly in the realm of statesmans-like behaviour: "For the past 70 years, people who ruled sought votes in the name of ending poverty but poverty never ended. The poor were taken for a ride. Similarly, the minorities (read Muslims and Christians) were also taken for a ride by the rulers by creating a false sense of fear in them for the sake of their votes. We have to work towards exposing this too".
In the May 23 speech, he exhibited pride when he said: "The exploitation of the word 'secularism' has now stopped. In fact, none used the term in the entire election. Such was the transparency of our governance that none raised the issue of corruption before us".
Reminding listeners that 2019 marked the 150th birth anniversary of Gandhiji, and 2022 will mark 75 years of India's independence, he said "The struggle on the part of the freedom fighters in the early 40's gave shape to India's independence. Today, if we 130 crore people of India come together, we can generate the same energy to overcome the problems of the nation to make a 'Samriddha Bharat'  (prosperous Bharat)."
The words produced unprecedented energy amongst the listeners.
Then, he made the eternal pledge: "I promise to the people of the nation that I might commit bonafide mistakes — but I won't do anything with bad intention. I will devote every minute of mine for my countrymen. If I falter, please do not hesitate to scold me. Always be vigilant as to see whether I am following in my private life what I say in public life." It was a sterling performance on the national stage by any yardstick — one that couldn't stop those who know what is statesmanship from using the term 'statesman' for Modi.
Of course, it went beyond words. What gave legitimacy to his charge against the Congress (that while using poverty-removal as a political tool, it didn't make genuine efforts to remove poverty) was his own government's track record on this front. A majority of experts now agree that the delivery of the Central government's welfare schemes — which played a key role in Modi's victory — have reportedly crossed 80% and, in some cases, over 90%.
This delivery rate was apparently less than 50% earlier.
Under the direct bank transfer (DBT) of government money into the accounts of the recipients — which has proved to be the main tool for removal of corruption at ground level — reportedly only 2.50 crore citizens were covered during the UPA tenure. Under Modi, 55 crore citizens are getting payment in their accounts in one or more vertical (it means either subsidy or pension to a retired government employee and even due insurance amount to a citizen). This is an increase of 22-fold and was made possible only by Modi's Jan Dhan bank account scheme for the poor under which more than 33 crore bank accounts were opened.
Without bank accounts, DBT was just not possible.
Used and Misled? Modi's address flayed the Congress for manipulating minority groups. (Source: India Today)
With statesmanship comes responsibility too
Some of Modi's party men and elected representatives like Sadhvi Pragya, Giriraj Singh or Sakshi Maharaj have been quite reckless while letting out their frustrations over Muslim appeasement. Two of them, in fact, praised Gandhi's killer, Godse. Modi has tried to rein in them and even scolded them — but hasn't entirely succeeded. Now, with this new 'statesmanly' image of a unifier, Modi will have to be tough on party members who cross the limit. On the other hand, he has also got to ensure that he doesn't hit the path of minority appeasement in order to keep his image of a unifier intact. Clearly, the new label comes with a lot of responsibility. 
While being aggressive with his political opponents, he will have to distance himself from his political diatribes of the past by bringing in himself restraint and self-control.
Such diatribes in the past made even some of his own supporters somewhat uncomfortable. Modi's supporters, however, do say that such words were his way of responding to such baseless, defaming lines like 'Chowkidar Chor Hai' which came from Rahul Gandhi — and that that was the only way to respond when such serious charges were made against him. 
Great power. Great responsibility: Narendra Modi will need to reinvent his own rhetoric at times too. (Source: India Today)
Statesman Jawaharlal Nehru was different from Modi
What was the nature of Jawaharlal Nehru's statesmanship, one may ask? Nehru's statesmanship had Western moorings. He was more comfortable using Western analogies to put across his point in world assemblies. Modi has never deviated from the path of conveying his message using analogies based on ancient Indian philosophies, even in international forums.
Then, a statesman has to be just to every section of society. Nehru, in my view, was partial to minorities and fed them a special diet that increased orthodoxy in a section and drew a wedge between them and the majority community because when Hindus saw minorities getting special rights at the cost of their rights, even after partitioning India for a section of Muslims (in the form of Pakistan), they started becoming aggressive.
Modi, while implementing his policies and schemes, has never discriminated between the majority and the minority. 
Then, there is the interesting anecdote about Nehru which exposes his inner wish for the rise and success of Indira Gandhi in politics. Once when a leader in the Congress Working Committee suggested that Indira should be made a member of the Committee, the then-Uttar Pradesh Chief Minister, Govind Vallabh Pant, opposed it, saying Indira was too young. Nehru was stung by Pant's response. He avoided speaking to Pant for a long time — as a mark of displeasure.
Modi, on the other hand, has absolutely no shadow of any relative over him.
In fact, not many people know who his actual relatives are, except for his mother, Heeraben. Modi's first cousins are back home in his native town Vadnagar, living a life of extreme simplicity or indeed, struggle. His own brothers and sisters live a very ordinary life. One of his brother-in-laws, is in fact, a bus conductor. And another big difference between them — Nehru was an English-speaking, cigarette-smoking leader while Modi is Hindi-speaking and free from such extravagant habits — always marking a conflict between the so-called 'polished' and the 'rustic'.
Polished, patrician and Western: The image Pt Nehru cultivated is in marked contrast to Modi's. (Source: India Today)
Creating pride in Indians across the globe is Modi's hallmark
Enlisting  the support of Indians, whether locals or NRIs, for his policies by creating pride in them about their abilities and the nation and bringing out their latent energy — and then enjoining it with the developmental journey of the country is what marks Modi out as a statesman. MyGov, a web platform of his government that invites ideas for good governance and then implements the best ones, is an example of his model of pride-creation.
In the past five years, ideas from such people as class-three employees, clerks and accountants have been implemented by his government in diverse departments, from railways and posts and telegraph to health and tribal development — this, in turn, created immense pride in their own abilities and about the nation.
In the international arena, meanwhile, Modi is drawing more crowds that any other Indian Prime Minister, including Nehru, ever did. He has also visited the highest number of countries than any other Prime Minister. And the idiom he has been using to connect with the people of foreign countries as well as Non-Resident Indians (NRIs) residing in these countries is a unifying one that binds both lots with the Indian nation.
He makes it a point to address NRIs in every country he visits and shares with them the progress that India is making in multiple fields. As he said on his latest visit to Sri Lanka, "There is a unique bonding between the present Government in India and the NRI, whether the NRI is a small shop owner in an African village or an NRI of Sri Lanka. He dreams about India in the same way as the Indian Prime Minister does. This combined energy of our people is what is making our nation great".