Now an AAP leader and then a journalist, when Jarnail Singh flung a shoe at P Chidambaram, his act briefly changed the course of how most of the media had been looking at 1984 till then. 
The day Jarnail Singh brought 1984 back into the discourse. (Photo: PTI) 
Singh's protest during the then-home minister's news conference in 2009 stemmed from the Congress party issuing Lok Sabha tickets to the notorious suspects of the Sikh pogrom, on the ground that they were 'exonerated' by the country's law enforcement mechanism.
The national media lapped up the story.
A soft-spoken Singh was called into TV studios. Debates raged over journalistic ethics versus the anguish he had carried since he was 11 when the bloodbath of 1984 took place in Delhi, his hometown.
Nine years ago – and almost 25 years after the carnage – Singh's controversial protest mounted pressure on the ruling establishment, which eventually withdrew the candidacy of the alleged authors of the mass killings of Sikhs.
But the irony of this abrupt episode couldn't be starker – a nondescript Sikh journalist of a Hindi newspaper rose up to hold power to account unconventionally, risking his job.
His challenge – which violated the book rules of journalism – resonated through the corridors of power headed by none other than a Sikh himself, Dr Manmohan Singh.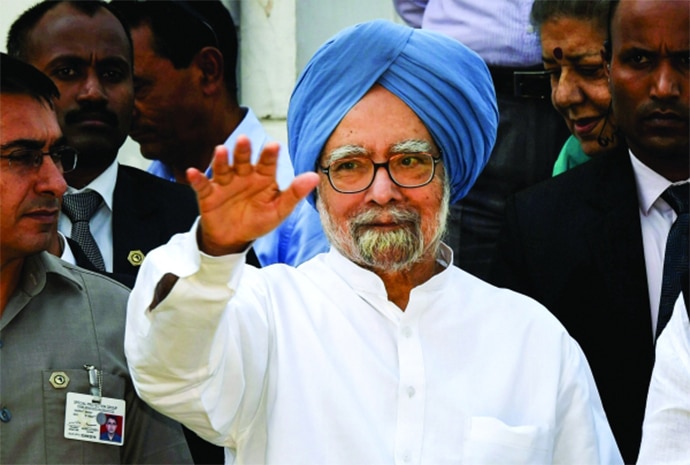 He was a Sikh Prime Minister, he apologised for 1984, Parliament hasn't yet done so. (Photo: PTI)
But as soon as the suspected perpetrators were dumped from the Congress party's list of election candidates, most of the media slipped into hibernation again.
"A truly free press needs guts," wrote writer and history professor William Astore in a HuffPost column in 2012. "It needs to be willing to say, 'I accuse'," he argued.
Did most of our press, then largely print, do what it was expected to as the fourth pillar of our democracy when maddened mobs burnt Sikhs alive, set their properties afire, raped their women and committed numerous other atrocities for three days, starting October 31, 1984?
The media woke up about 1984 only with Sajjan Kumar's conviction. (Photo: PTI)
In a conversation for our social-media broadcast on Tuesday, Jarnail Singh recounted why he chose to become a journalist.
"While in college, I went to the Delhi Public Library. It housed the newspaper record of 40 years," the former reporter recalled. "I looked for reportage on 1984. I was stunned to discover that there was none of it from the first three days (of November, 1984) when thousands of people were burnt alive on the streets of Delhi."
That exposure motivated Jarnail Singh to pursue a program in journalism and adopt it as his profession – which he himself put at stake when he hurled his footwear at a powerful central minister in 2009.
Veteran journalist and author Jaspal Singh Sidhu also vouched for the three days of missing journalism in our country's prominent dailies back in 1984. "Whatever reports in the mainstream domestic press emerged only after a tiny section of the press started writing about them. But for the first three days, it was more or less a blackout when the blackest chapter opened up in independent India's history," Sidhu said.
Rahul Bedi, who covered 1984 for The Indian Express, wrote in a piece how police "magically disappeared" from the scene of what the Delhi High Court this week declared a crime against humanity, 34 years later. "And the handful who were visible were unwilling, or under orders not to open fire upon cowardly mobs that drew encouragement solely from their numbers and assurances of immunity from prosecution," Bedi wrote.
The Police looked away as Delhi's Sikhs were brutally attacked. (Photo: India Today)
But where had most of the press vanished? Its disappearance for three days remains unexplained.
Doordarshan, the state-run broadcaster and the only television channel available at the time, had its cameras focused solely on the preparations of slain Prime Minister Indira Gandhi's funeral and the installation of her successor.
For most media, 1984 was about her death and his succession, not the killing thousands of helpless Sikhs. (Photo: Facebook)
But where were most of the independent newspapers for three days?
Their absence from the scene was the fourth pillar's biggest failure in a free, democratic India – one which no one really addressed.
Fast-forward to the 1990s: India witnessed the arrival of private news stations. Here too, 1984 got lost in soundbites for more than a decade, caught between verbal volleys of the Congress and the BJP.
Both print and TV media outlets gave some serious attention to the mass slaughter when Dr Manmohan Singh issued what was advertised as an "apology". It was again a Sikh prime minister – and not the national Parliament – who said sorry for 1984 in 2005.
The lingering issue of justice went off the media's radar for another four years till Dr Singh's Congress picked the topmost usual suspects as its candidates for general elections in 2009.   
Nine years after that, we now have a conviction, which is subject to a legal challenge.
Sajjan Kumar's sentencing, for now, has been widely covered again, primarily because it's more of a political story than a story about human and civil rights and justice for one of the worst mass killings in our country.
No journalist should be apologetic about seeking justice or speaking about it within journalistic norms just because he or she belongs to a community that suffered persecution.
But the Sikh voices on 1984 in a national press that overlooked 1984 for three days and used it as a masala story intermittently since then may soon become endangered.
A generation of such journalists conditioned in post-1984 India – outside of Punjab – might be as detached as the rest of the press.
We noticed this syndrome while watching a show on a prominent TV station broadcast from a 1984 memorial at a Delhi gurdwara in the wake of Kumar's conviction.
Its young Sikh anchor had survivors of the massacre as his guests. He asked a woman victim about the sentencing of Sajjan Kumar.
"There's some satisfaction, it's just a small amount of balm on our wounds," the elderly woman said. "But they (the perpetrators) should meet the same fate as they killed our loved ones," she moaned.
We were surprised when the anchor threw a weird counter-question at the victim. "Why do you say that they should get a death sentence? Sikhi doesn't teach this thing. Sikhi doesn't say that you attack those who attack you," he asked.  
This post-1984-groomed Sikh journalist perhaps displayed his limited understanding of the Sikh faith, which owes its origins to social justice, rights and humanity.  
His questioning also suggested how an entire generation might have withdrawn itself from our recent – and distant – history.
We are reminded of a famous quote by the English novelist George Orwell. "The most effective way to destroy people is to deny and obliterate their own understanding of their history," he once said.
In any civilised society, a safer future rests on the unrelenting pursuit of historical truths. What seems to be depleting fast from whatever is left in our 1984 coverage is the right knowledge and the right skills to ask questions about the painful past.