Once upon a time in Pakistan, there existed a revolving door strategy in the complex world of politics. It was an inflexible system that had a strict mechanism of keeping a few names on a brief, exclusive list. They were the only ones who were allowed entry. They were simply expected to be patient, and wait for their turn.
What ensued was the interchangeability of the same faces. What was ensured was the exclusion of all who didn't belong to the exclusive list. What it resulted in was the hegemony of two families. What the inevitable consequence was the bequeathing of immense power to a few. What it unleashed was a paradigm of invincibility and unaccountability.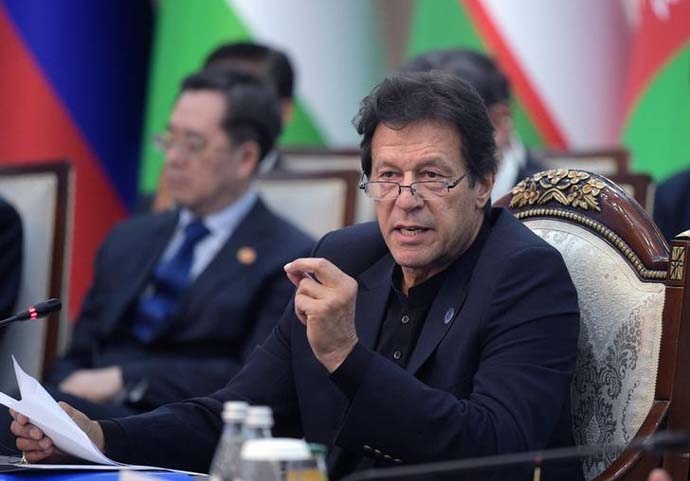 This is a paradigm shift — from family rules to accountability. (Photo: Reuters)
The story of the last three decades of the governments of Nawaz Sharif-led Pakistan Muslim league-Nawaz, and the late Benazir Bhutto and later Asif Zardari-led Pakistan People's Party, with seven years of General Pervez Musharraf's potpourri of optimistic and, mostly, populist policies, in a nutshell, is what has today placed Pakistan on a precipice of uncertainty, unease and gloom. While the government of Pakistan, under the leadership of Prime Minister Imran Khan, is focused on the singular agenda of steering Pakistan in the right and sustainable direction of short- and long-term economic, institutional and infrastructural development, there exists, in all its excitable outrage, the opposition that is in a situation that was sudden, unexpected, and much to their chagrin, painful.
Paint it in whatever colour. Describe it as politics of vengeance. Face it as political victimisation. Slam it as a dark witch-hunt. Protest it as a mutual backdoor attack of the military establishment and Khan and his like-minded parties and politicians to make the two of the biggest political parties of the country irrelevant. Cover it with a narrative of the suffering of two families who having remained in power for long have lost much in their 'service' of Pakistan. Label it as the army's overweening interference in civilian matters over which they have no constitutional authority. Present it as the overreaching power of the higher judiciary to bend political supremacy to its will. And fight it as Khan's narcissism to acquire and retain power on any price. The truth remains incontrovertible. And the truth, despite its myriad representations and various apparent ambiguities, remains stark in its singularity: it is the present process of accountability that has shaken the powerful and their world to the core of its very, very entitled existence.
Jailing of Nawaz Sharif is not vendetta politics. It's clearing the flotsam left by the previous regimes. (Photo: Reuters)
Today, the hysterical outrage of all those who know their time of limitless power is over is presented as the only picture of Pakistan. Jailing of Nawaz Sharif; cases on members of his family and senior members of his party; cases on Asif Zardari, his sister, Faryal Talpur, and their cronies; bail of Maryam Nawaz; and imprisonment of Hamza Sharif, her cousin, and son of three-time chief minister of Punjab, Shehbaz Sharif, pushed together to become one picture, are being shown as the summer blockbuster of a single representation of Pakistan.
Pakistan must know that there is something beyond family rules. The antidote will not taste sweet. (Photo: Reuters)
The country that is beset with issues inherited by Khan's government as unwanted legacies of the governments of Bhutto, Sharif, Bhutto again, Sharif again, Musharraf, Zardari, and Sharif again is being painted as Salem where a political witch-hunt is underway. Where freedom of media is endangered. Where interviews of political leaders are taken off the air. Where permission given to the opposition parties to hold rallies comes with conditions. Where the judiciary is complicit in the mechanism of establishment of the irrelevance of important political leaders. If only things were that black and white...
Pakistan government is focused on forming a roadmap that would guarantee solutions of the micro and macro issues. Measures, some of which, like the new taxation, will be considered draconian on their implementation, are all being taken with one agenda: the wellbeing of Pakistan. In the international media, Pakistan that is shown is a dark, sinister mess of a country in which persecution of political VVIPs and suppression of media are the only two actions of the state. The reality of current Pakistan couldn't be far from that.
In Pakistan today there is: Stabilisation of institutions; reforms in various sectors; programmes for alleviation of poverty; reforms in healthcare, education, police; programmes to fight shortage of water and for provision of clean water; reduction in deficit; increased payment for external debt servicing; reforms in postal services; controlled expenditure in the Prime Minister House; restructuring of major state organisations, such as PIA and PTV; retrieval of state land worth billions of rupees; housing projects for the underprovided; programmes for climate change; merging of FATA into Khyber Pakhtunkhwa; inauguration of the Mohamand Dam; the 100-billion Kamyab Naujawan programme; issuance of 80 million health cards; reduction in the defence budget and allocation of the same for development of FATA and Balochistan; nationwide crackdown on gas and electricity theft; efforts for return of Pakistanis in jails abroad; the Ehsas programme for those at the lowest rung of poverty; construction of Panah Gah, shelter homes for the homeless; constant efforts for peace in Afghanistan; recalibration of foreign policy with old friends, trusted allies, hostile neighbours, and new partners; justice for all; and a free and fair accountability process.
It's an era of accountability. The powerful will not get clemency. (Photo: Reuters)
That is the Pakistan of Prime Minister Khan and 220 million Pakistanis who wish for Pakistan to become much more than the personal fiefdom of the privileged few who have always operated on the misplaced idea of being untouchable. What goes without saying is that it is imperative to ensure transparency in all processes of accountability, which works on the simple premise: no one is above the law in Pakistan. It is crucial to guarantee that accountability will be of all. No prime minister, incumbent or former; president; minister; parliamentarian; political VVIP, their family members, friends, cronies and financial benefactors; judge; tycoon; high-level military official; and bureaucrat will be spared if there is even a hint of financial and professional corruption.
What is also essential is to understand that a process of accountability is NOT an act of petty vengeance, political victimisation, a malicious witch-hunt. That is something that most of Pakistan understands today. Pakistan is striving to be nondiscriminatory, upright and impartial. What most Pakistanis see today is that all those who thought they were invincible are not victims of state cruelty, and are not poor, wretched souls deserving of sympathy. That what these leaders and their parties are screaming hoarse against is: accountably of accumulation of wealth beyond means, inability to provide a money trail, pressure and blackmail tactics for purposes of influencing of judicial verdicts, and construction of narratives of collusion of state institutions with the sole raison d'etre of targeting them.
And that is something that — contorted, reworded, repackaged, raucous, unrelenting — for various agendas, is hammered and propelled, albeit in vain, as the only truth by those who are facing what they never thought would ever happen: a day of reckoning.