Yeddyurappa resigns as Karnataka CM: Twitter users ask for governor Vala to go too
'Strange how every election, whether state or even a district or municipality poll, is now a step towards 2019.'
The long-drawn Karnataka 2018 Assembly polls saga seems to be finally coming to an end with BJP's BS Yeddyurappa announcing on the floor of the House his decision to step down as the state's chief minister. Having been in power for barely two days, Yeddyurappa failed to prove the numbers during a Supreme Court ordered floor test.
However, the resignation speech was anything but unexpected. Beating around the bush, Yeddyurappa talked about his undying commitment for Karnataka among other things, on the floor of the Assembly.
Today's events will come as a major embarrassment for the BJP which earlier had shown the haste in staking claim to form the government in the state even though its tally of 104 seats was less than the post-poll Congress-JD(S) tally of 116, four more than the clear majority mark.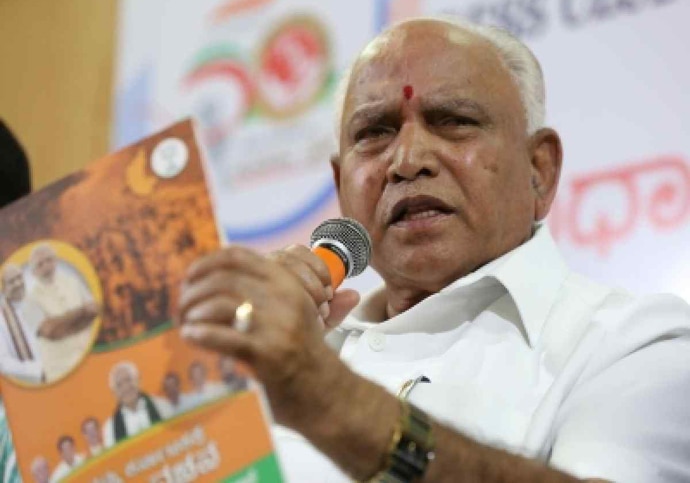 While some on Twitter chose to call it the day when democracy in India resurrected from the dead, others took this opportunity to talk about the more serious implications of today's events – such as Arnab Goswami having a meltdown.
Here's what people on the social media platform had to say.
People not living in Karnataka are excited about #KarnatakaFloorTest just the same way non Britishers are excited about the #RoyalWedding . True globalization!

— Aaqib Raza Khan (@aaqibrk) May 19, 2018
BJP failing #KarnatakaFloorTest with the whole state machinery working for them makes me hopeful that Thanos will be defeated in the next movie if #Avengers work together like Congress-JD(S).

— Zeyad Masroor Khan (@zeyadkhan) May 19, 2018
The fact is, that Congress+JDS forming the government is as much a subversion of the people's mandate as it was two days ago when BJP staked claim. This is no victory for the Congress. The people of Karnataka are the real losers. #KarnatakaFloorTest #FloorTest

— Shreyasi Goenka (@anvivud) May 19, 2018
Why do we bother with elections? We could just do this, gather them in assembly house each leader give a speech and then u vote according to your emotions. #karnatakafloortest

— Sanjukta Basu (@sanjukta) May 19, 2018
Tenor of BSY speech indicates he will do a Vajpayee in 1996 and quit before the trust vote? #KarnatakaFloorTest #KarnatakaElection2018

— Saisuresh Sivaswamy (@SaisSivaswamy) May 19, 2018
Strange how every election, whether state or even a district / municipality poll, is now a step towards 2019. Almost as if the voters, the citizens, are no people to be served, but pawns of a grand plan for the next Great Election. #KarnatakaFloorTest

— Aaqib Raza Khan (@aaqibrk) May 19, 2018
#KarnatakaFloorTest The real Man of the Match is the #SupremeCourtOfIndia ! Hats off to the #Indian Judiciary #IndianConstitution #IndianDemocracy

— zafar sareshwala (@zafarsareshwala) May 19, 2018
Arnab Goswami is going to have a meltdown. #KarnatakaFloorTest

— Aparna (@FuschiaScribe) May 19, 2018
IMHO, with his name having been dragged into so much unseemly controversy Karnataka Governor Vajubhai Vala should also step down rather than caught in a hostile relationship with the JDS-Congress government. #KarnatakaFloorTest

— GhoseSpot (@SandipGhose) May 19, 2018
With today's floor test proving to be a dud, all eyes would now turn towards the Congress and JD(S) and their chief ministerial candidate HD Kumaraswamy. Questions will also be raised over the office of the Karnataka governor and Vajubhai Vala's role in "aiding the BJP and Yeddyurappa to take oath, only to step down two days later.
It will be interesting to see how things pan out in the coming days, but with Yeddyurappa gone, one can only expect the clamour for Vajubhai Vala to vacate the governor's office to grow.
If Vajubhai Vala has a conscience,he should immediately resign.He has brought disrepute to the office of Governor.A Governor is supposed to be impartial head of the state and not behave in a partisan way. #KarnatakaFloorTest

— Partap Singh Bajwa (@Partap_Sbajwa) May 19, 2018
Time now for the Karnataka Governor to go. Resign. Vajubhai Vala has shamed his office.

— Pritish Nandy (@PritishNandy) May 19, 2018
What about #Karnataka Governor Vajubhai Vala? It was he who invited BJP's 104 to Cong - JD (S) 116. Will he have any regrets for unleashing this chain of events ?

— Rupashree Nanda (@rupashreenanda) May 19, 2018
Also read: What message did Bollywood send by staying away from #MeToo march at Cannes 2018?