Tarar Square
How not to remember Sridevi
In disrespecting the memory of a beautiful actress, all of you have disrespected all who love her.
I didn't even know I loved Sridevi until I heard the news of her death. Unaware I was of the full impact of her effect as an artist on me until she was no more. Her death shook me. The word sudden is redundant, as death, other than that of a terminal patient, is always sudden because of our absolute unawareness of the next-ness of life, of having no control over those fundamental details that have never been in human control: when and how life ends.
Deeply shocked and saddened on the news of her death, last night, in the silence of my grief after her cremation, and about how it was the most-watched film of ours (my sister and I), I watched Lamhe with my 23-year-old niece. I was 23 when I first saw it. I remembered every scene, many dialogues, and I could see Sridevi's face clearly in my mind in certain scenes, although the last time I saw the film was probably half my life ago. That was the Sridevi effect on me.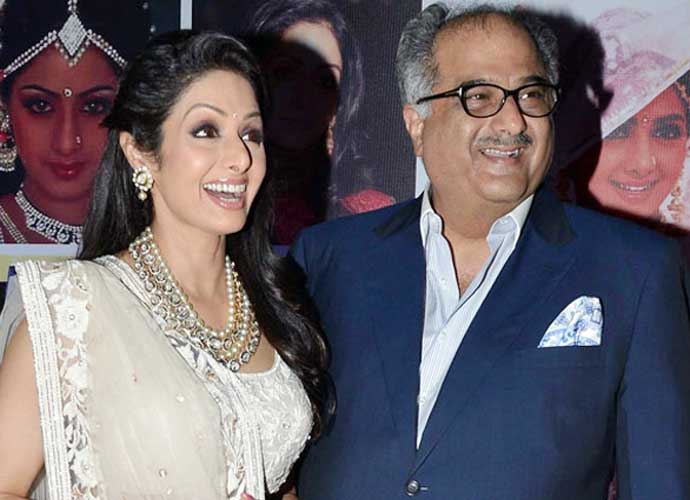 A few days I ago I tweeted that Sridevi was a goddess on screen. After watching Mom in 2017, I tweeted that Sridevi owned the film. Watching her speak to her Pakistani costars Sejal Ali and Adnan Siddiqui, I tweeted that her message amidst so much noise about banning Pakistani actors in India was just one of those things that made Sridevi the huge star that she was. I always considered Sridevi one of Indian film industry's biggest icons, but it was her death that made me realise the enormity of that stardom. And what made her such a big star to me is very simple.
Sridevi, to me, was "Bollywood". A quintessential star, exuberant, full of life, iridescent, a stunning dancer, a kickass comic, tremendously versatile, a shy woman off-camera who lit up the screen with her larger-than-life presence, who sparkled brighter than anyone else in the scene with her, a superstar who owned the screen, resplendent, rare. Sridevi was that rare queen of cinema who simultaneously elicited whistles and wows, public accolades and critical acclaim, artistic applause and commercial success.
Today when I think about Sridevi and her 50-year-old career - minus the 15-year gap between Judaai (1997) and English Vinglish (2012) - what appears before me is her face that despite being not the most beautiful was a thing of beauty in its sheer range of expressions. Sridevi with her huge eyes could write poetry on celluloid, weave odes of loss and longing. Her eyes sparkled with a light that was singularly Sridevi. Her eyes talked, tantalised, cajoled, complained, laughed, ached and seduced.
Sadma (1983), Mr India (1987), Chaalbaaz (1989), Chandni (1989), Lamhe (1991), English Vinglish (2012) and Mom (2017), the films I think of when I think of Sridevi. A career of 300 films, a lifetime, literally, of working in films, Sridevi made her mark one film at a time, and emerged as the reigning superstar of her time, even gaining the title of the first female superstar of India. To me she was, and she is: a superstar. This is my personal opinion, not based on box-office numbers, or the silver and golden jubilees her films did.
My reason is simple: Could an actress make her mark in the colossal Mumbai industry after having reigned supreme in the south, without knowing Hindi, stand taller than most of her leading men in an era of filmmaking where most stories had male-dominated themes, and heroes were treated like demi-gods on and off screen? One Sridevi did it all. Her versatility opened a new realm of brilliance in cinema, her fearless enactment of complex or outright commercial roles with a natural flair to own the scene made her catapult into a league that was hers then and now. Her voice almost childlike, her face innocent, she was sensuous and sensual. Uninhibited, utterly unself-conscious, she lit up the screen becoming a new Sridevi each time she got a chance to enact a role that tested her talent. And boy, did she pass it with a flair uniquely her own, a talent that was singular, her screen presence almost palpable.
Sridevi's incomparably vulnerable strength and pathos in Sadma; her comic timing her Charlie Chaplin act, her "Hawa Hawwai" in Mr India; that Chaalbaaz unforgettable "Kisi ke Hath na Aayegi Yeh Ladki" dance number you watch in joyous wide-eyed awe; her two contrasting roles in Lamhe; her elegant beauty in the iconic Chandni; her nuanced vulnerability and quiet grace in English Vinglish: "PTA ka matalab nahin janti hoon lekin parent ka matlib zaroor janti hoon"; and her indomitable spirit of motherhood in Mom: "Bhagwan har jagah nahi hota hai," "Pata hai… issi liye toh usne maa banai hai."
From 1997 to February 2018, what I remember of Sridevi through her photos and rare interviews: her countless, happy moments with her family, her husband and her two daughters, her choice of films, and her growing charisma and status as a style icon. Sridevi looked not just content and happy, she was radiant. Sridevi was a superstar, a wife, a mother, and a woman who looked flawlessly gorgeous.
Sridevi was painfully shy, as per people who knew her, worked with her, and those who interviewed her. And she didn't give interviews other than promotional ones for her films. There are no "close friends" whom she was ever known to have confided in.
Sridevi Boney Kapoor died on February 24, 2018. And while her fans in India, Pakistan and all across the globe mourned her untimely death, a day later Indian media houses unleashed their TRP game. It was their sensationalisation of her death, their shredding to tickers and hashtags of her dignified life and her very tragic untimely demise. People from outside media joined the macabre circus.
When you say Sridevi is a national icon and the public has a right to know what happened, the deception fools no one but you. When you curse God for taking her away, your sorrow for her death seems to overwhelm whatever vestige of rationality you are left with, and you shred her personal life to bits, you are not doing her fans a favour. When you categorically state that she was "extremely unhappy" basing your judgment on literally no interview, nothing she confided in someone, you disrespect every apparent thing about her life since her exit from films in 1997: her love-filled marriage, her role as a mother, her life as a cinema and style icon.
When you appear on TV to express how shocked you are by Sridevi's death and then go on to discuss how much pressure women in film industry suffer to measure up to the idea of physical perfection, you, despite being a woman, feed into the misogyny that female celebs face every day. When being a woman you make judgements about the "work" that goes into making a woman look beautiful in a critically cruel world of show business, you construct unfair judgements based on perception.
When you allege there is foul play you simply assume the role of a malicious voyeur-cum-innuendo peddler. When you say you have a list of questions about a very, very painful, and personal tragedy of a family who happens to be famous, you are not being a journalist but have shrunk into an ugly figure of a one-man judge, jury and executioner flanked by your coterie of like-minded spectacle-enhancers and jeerers.
In disrespecting the memory of a beautiful actress, all of you have disrespected all who love her. Sridevi is from India but as an artist she belongs to all of us. As a mother, she is me, she is all mothers who devote their lives to their children. As a woman, she is all of us, all who fight for our rights, make our space in this patriarchal, judgmental world.
When I think about her death, I think of her two daughters, the lovely young women whose countless pictures with their mother we've all seen over the years. When I think about her death, her photograph with her younger daughter, Khushi, taken a few days before her death, appears before my eyes. Two women, each mirroring other's love and loveliness.
When I think of Sridevi's death, my anguished mind goes to Janhvi and Khushi, her daughters whom she loved more than anything in the world, her two lovely children waiting for their mom to return. Sridevi went to attend a wedding. She dazzled like a princess in her photos and videos during the wedding. Reportedly, she extended her trip to do some shopping for her older daughter, Janhvi, who is all set to make her debut later this year in a Karan Johar movie. The wait would never end. Sridevi returned home in a wooden box.
When I think about Sridevi's death, I think of the man, Boney Kapoor, who loved her for more than two decades, her husband who went against customs and acceptability to marry the woman he loved. I think of Sridevi hugging him during the wedding dance video that went viral after her death. I can't begin to imagine his pain when he entered that bathroom in that hotel room in Dubai to find the woman he loved more than anyone else in the world motionless in that bathtub. I can't begin to imagine the shock and grief of a husband on finding the unresponsive body of his beloved, his beautiful wife. As she was getting ready for their dinner date, she died. I don't know what happened to her in that bathroom. I can't begin to imagine what her husband went through when he held her lifeless body. Those who were with him say, he cried inconsolably, like a baby. Then and later.
Sridevi, thank you for giving us so much joy, for touching our lives with your talent and love for acting, for teaching us through your journey the dignity of being a woman, the art of self-reinvention, for being a great mother, a fabulous wife, a terrific artist and a beautiful woman.
May your soul rest in peace always.
Also read: Who is responsible for 'news ki maut'
The views and opinions expressed in this article are those of the authors and do not necessarily reflect the official policy or position of DailyO.in or the India Today Group. The writers are solely responsible for any claims arising out of the contents of this article.