|
Right foot forward
|
3-minute read
The invisible costs incurred by the country for a confused Kashmir policy for 70 years far outweigh miscalculations on Rafale or demonetisation.
People compare Priyanka with Indira Gandhi for her looks. But it is in fact Sonia Gandhi who learnt much more from Indira on how to plot a comeback. Can she pull this off?
|
Right foot forward
|
5-minute read
But now, there's no going back for Modi. It has to be a fight to finish. Fasten your 'kursi ki peti' ahead of Lok Sabha Elections 2019.
The Modi government has surprised all by eschewing temptations for any over-the-top populism. The Budget has instead shown a confident sarkaar, sure of its values and its direction.
|
Right foot forward
|
8-minute read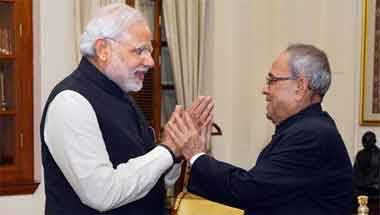 Today, if the Narendra Modi government were to award even Sonia Gandhi, the decision would be met with derision and mocking. Such is the level of bias and prejudice against a government perceived as not of the 'traditional establishment'.
|
Right foot forward
|
8-minute read
Facing anti-incumbency and time lags on key development projects, a unified Opposition is only adding to the leader's troubles. Their strategy is two-pronged: Consolidate all anti-BJP votes. And destroy Modi's own credibility.
|
Right foot forward
|
5-minute read
There is no love lost on any side with the battle lines so sharply drawn. But amidst the polarisation and bitter divisiveness, there are also signs of hope.
|
Right foot forward
|
7-minute read
The world has changed, and so has India. Modi, who started his international outings almost as a pariah, has both understood and strategically underlined these truths.
|
Right foot forward
|
4-minute read
The game-plan on both sides has shifted from realities to perceptions and who can win the war of narratives.
The year 2018 has seen the most polarising politics in India. But if we could just discard the old templates, 2019 can be a year of re-imagining Indian politics.